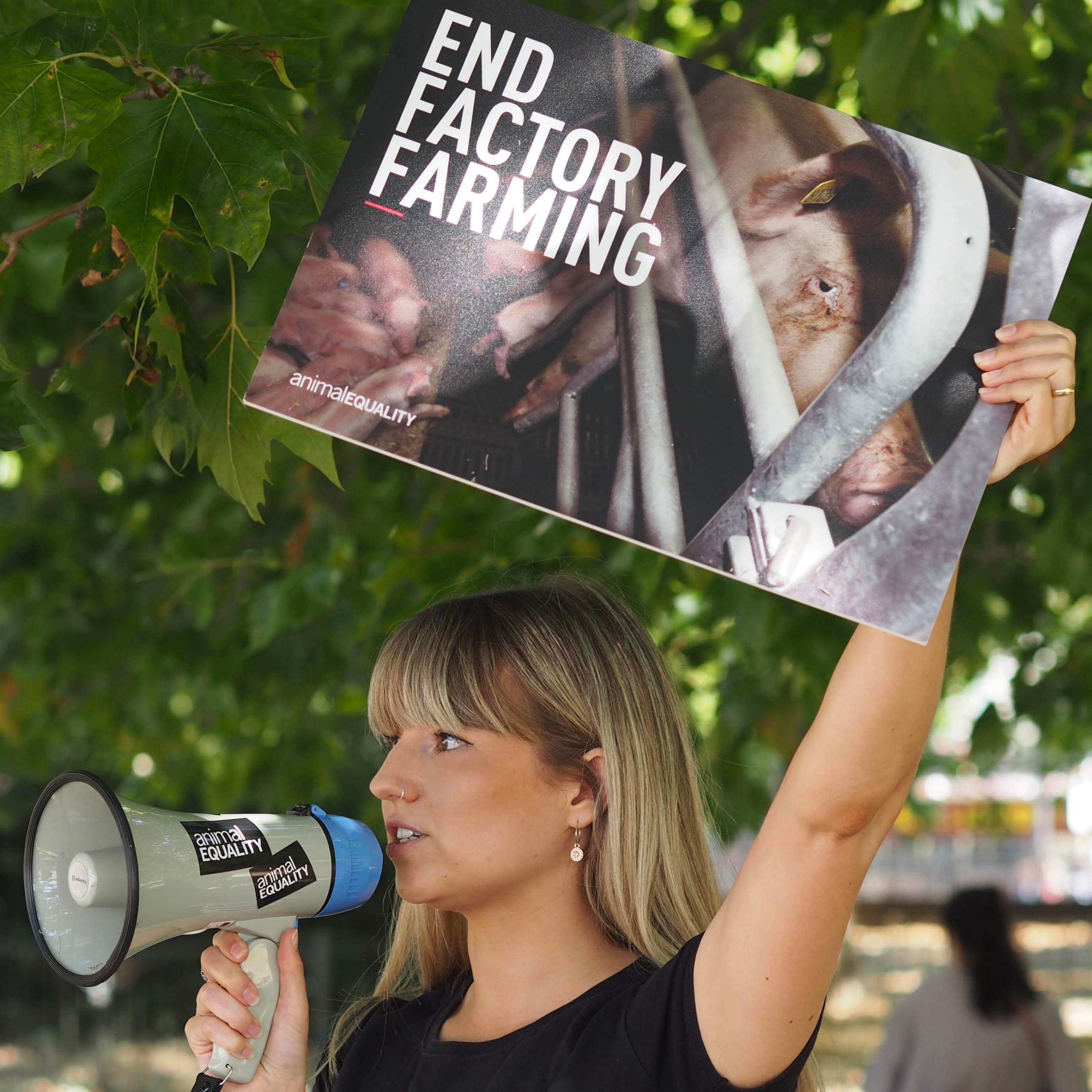 Animal Equality's Key Campaigns
---
Since its foundation, Animal Equality's work has resulted in a number of incredible achievements for animals. As we continue our work to bring about further essential changes for animals, we're focusing our efforts on three key campaigns.
Since Animal Equality was founded in 2006, our work has resulted in a number of incredible achievements for animals.
We have launched groundbreaking investigations, exposing the harsh realities of factory farming and slaughter. These realities include mother pigs being confined in cages so small they cannot even turn around, animals being deliberately abused, newborn animals being mutilated and separated prematurely from their mothers, and much more.
Armed with this powerful footage, we have organised critical campaign actions and met with key decision-makers to persuade them to use their power to create a kinder world for animals, impacting the lives of millions of animals.
We have informed consumers globally through major mainstream press coverage, inspiring compassion and raising awareness of the plight of farmed animals who so desperately need our help.
But our efforts for animals never stop. As we continue our work to bring about further essential changes for animals, here are some of the key campaigns that Animal Equality UK is currently focusing its efforts on.
A UK-Wide Import And Sales Ban On Foie Gras Made By Force-Feeding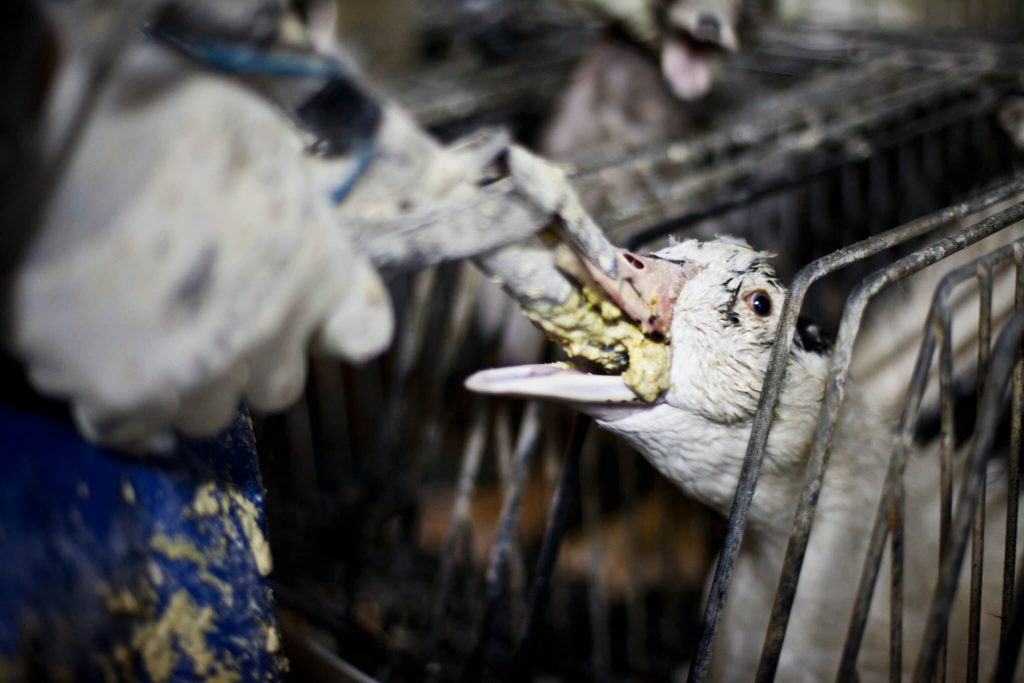 Foie gras is a 'delicacy' produced by force-feeding millions of ducks and geese every year. The force-feeding process, also known as gavage, causes extreme psychological and physical suffering for the birds and causes their livers to swell up to ten times their natural size. Their diseased livers are then sold as a foie gras paté.
Although it has been illegal for foie gras to be produced in the UK since 2007, imports and sales of this cruel product are still legal under UK law. Every year, it is estimated that we import over 200 tonnes of the dish from Europe, causing the suffering of approximately 250,000 ducks and geese. This hypocrisy must end.
Animal Equality has been leading the campaign calling for a ban on UK imports of products made by force-feeding since 2017. We will not give up until this vile product is banned from entering our shores.
Our Demands For Ducks and Geese
We are urging the UK Government to ban the import and sale of foie gras made by force-feeding in the UK as a matter of urgency.
Progress So Far
In March 2021, sources confirmed publicly that the Government is determined to implement a ban 'in the next few months', and included mention of the ban on foie gras imports in Defra's 'Action Plan for Animal Welfare'
We submitted an open letter response, calling for a concrete roadmap of the next steps to be shared, with support from cross-party MPs for each country in the UK
In August 2021, having still not received a response from Defra, we submitted a follow-up open letter, emphasising the urgency and demanding to see progress on this issue. We invited Cabinet Ministers and Government officials to a roundtable discussion with Animal Equality and signatories of the letter
In September 2021, we handed in 225,000 signatures to Parliament, representing passionate people who are eager to see the end of foie gras in the UK. Accompanying us were British actor Peter Egan and multi-award-winning French chef Alexis Gauthier, who are dedicated supporters of our campaign to ban foie gras made by force-feeding
In June 2022, Conservative MP Sir Mike Penning tabled an Early Day Motion, which numerous MPs are currently signing to show continued support for a ban
While the Government's comments on progress towards a foie ban have been encouraging, we have yet to see firm action. While the Government stalls, more animals suffer.
Find out more about our campaign to ban foie gras made by force-feeding in the UK at the link below.
Stronger Legal Protections For Fish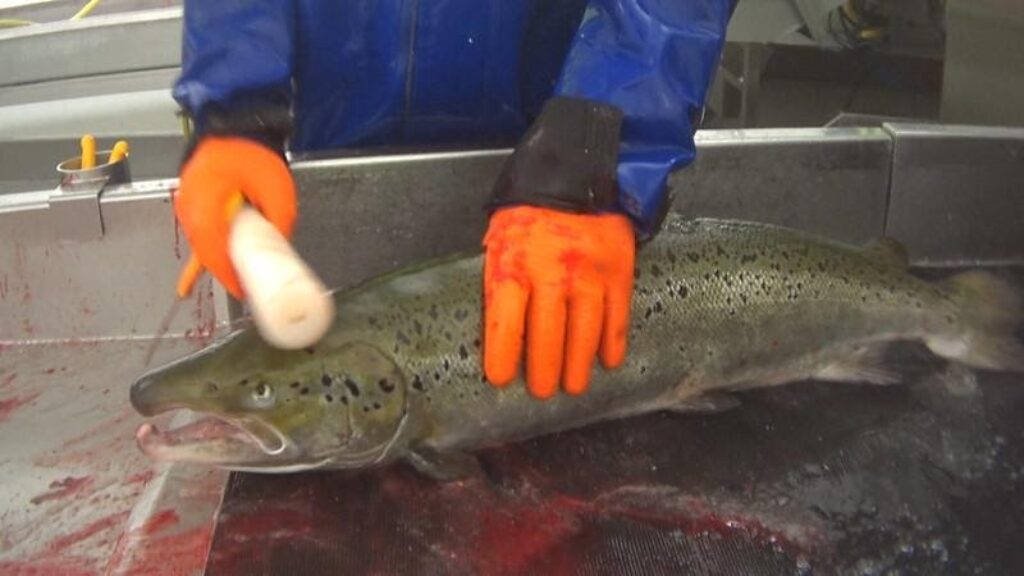 In the UK up to 77 million fish are farmed and killed every year – that's over two per second.
Although there is clear scientific evidence that fish feel pain and can suffer just like any other animal, there are currently no specific or meaningful legal protections in place for these animals at the time of killing. This means that fish do not legally have to be stunned before slaughter, resulting in many dying from asphyxiation or being bludgeoned to death.
Our Demands For Fish
Animal Equality is urging the UK Government to put in place species-specific protections for aquatic animals at the time of killing. This is the very least these animals deserve.
The Animal Welfare Committee – an influential government-advisory body – is now holding private discussions with animal advocates and industry stakeholders to determine the lay of the land and to put forward legislative recommendations to the UK Government.
We are urging the UK Government to implement the following protections for fish as a priority:
Fish must receive species-specific, meaningful provisions in the Welfare at Time of Killing (WATOK) regulations, which currently only offers protections for farmed land animals. This must include efficient stunning as a legal requirement
Regular, announced and unannounced inspections must be made mandatory in all fish slaughterhouses across the UK
Mandatory CCTV must be a legal requirement in fish slaughterhouses, with monitoring from public bodies and non-compliance reports made publicly accessible
Progress So Far
In February 2021, Animal Equality released an undercover investigation exposing the extreme and prolonged suffering of Scottish salmon during the last moments of their lives
As a result of the investigation, 70 animal welfare experts and academics joined our call for increased legal protections for fish to be put in place as a priority, by signing our open letter
In November 2021, the Government admitted that there are no mandatory inspections taking place in fish slaughterhouses, so experts joined us in a further call on the UK Government to implement mandatory inspections, as well as CCTV in fish slaughterhouses, as a priority
In April 2022, the Scottish Government confirmed that, following Animal Equality's investigation and meetings behind-the-scenes with Scottish Government, inspections in fish slaughterhouses are now a legal requirement for one year
In July 2022, Animal Equality presented at the first ever UK Parliamentary event focused on fish welfare at the time of killing. The meeting was hosted by Working Peer in the House of Lords, Baron Trees and was attended by the Animal Welfare Committee, Defra representatives, as well as politicians and other animal protection groups
In late 2022, the Animal Welfare Committee will be releasing its recommendations for fish welfare at the time of slaughter
There has been some encouraging progress for fish in our work so far but it is vital that this continues and fish receive stronger protections in law. Find out more about our work to protect fish below.
Stronger Monitoring And Enforcement Of UK Animal Protection Laws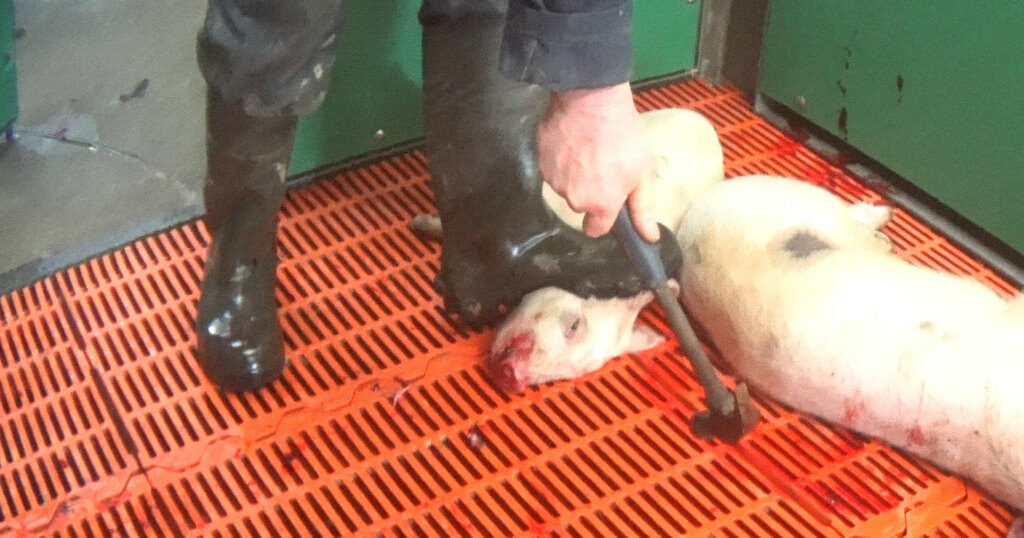 Animals are currently being failed by a severe lack of monitoring and enforcement of animal protection laws. While there is certainly more work to be done to ensure farmed animals receive stronger protections in law, we must simultaneously work towards stronger enforcement of those laws that are already in place.
Many animals trapped in the animal agriculture system are currently suffering from illegal mutilations and living in conditions that break laws that are in place, simply because those laws are not being adequately enforced.
Our Demands
We are calling for improved monitoring and enforcement of existing animal welfare laws and for increased legal protections to be put in place for farmed land and aquatic animals.
As a first step to achieving this, we are urging the Government to implement a licensing system for farms which would only require all farms to undergo more regular and more rigorous inspections and would give authorities the opportunity to revoke or suspend a licence if non-compliance ensued.
As part of a licensing system, we are also urging the Government to implement the following:
Inspections to be carried out at least every 1-3 years. A first inspection to grant the licence and then following inspections for renewal
Inspections to be robust and occasionally unannounced
Farms found not complying with their licences and the law must not be allowed to operate and be given appropriate penalties
Breaches of licences must result in non-renewal and prosecution
Progress So Far
In February 2022, Animal Equality revealed disturbing undercover footage of deliberate violence and neglect on Madox Farm, a large dairy farm in Carmarthenshire, South Wales. The troubling scenes include workers kicking and punching cows in the face and stomach, and hitting them with metal shovels. The footage was broadcast to millions of people on BBC One's Panorama. As a result, tens of thousands of people have signed our petition urging for animal abusers to be held accountable.
The cruelty documented in this investigation is just one example of how animals living on UK farms are currently experiencing extreme suffering as a result of a lack of proper enforcement of UK animal protection laws. This must change.
To find out more about our enforcement campaign, click on the link below.
Thank you for your interest in our campaigns. Small actions can make an enormous difference for animals. From tweeting a petition, to contacting your local MP, every email, every phone call and every petition signature makes a world of difference to the animals who so desperately need and deserve our help.
Together, we can achieve a world where all animals are respected and protected.
---
Most Popular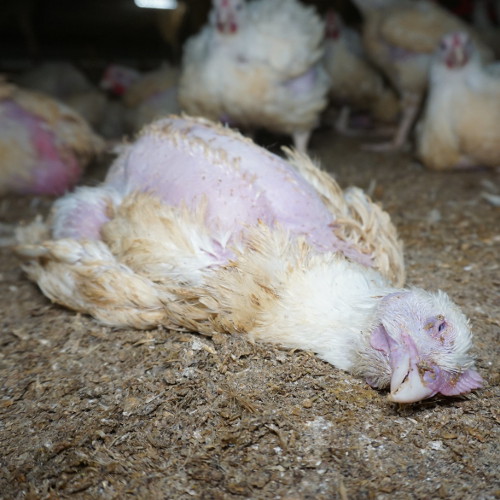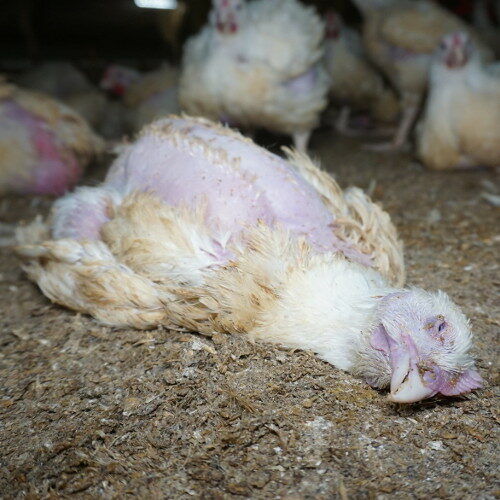 08/07/2023
---
Most people will never see inside a farm or slaughterhouse, so when they have concerns about how animals are treated in order to produce the products they buy, they put their trust in others to tell them what is happening on those farms. For most consumers, this means putting trust…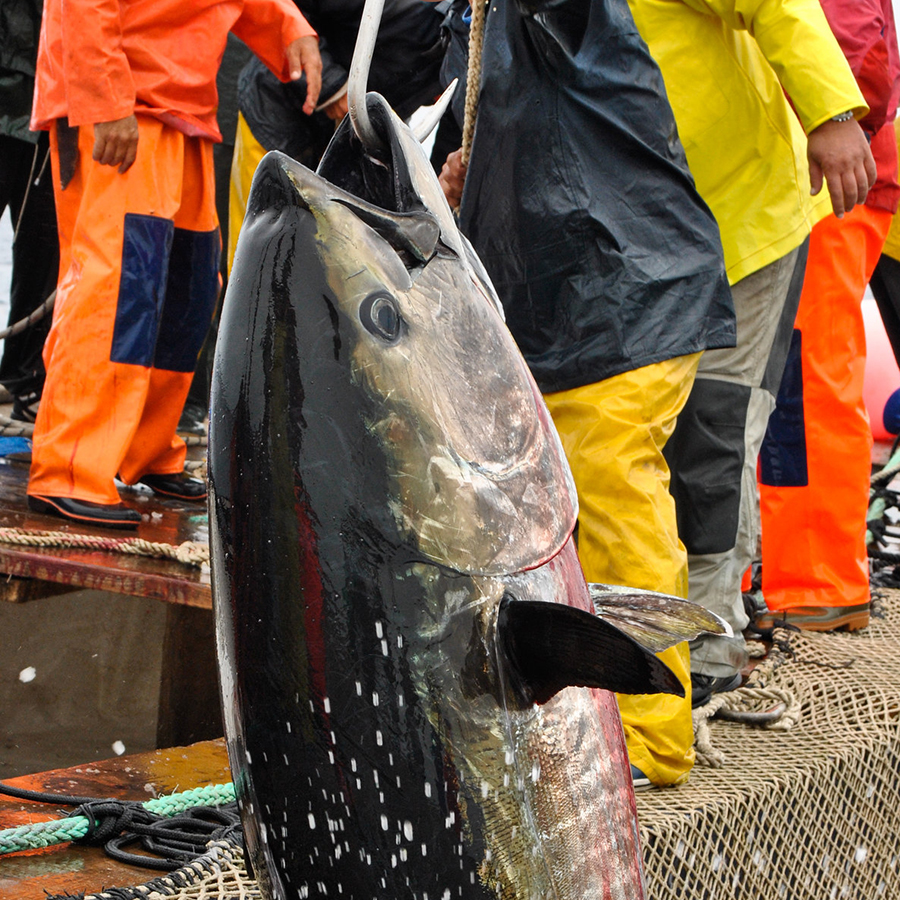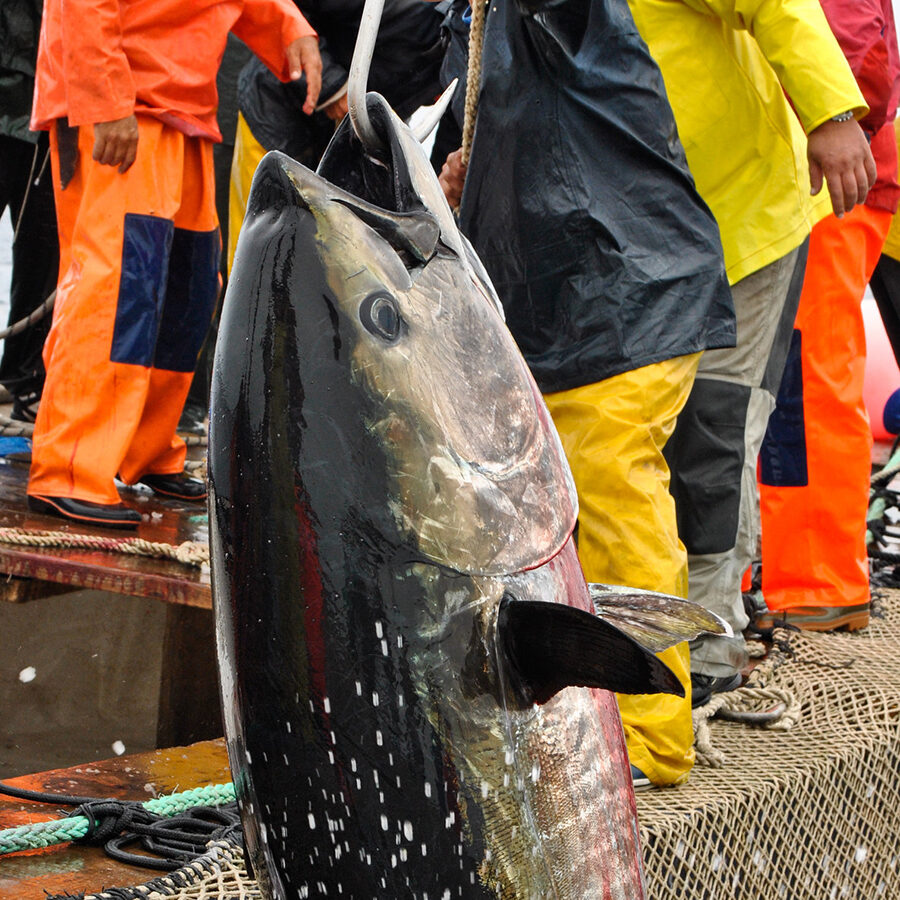 08/07/2023
---
Did you know that dolphins also die as a consequence of killing tuna, among other and marine animals?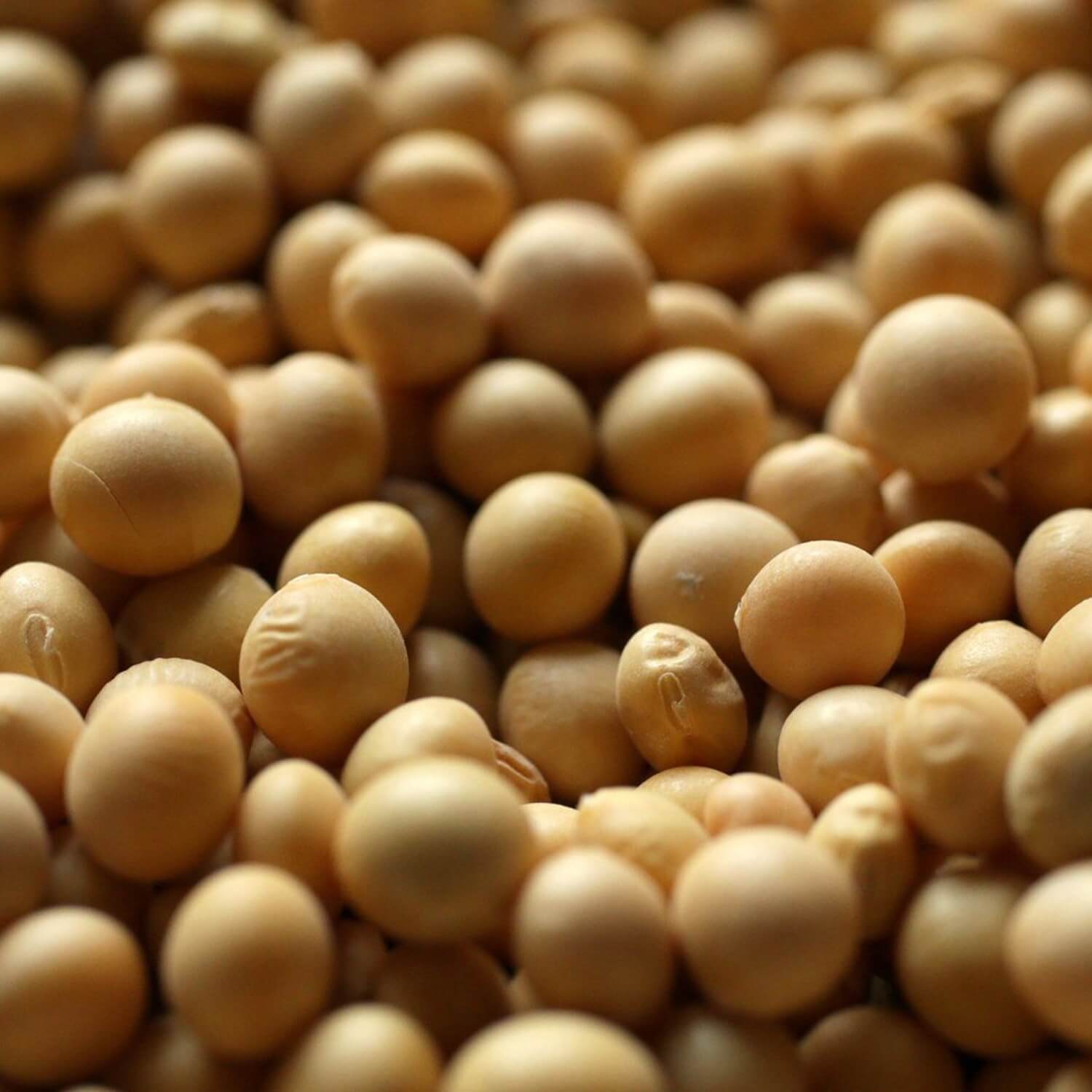 08/07/2023
---
In recent years much of the conversation around soy has been heavily focused on deforestation and climate change. And because soy is often a key ingredient in plant-based meals, it is a common misconception that foods promoted as meat and dairy substitutes – such as tofu and soy milk –…