News
Get the latest news and updates from Animal Equality
225,000 Signatures To Ban Foie Gras Delivered To Downing Street
08/09/2021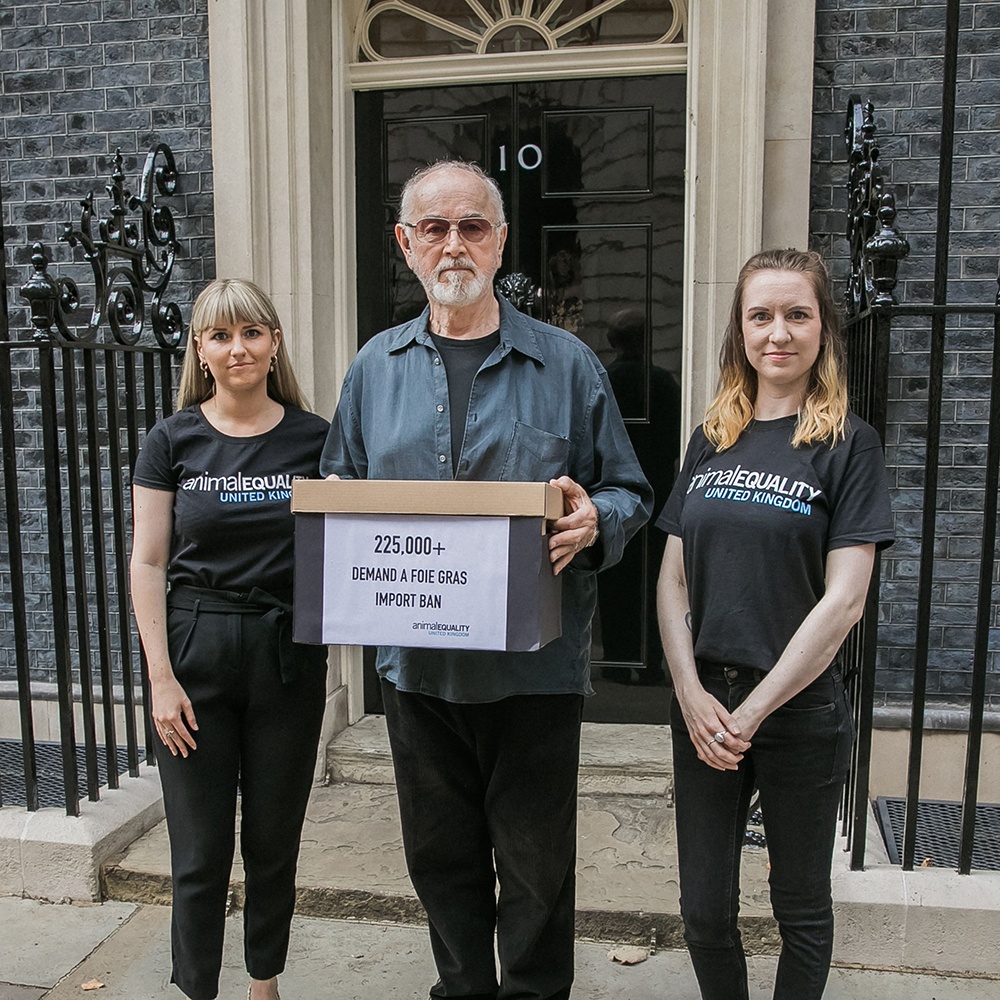 Actor and animal advocate Peter Egan joined campaigners from Animal Equality in delivering over 225,000 petition signatures, calling for a UK-wide ban on the importation of foie gras made by force-feeding, to the UK Government at Number 10 Downing Street.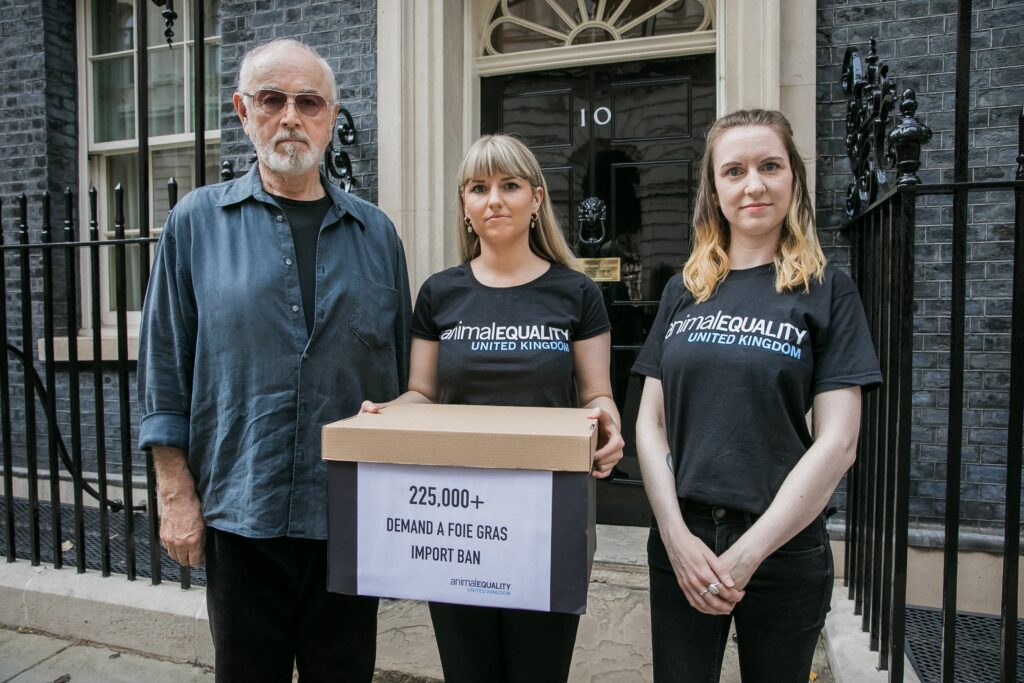 Animal Equality launched a petition demanding a UK foie gras import ban in June 2017, which has since garnered cross-party political support, celebrity endorsement – including from Ricky Gervais, Joanna Lumley, Thandiwe Newton, Dev Patel and Alan Carr – and which has now surpassed 225,000 signatures.
Michelin-starred French chef, Alexis Gauthier, owner of award-winning London restaurant Gauthier Soho, also joined the group outside Downing Street to call for a foie gras ban. At its peak, Gauthier Soho served 20 kilos of foie gras a week – the equivalent of 20 ducks and geese – until 2018, when the restaurant transitioned to serving plant-based faux gras in its place, a decision centred around animal welfare concerns.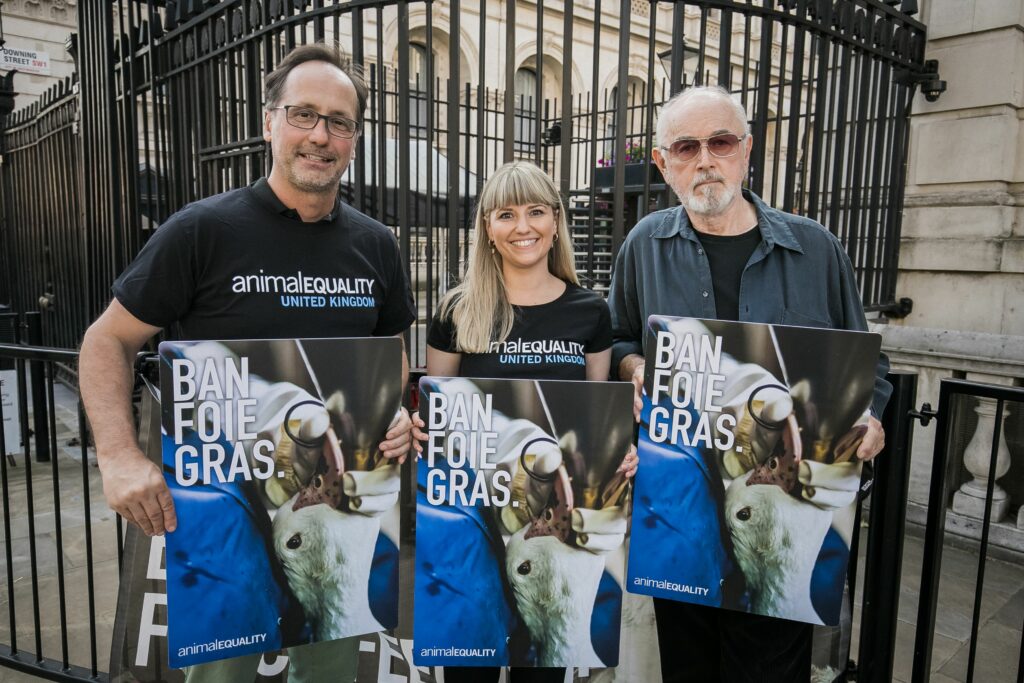 Over the past decade, Animal Equality's international team of investigators have filmed animal suffering on dozens of foie gras farms across France and Spain, each time revealing terrified ducks and geese kept in filthy, barren cages and force-fed until their livers become severely swollen and diseased.
There is certainly nothing delicate about this so-called 'delicacy'. Millions of petrified birds are brutally force-fed for foie gras every year, a process so violent that many suffer severe wounds and bleeding as a result. By allowing foie gras imports, the UK is profiting from these evil practices.

Jenny Canham, Campaigns and Public Affairs Specialist at Animal Equality UK
Earlier this year, the Government committed in its Action Plan for Animal Welfare to "exploring a ban on the sale of foie gras", but is yet to provide specific details about how and when the ban will be passed. There has been growing pressure on the UK's Department of Environment, Food and Rural Affairs (Defra) to enact the ban over recent months, with high-profile cross-party MPs across the UK declaring that "the public is growing impatient, as are we" in a recent open letter to George Eustice MP, Environment Secretary, and Lord Goldsmith, Animal Welfare Minister.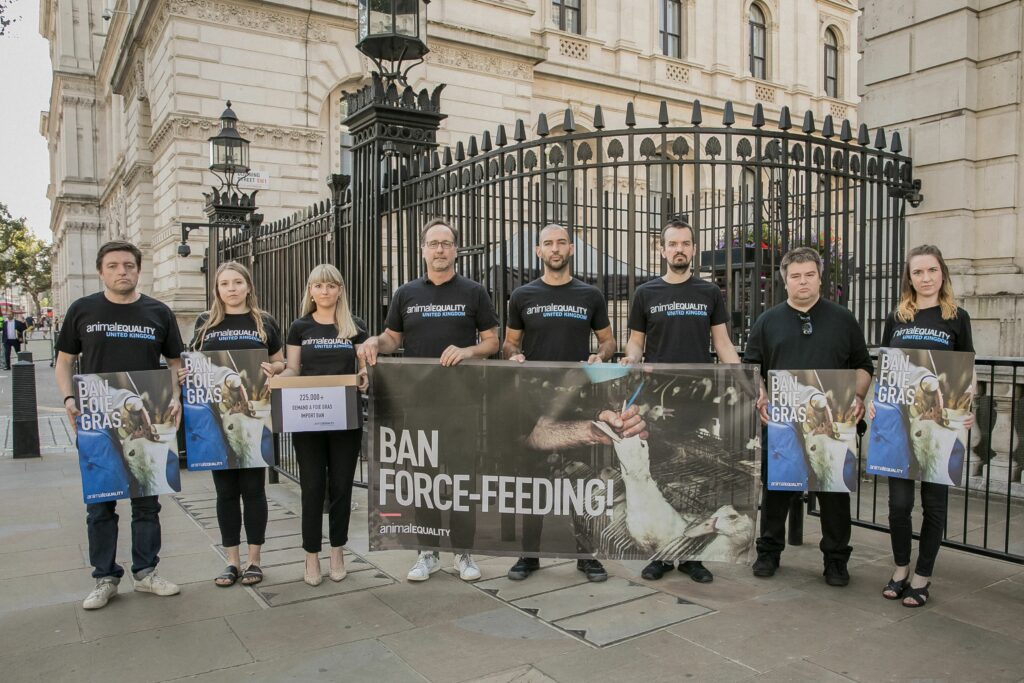 The UK imports an estimated 200 tonnes of foie gras every year from mainland Europe, impacting around 250,000 ducks and geese every year. The production of foie gras involves a force-feeding process, also known as 'gavage', where the birds have vast amounts of food forced into their stomachs through large metal pipes. The animals' diseased livers are then sold as foie gras. In 2006 the UK banned foie gras production on animal welfare grounds, yet continues to import it from other countries – a hypocrisy which must end.
Hundreds of thousands of people have joined our call to demand an immediate end to imports of this vile product in the UK. The time for a ban is now!
---
Latest News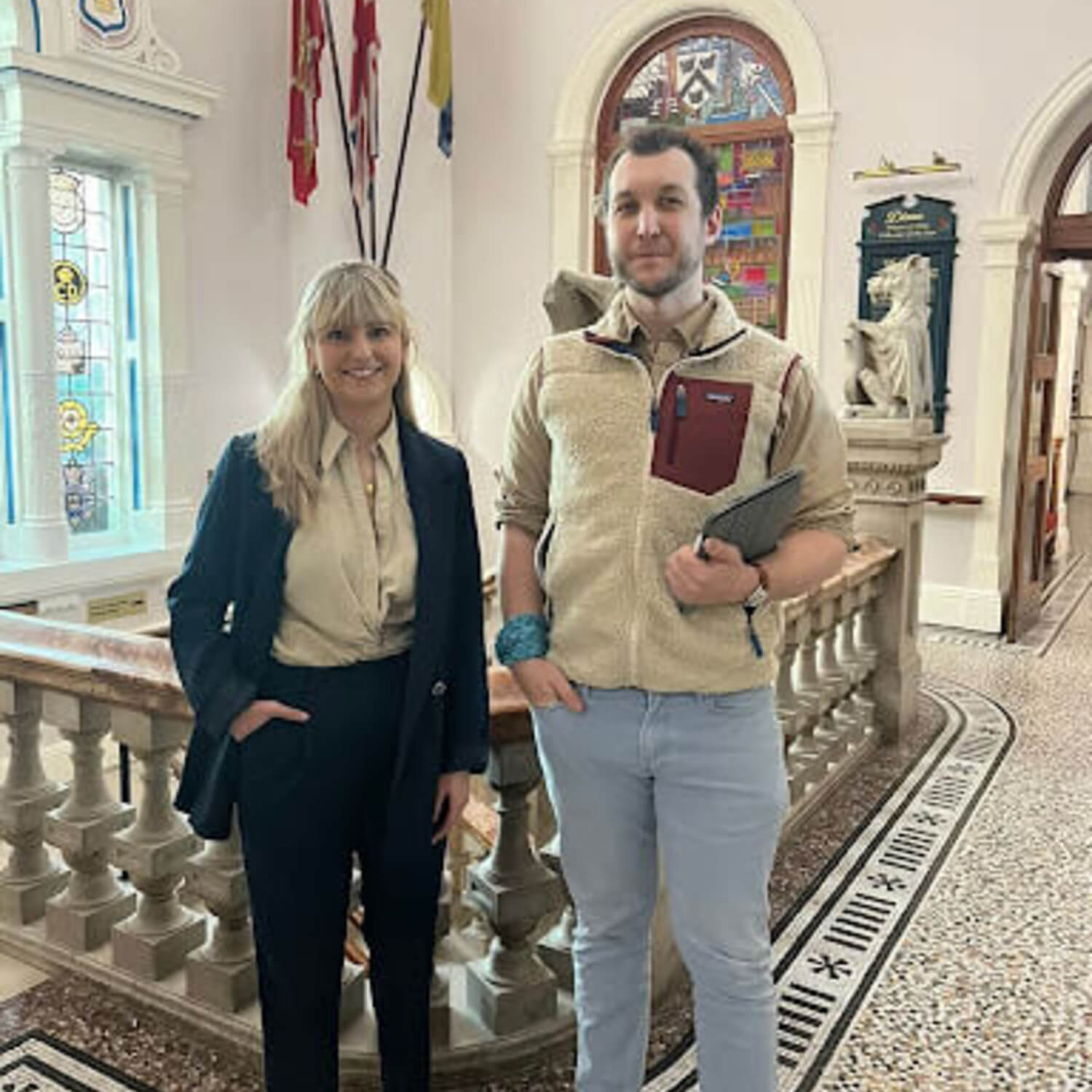 01/12/2023
---
On Wednesday 29th November, Councillors on the Planning Committee for North East Lincolnshire Council approved proposals for a controversial on-land intensive salmon farm in Cleethorpes, with four opposing and seven in favour. With plans to produce 5,000 tonnes of dead fish per year, there are no other fish farms of this scale in operation currently in the UK. Once constructed, the facility will be one of the largest in the world.
24/11/2023
---
Each year more than 200,000 tonnes of foie gras made by force-feeding are imported into the UK. Its production is so cruel that it is illegal to make in the UK, yet we hypocritically continue to permit imports. Previously unpublished images taken inside several duck farms in France show the terrible animal suffering involved in foie gras production.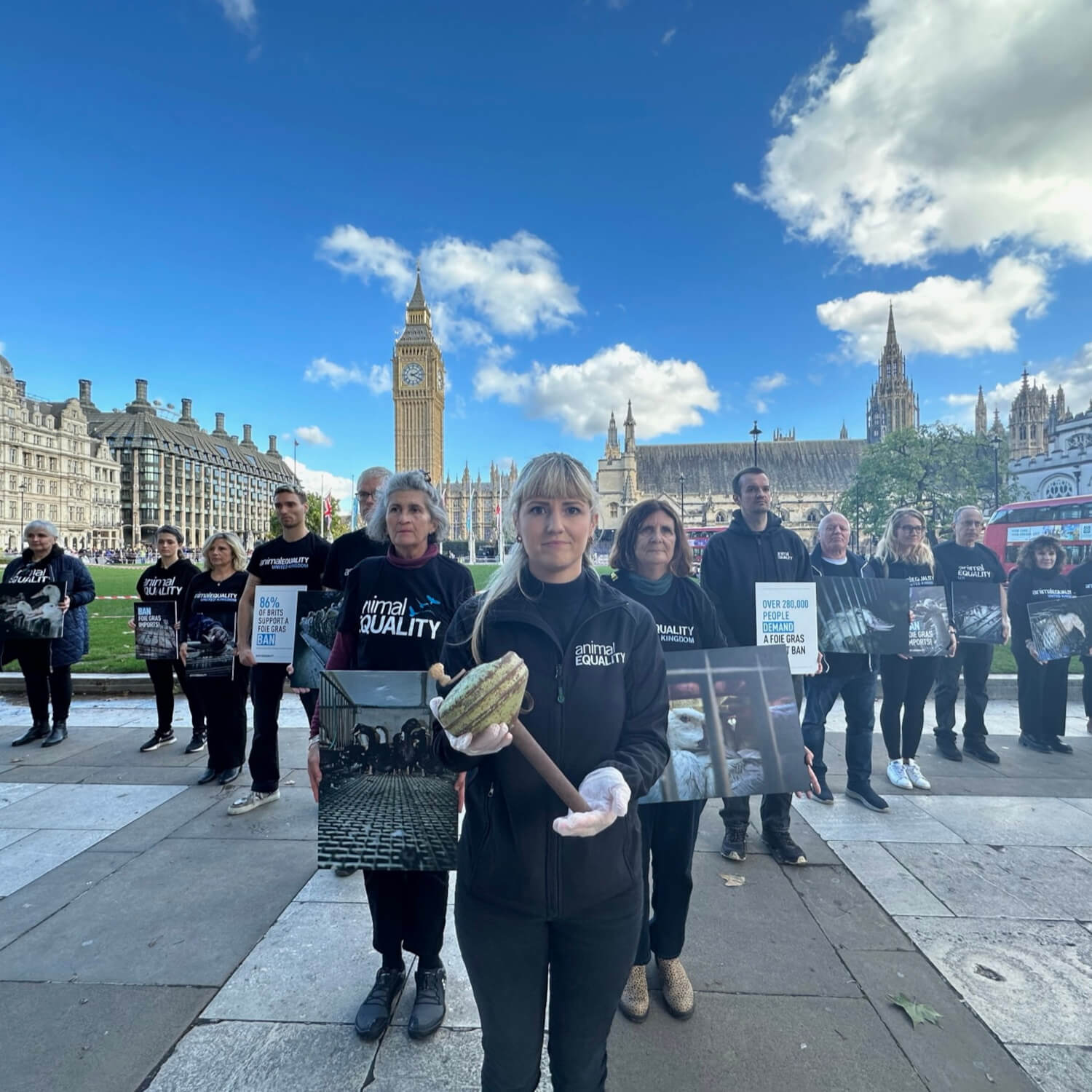 03/11/2023
---
Following conversations with Animal Equality, Giles Watling MP successfully tabled a Westminster Debate, speaking up for millions of ducks and geese trapped in cruel foie gras farms.