News
Get the latest news and updates from Animal Equality
Animal Equality Goes To Downing Street With Diane Morgan To Defend Animals
Animal Equality went to Downing Street with British comedian and actress Diane Morgan to represent you and the millions of animals suffering in factory farms and slaughterhouses.
27/06/2023
Updated: 04/07/2023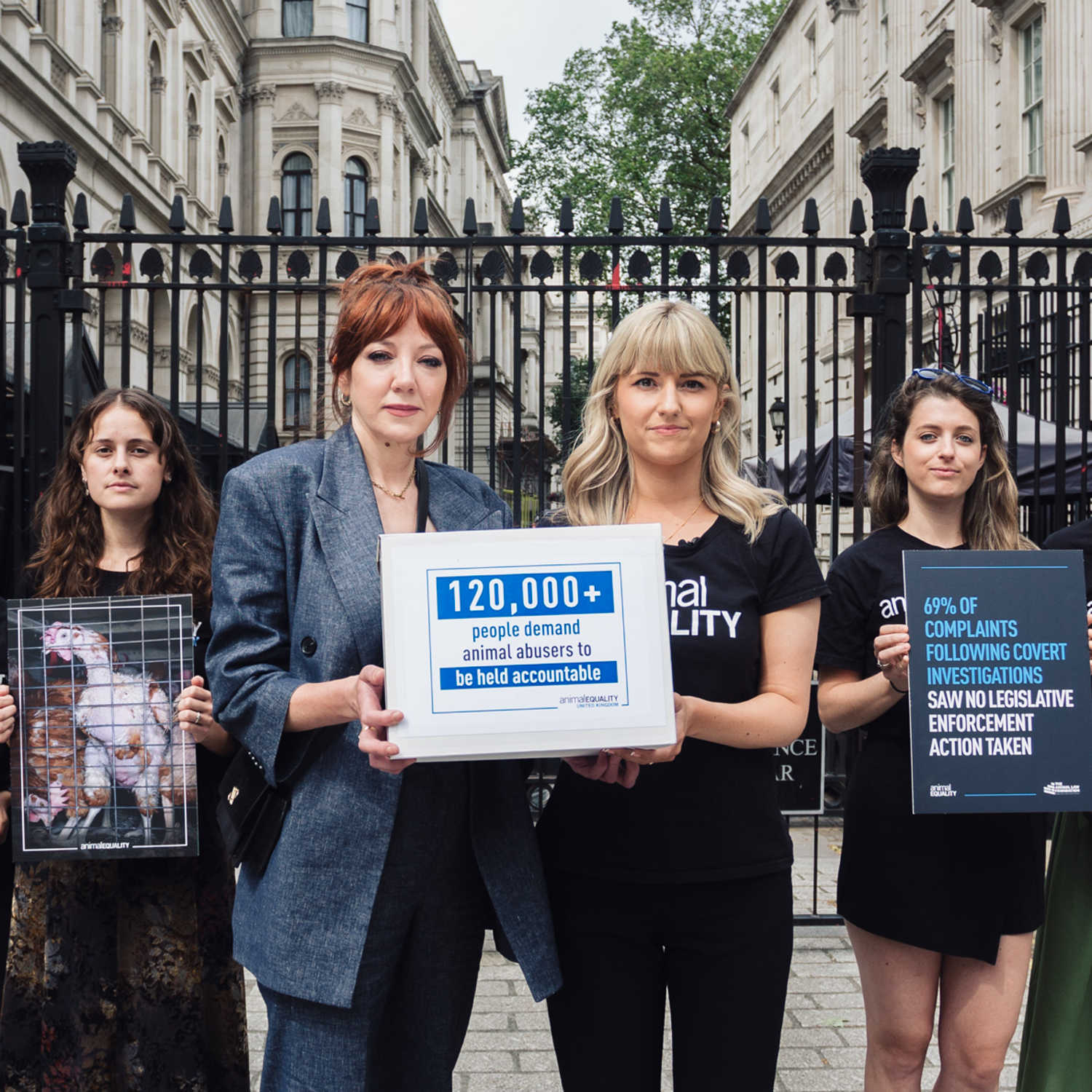 What Happened At Downing Street?
Over 120,000 people and counting have joined us in calling on the Government to hold animal abusers accountable.
We went to Downing Street to represent these people and the millions of animals trapped in factory farms and slaughterhouses across the UK, sending a clear message to the Government that the public will not tolerate animal abuse.
We were joined by leading animal welfare experts, other animal protection organisations and some of our volunteers and supporters in a demonstration at the gates of Downing Street.
Among these supporters is one you might recognise. British comedian and Netflix star Diane Morgan generously lent her time and platform to our campaign, recording a video urging fellow animal lovers to join her in signing the petition and try plant-based eating.
She came with us to Downing Street and joined our peaceful demonstration demanding that the Government stops illegal animal abuse.
I believe in this campaign because I'm living proof that showing people the truth works! A year ago, I knew very little about what happens to farmed animals. Now I'm here taking action to help them.

Diane Morgan, British Comedian and Actress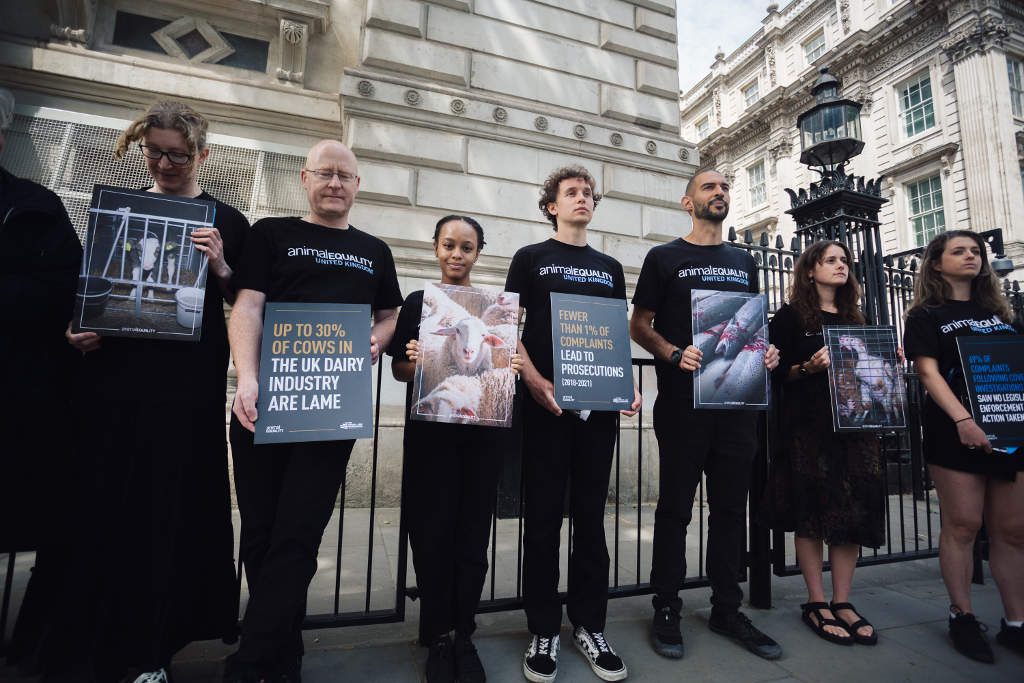 During the demonstration we handed out leaflets to the public and collected additional signatures for the petition, and our supporters held up placards with information about the enforcement of animal protection laws in the UK.
Our Executive Director, Abigail Penny also went into Downing Street with Diane Morgan to personally deliver the petition signatures to Number 10.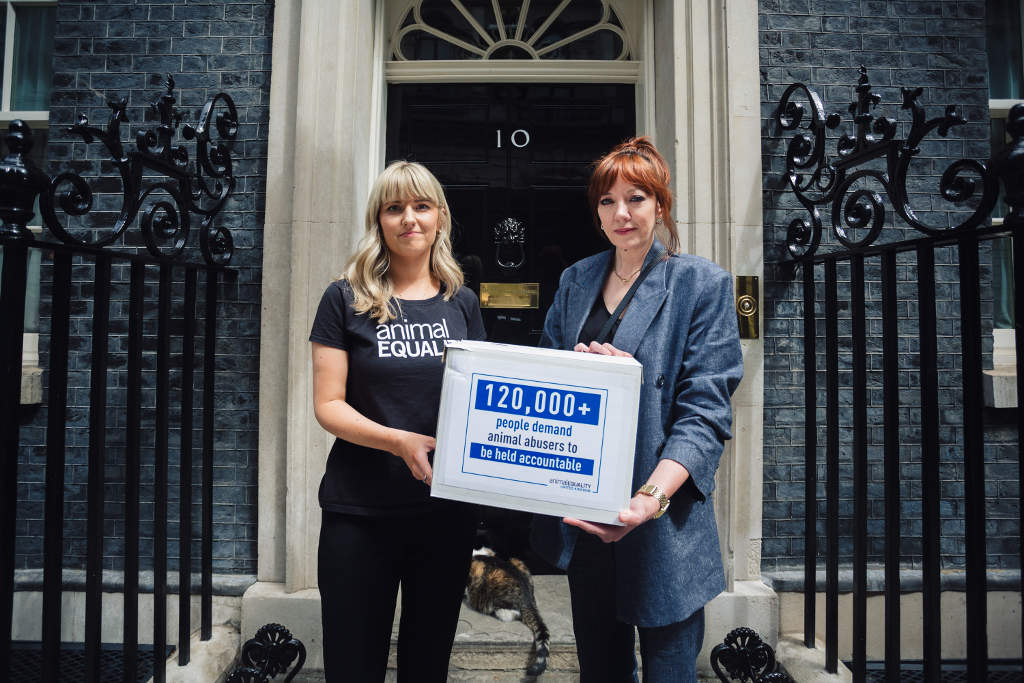 Larry, the famous Downing Street cat, even came out to show his support for the campaign!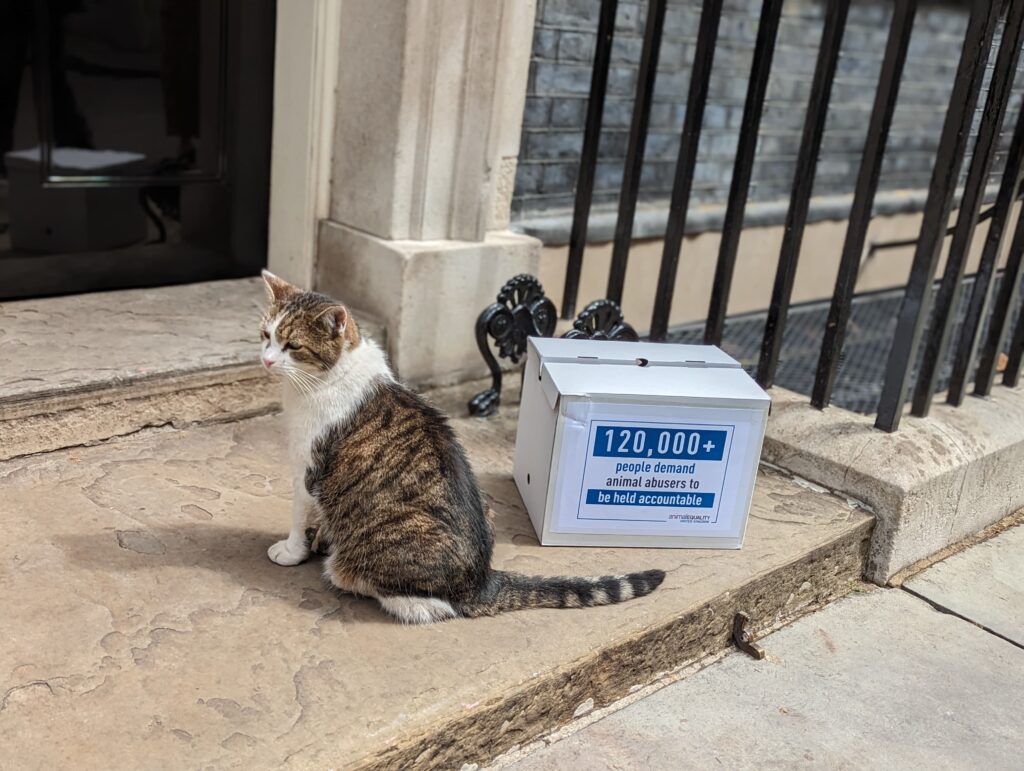 Why Did We Go To Downing Street?
Over the years, Animal Equality has collected hundreds of hours of footage from inside factory farms and slaughterhouses showing farms breaking animal welfare laws without serious consequences.
In the UK, our investigators have witnessed:
Pigs having their tails cut off and teeth cut down routinely without pain relief.
Cows who can barely walk or stand due to severe lameness caused by unnatural factory farm conditions.
Chickens who can't stand or reach water because they have been selectively bred to grow too big, too fast and their bones cannot take their weight.
Salmon who are slaughtered while still conscious.
These incidents are not isolated. Late last year, we published a groundbreaking report with The Animal Law Foundation, revealing that fewer than 3% of UK farms are subjected to an official inspection each year.
Even more shockingly, fewer than 1% of complaints made about animal welfare led to a prosecution in the UK during the same time-period.
The situation is clear. Animal protection laws are being broken time and time again and the Government is failing to stop it.
Just like any other industry, it's only fair, right and sensible that the animal agriculture industries are properly monitored and regulated, especially when they are responsible for breeding and slaughtering hundreds of millions of animals each year. Animal protection laws exist for a reason, but the current lack of oversight and enforcement makes a total mockery of the legal system. Something seriously needs to change.

Abigail Penny, Executive Director, Animal Equality UK
It's Not Too Late To Help Animals
There are animals out there right now, scared and in pain on factory farms, who don't understand why someone's hurting them. Animal Equality is fighting to protect them but we need your support.
As a registered charity, we rely on people like you to be able to continue going into factory farms and slaughterhouses and uncovering the truth.
We are also only able to keep campaigning for a better future for animals thanks to the generosity of our supporters.
Right now, you have an incredible opportunity to help animals. Momentum for this campaign is building rapidly, and it's not too late to join us in making history for millions of animals in the UK.
Until the 30th June, all donations made to Animal Equality will be matched by an anonymous donor (up to our goal of £140,000). This means that your donation will help twice as many animals!
Will you join us in making history for animals?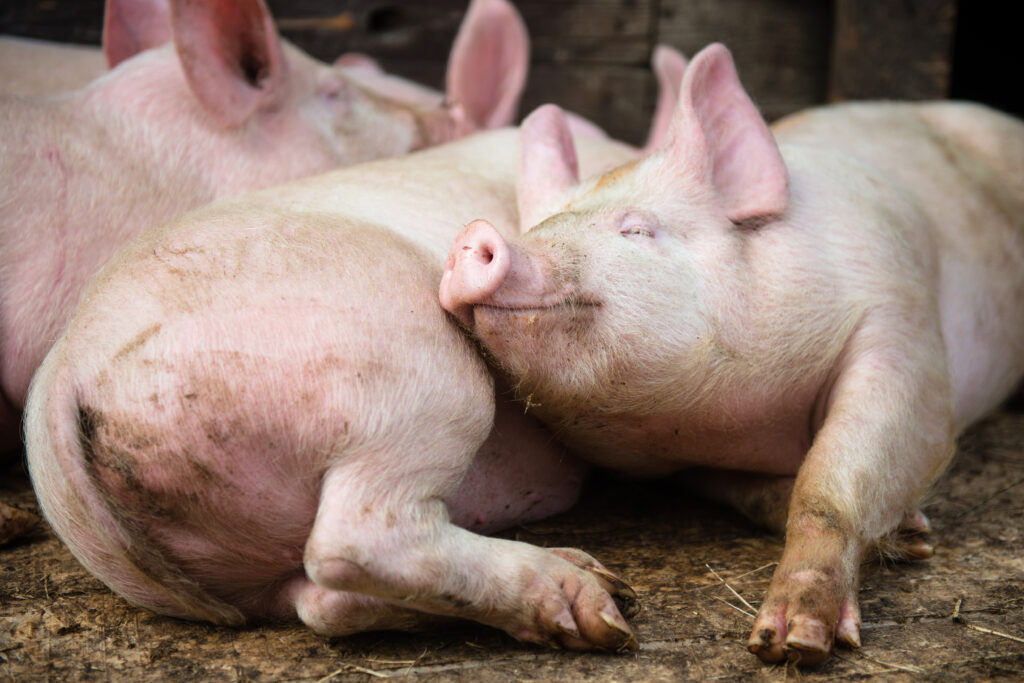 START YOUR PLANT-BASED JOURNEY TODAY!
Farmed animals have rich emotional lives and unbreakable family bonds. They deserve our protection. You can help build a better future for animals by starting your plant-based journey today!
---
Latest News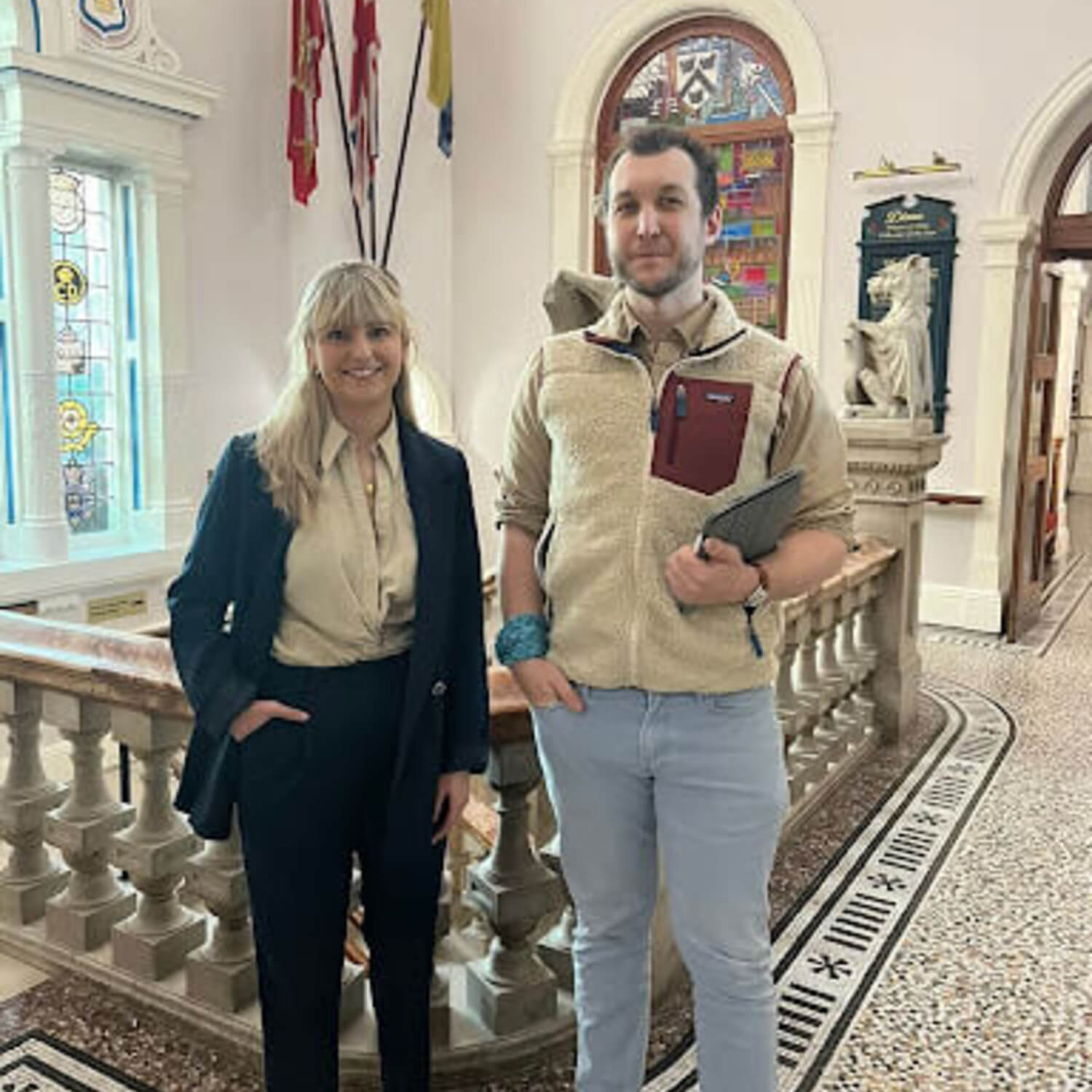 01/12/2023
---
On Wednesday 29th November, Councillors on the Planning Committee for North East Lincolnshire Council approved proposals for a controversial on-land intensive salmon farm in Cleethorpes, with four opposing and seven in favour. With plans to produce 5,000 tonnes of dead fish per year, there are no other fish farms of this scale in operation currently in the UK. Once constructed, the facility will be one of the largest in the world.
24/11/2023
---
Each year more than 200,000 tonnes of foie gras made by force-feeding are imported into the UK. Its production is so cruel that it is illegal to make in the UK, yet we hypocritically continue to permit imports. Previously unpublished images taken inside several duck farms in France show the terrible animal suffering involved in foie gras production.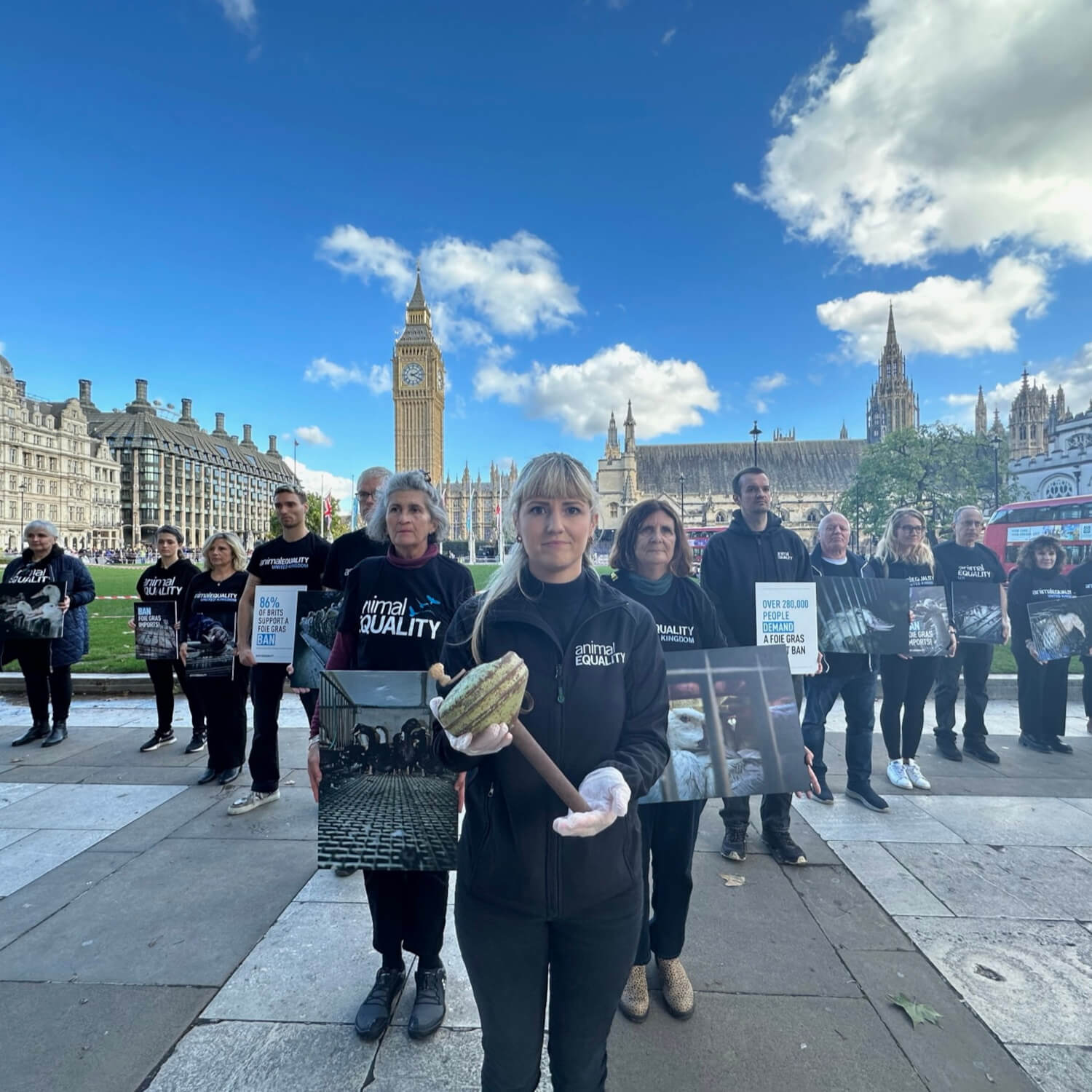 03/11/2023
---
Following conversations with Animal Equality, Giles Watling MP successfully tabled a Westminster Debate, speaking up for millions of ducks and geese trapped in cruel foie gras farms.