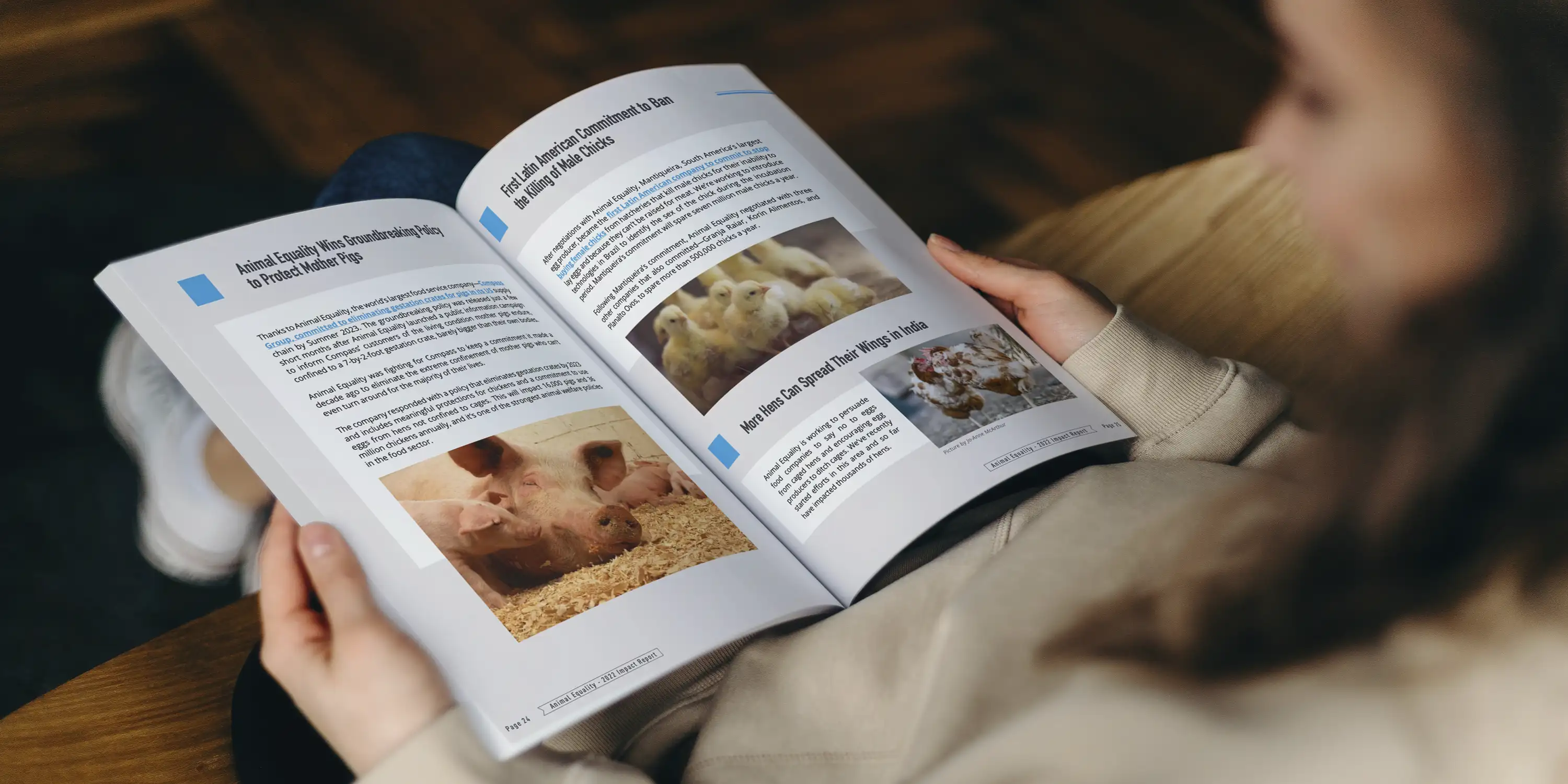 AUTUMN 2023 IMPACT REPORT
We have impacted over 33 million animals in eight countries thanks to YOU.
Learn here about the change that, together, we are making for animals
Dear friend,
I'm excited to introduce our autumn impact report, highlighting our significant strides for animals.
From shaping the Mexican Constitution to defending Prop 12 in the US, your steadfast support has catalysed positive change. Our exposé of cruelty in Scotland's salmon industry on the BBC's Countryfile show was impactful. We've also released new investigations into the pig and egg industries, motivating thousands to adopt a compassionate diet.
These achievements are a testament to your unwavering commitment. Your donations, signatures, and advocacy efforts propel our mission toward a more compassionate world.
As we celebrate our progress so far, remember that every action you take contributes to a kinder world for animals.
Thank you for being an indispensable part of our journey.
With gratitude,
Sharon Núñez
President, Animal Equality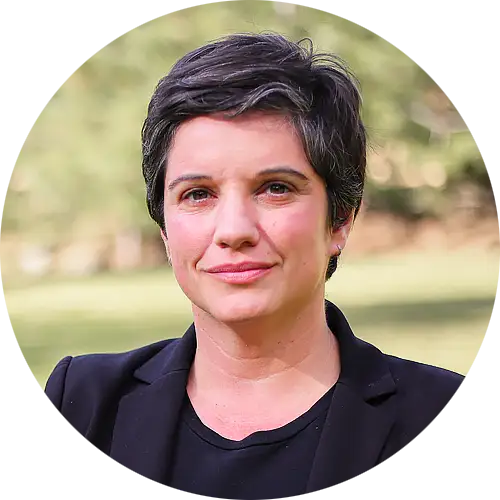 Animal Equality: 17+ Years of Changing the World for Animals
In 2006, Animal Equality was founded in Spain by Sharon Núñez, Jose Valle, and Javier Moreno with one mission: to protect animals.
In 2016, Animal Equality decided to dedicate its resources exclusively to farmed animals who are raised and killed for human consumption. Farmed animals suffer and die in the greatest numbers and are generally not protected by laws and policies.
Animal Equality is one of the world's most effective advocacy organisations for farmed animals today.
With you by our side, we work tirelessly in eight countries – the United States, the United Kingdom, Germany, Italy, Spain, Mexico, Brazil, and India – to achieve our shared vision of a world where all animals are respected and protected.
Thanks to your support, we conduct undercover investigations to expose what animals endure inside factory farms and slaughterhouses. We also make tangible progress for them by criminalising abuse, promoting new laws, working with companies to update their animal protection policies, and inspiring people to reduce or eliminate their consumption of animal products.
None of this would be possible without you.
Let's celebrate your achievements for animals from January to September 2023.
HIGHLIGHTS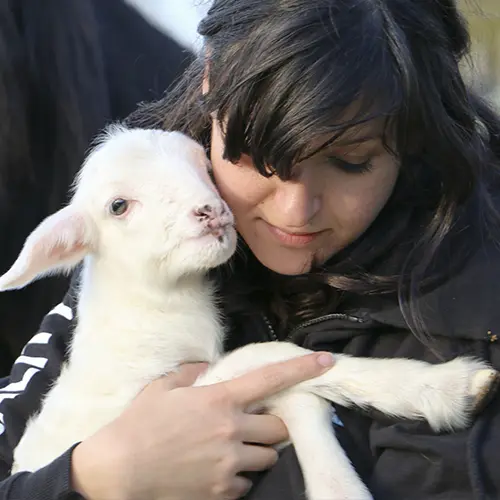 33+ MILLION
ANIMALS IMPACTED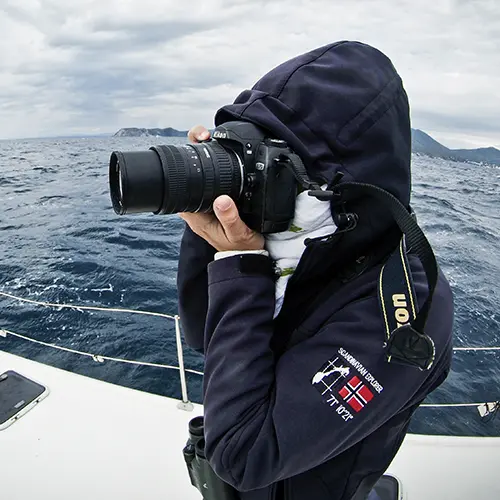 5
INVESTIGATIONS PRESENTED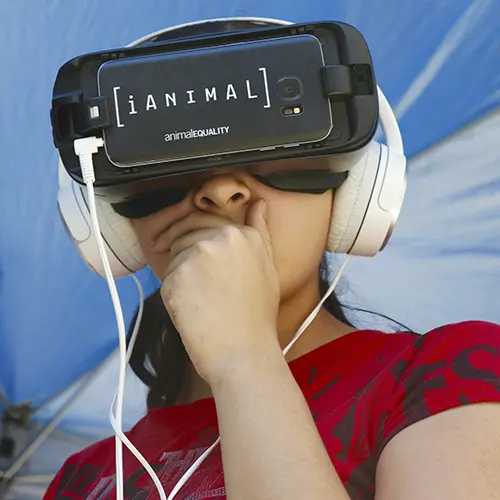 4.9+ MILLION
VIEWS OF OUR VIDEOS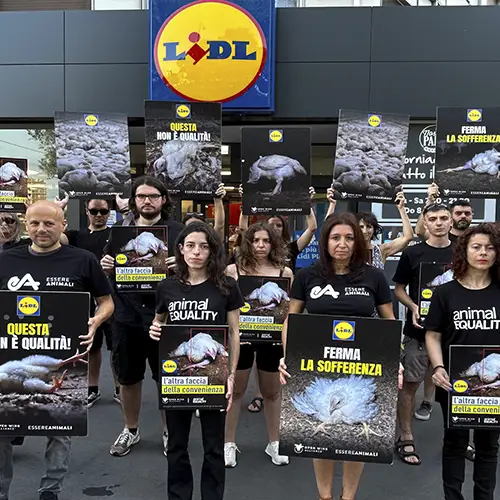 126,000+
VOLUNTEERS AROUND
THE WORLD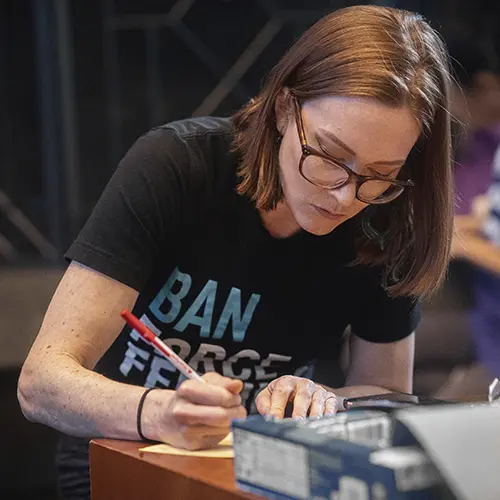 621,000+
PEOPLE SUPPORTED OUR CAMPAIGNS
Promoting Delicious Plant-Based Eating
Adopting plant-based eating is Animal Equality's most important message to citizens worldwide. In all our publications, we encourage our supporters to replace meat, dairy, and eggs with delicious, plant-based foods. That is why we built Love Veg, Animal Equality's signature plant-based program. Our associated website, social media posts, emails, and events provide people with the information, motivation, and recipes they need to discover the diverse world of plant-based foods.
We are inspiring millions of people to help animals with every meal!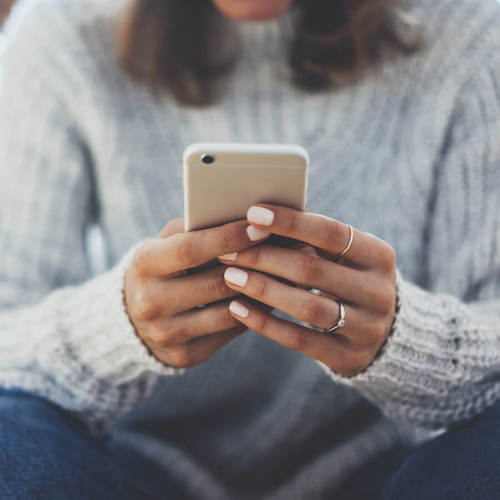 382,000+
PEOPLE RECEIVING LOVE EMAIL EMAILS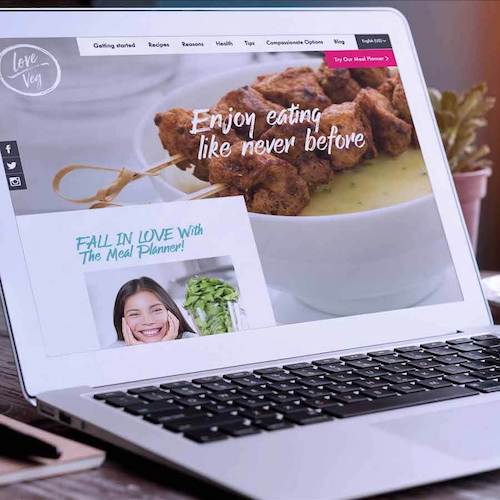 1.1+ million
OF VISITS TO THE LOVE VEG WEBSITES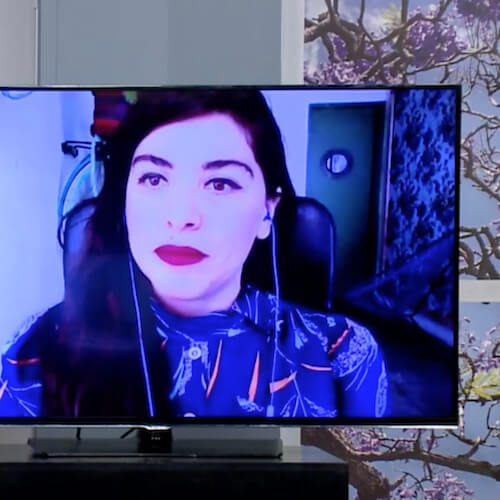 724,000+
ESTIMATED VIEWS OF LOVE VEG IN THE MEDIA
Inviting people in Mexico to 'Choose Without Cages'
In Mexico, 99% of hens in the egg industry are forced to live in tiny cages; they are given a space the size of a sheet of paper. Animal Equality's new 'Choose Without Cages" campaign promotes plant-based egg alternatives in the world's most egg-consuming country per capita. Love Veg aids this shift with a 20-recipe cookbook that offers tasty egg replacements. As of this year, our recipe books have been downloaded over 150,000 times in Mexico!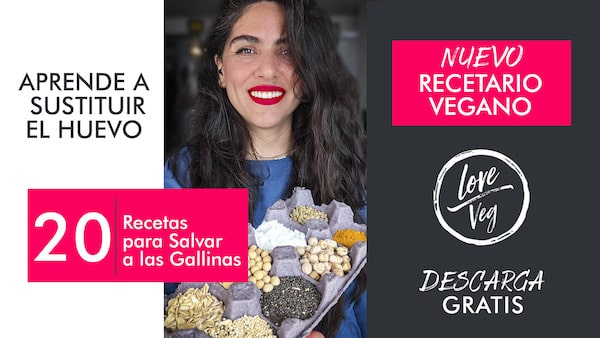 Inspiring Brazilians to go plant-based
Last February, we relaunched Love Veg in Brazil with the My First Vegan Recipes cookbook! Almost 19,000 people have visited the landing page, and thousands have subscribed to receive our emails, complete with information about transitioning to plant-based foods.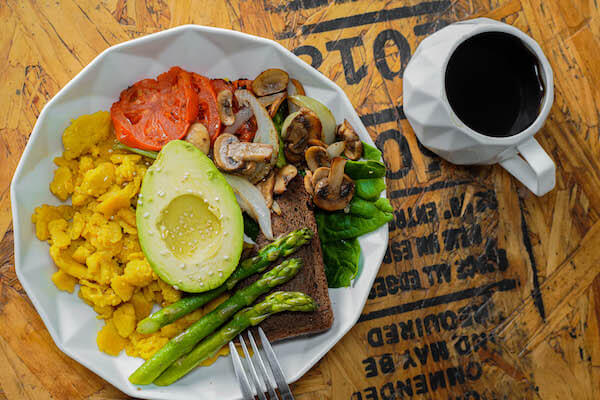 iAnimal at Italian Festivals
This year, Love Veg released a new cookbook in Italy featuring vegan recipes from chefs, influencers, and plant-based cooking experts. Additionally, we introduced iAnimal's virtual reality experience at two major festivals in the country. Hundreds of attendees gained unique insights into intensive farming from the animals' perspective, prompting reflection on their food choices.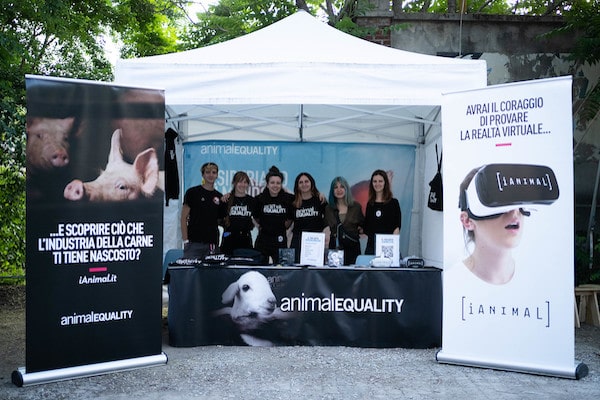 Indian influencers promoting the 21-Day Plant-Powered Challenge
Aaditi Pohankar, from the web series 'She' discusses the benefits of a plant-based diet for animals, the environment, and health in a recent Animal Equality video. Esha, an actor and content creator, collaborated with us for the 21-Day Plant-Powered Challenge, sharing her thoughts on delicious plant-based dishes.
Love Veg invites people to live plant-based in Germany
Animal Equality attended the Veganes Sommerfest in Berlin, with an estimated 60,000 visitors. At Animal Equality's stand, over 250 visitors watched iAnimal, a virtual reality project that allows viewers to see the realities of animals' lives on factory farms. After watching it, Animal Equality invited people to visit the Love Veg website for recipes and plant-based advice.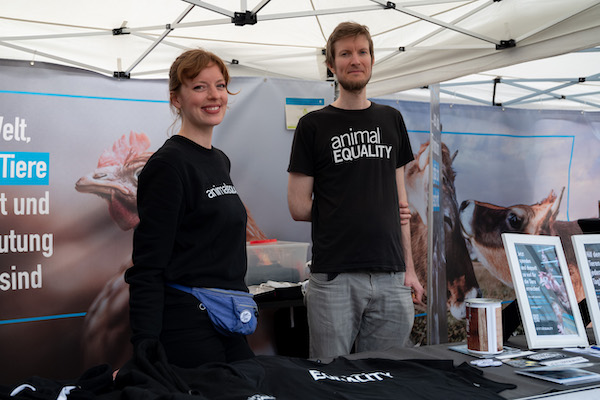 Veganising traditional dishes in Spain
We launched a new ebook in Spain called Veganising Traditions. This completely free recipe book contains 18 delicious and easy vegan recipes for some of the most classic and favourite dishes in the country, to inspire people to take their first steps to go plant-based.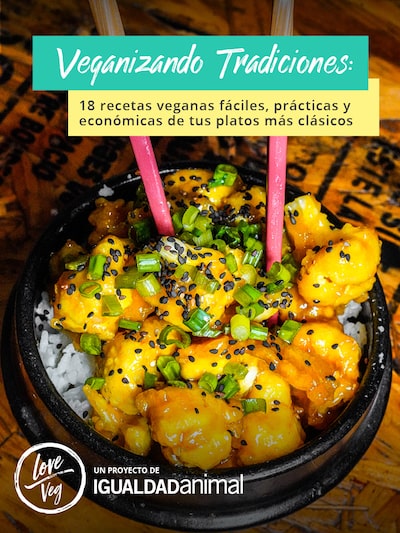 Advancing laws to promote plant-based food in Mexico
The Senate greenlit a bill for a Sustainable Food Law in Mexico, led by Animal Equality and Alianza Alimentaria. Pending Congress approval, we'll launch programs for a kinder and more sustainable food system that benefits people and animals.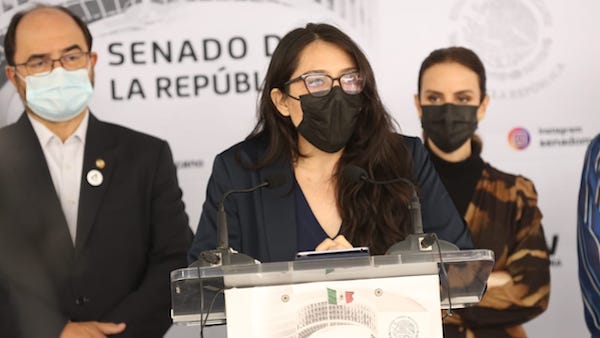 Campaign Actions
You've supported our campaigns to advocate for mother pigs trapped in cages. You've defended chickens bred to grow so large, so quickly that their legs and organs cannot keep up. You have given a voice to farmed fish who are left to suffocate and die, and you've exposed how calves are dragged away from their mothers – never to be seen again – in the dairy industry.
By signing our petitions, sharing our work, and joining our protests, you are initiating changes to company policies, securing legal reforms, and even closing factory farms while convicting animal abusers. To top it off, thousands of people are switching to plant-based foods to help animals.
Ending Factory Farming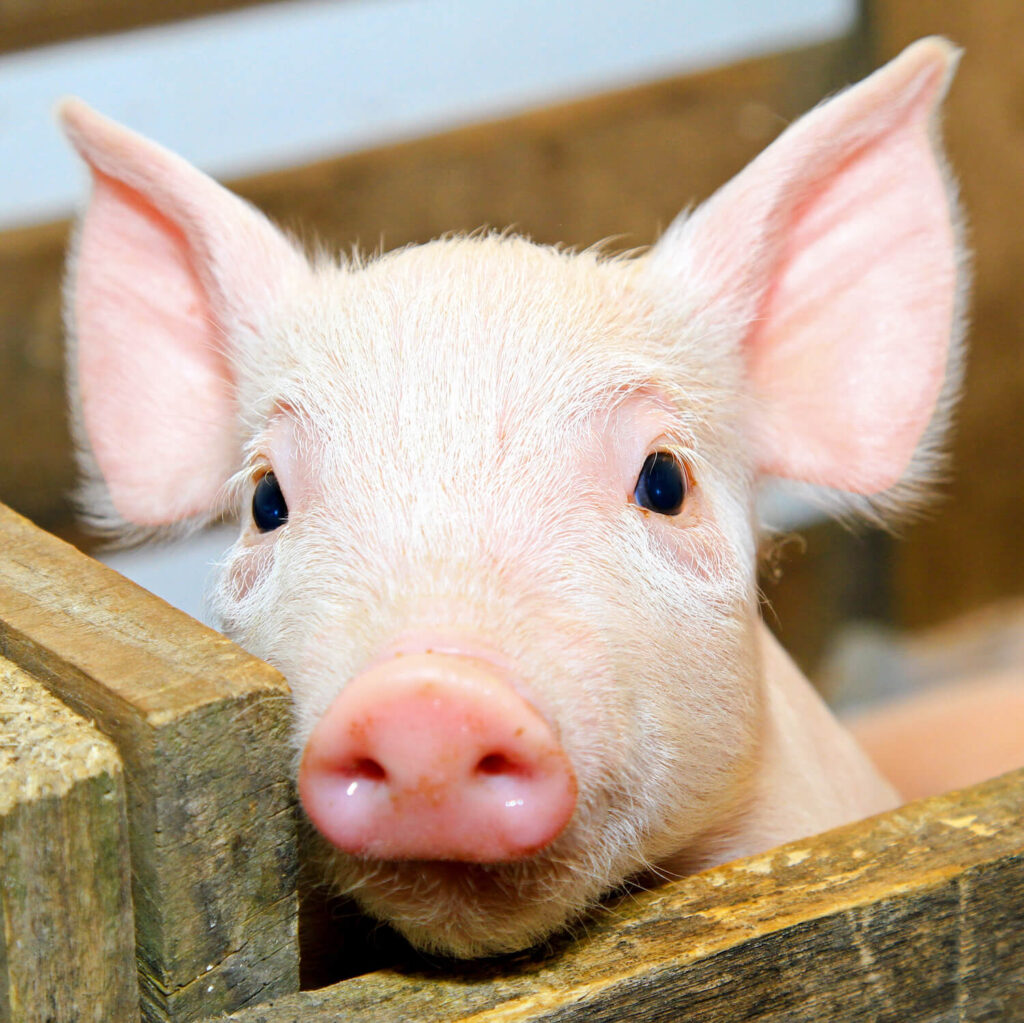 UNITED STATES
Supreme Court upholds Prop 12
California's Prop 12, recognised as the nation's toughest farmed animal welfare law, survived Supreme Court scrutiny, despite meat industry opposition. Prop 12 sets space standards for hens, pigs, and calves, impacting all animal products sold in California. Animal Equality joined the case as an intervening party to defend the law in court against the pig industry attacks, along with other animal organisations, securing a victory in May 2023.
UNITED STATES
Landmark law ends extreme confinement of pigs and calves in New Jersey
After 13 years of advocacy by animal protection groups, including Animal Equality, New Jersey has passed a law ending the extreme confinement of pregnant pigs and veal calves. This move aligns New Jersey with 11 other states in setting minimum space requirements for these animals.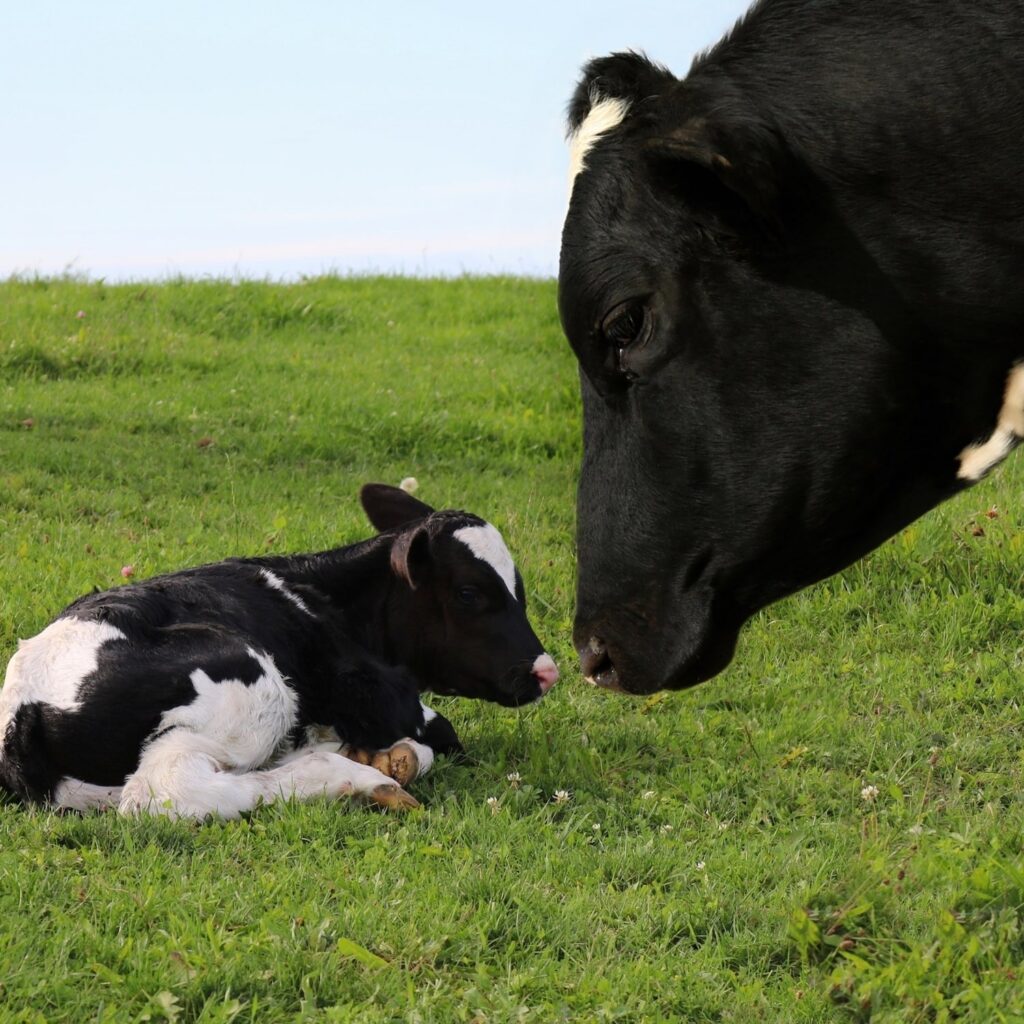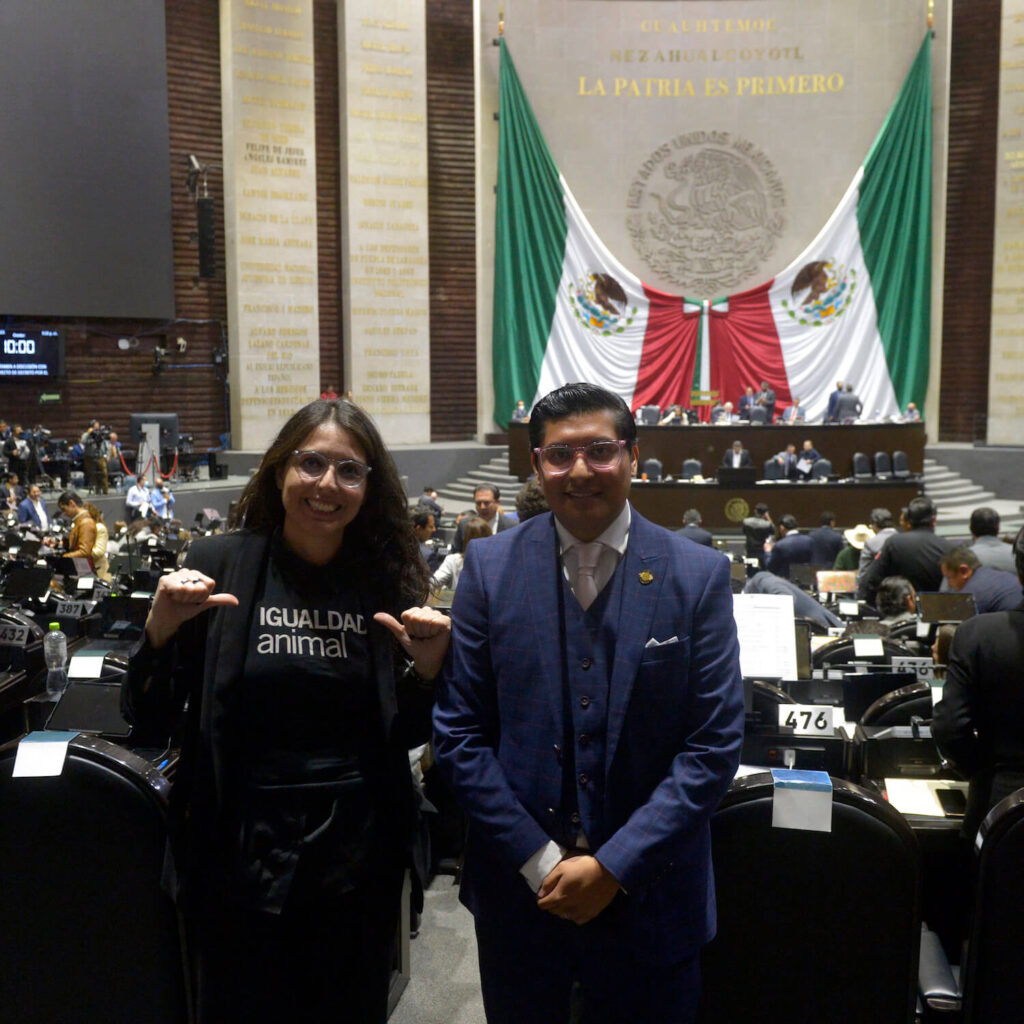 MEXICO
Including animals in the Constitution
This year we've promoted animal protection bills in three Mexican states (Veracruz, Puebla, and Quintana Roo), criminalised clandestine slaughterhouses in Mexico City, and introduced a groundbreaking bill to enact a General Animal Welfare Law in Mexico's Constitution. We're also working on regulations for 'cage-free' egg products.
Picture: Jean Ortega, Legislative Coordinator for Animal Equality in Mexico, and Dulce Ramírez, Executive Director for Animal Equality in Mexico, stand before Congress.
SPAIN
Calling for the end of cages at the Senate
Animal Equality and partner organisations joined an event at the Spanish Senate, urging the Government to support the 'End the Cage Age' citizens' initiative. This initiative aims to end farmed animal cages across the European Union.
Picture: Javier Moreno, co-founder of Animal Equality, at the Spanish Senate.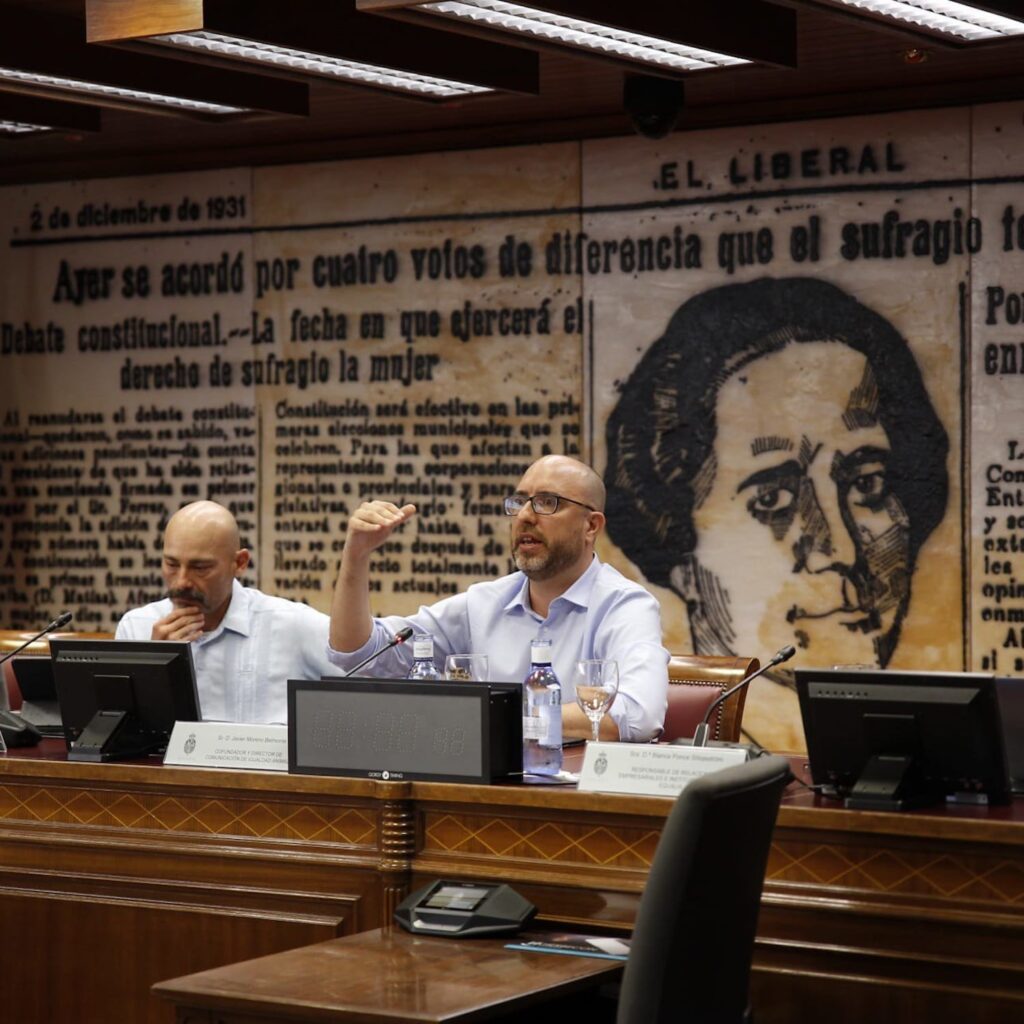 UNITED KINGDOM
British comedian joins Animal Equality in calling for UK farms to be licensed
Comedian Diane Morgan, known best for her role in Netflix's After Life and as Philomena Cunk in her BBC show, joined us in demanding mandatory licensing on UK farms. She recorded a viral video with over 420,000 views, encouraging fellow animal lovers to eat plant-based and sign our petition. She also joined us in handing in over 120,000 petition signatures to the UK Prime Minister.
SPAIN
Peter Singer Presents Ethics in Action in Madrid
Peter Singer, renowned philosopher and author of "Animal Liberation," introduced the Spanish edition of his book 'Ethics in Action' in Madrid. In a discussion with Animal Equality's President and Co-founder, Sharon Núñez, they explored Henry Spira's influence on the animal rights movement, a central theme of the book. Singer remarked, "If Henry Spira were alive today, he would be doing the work Animal Equality is doing."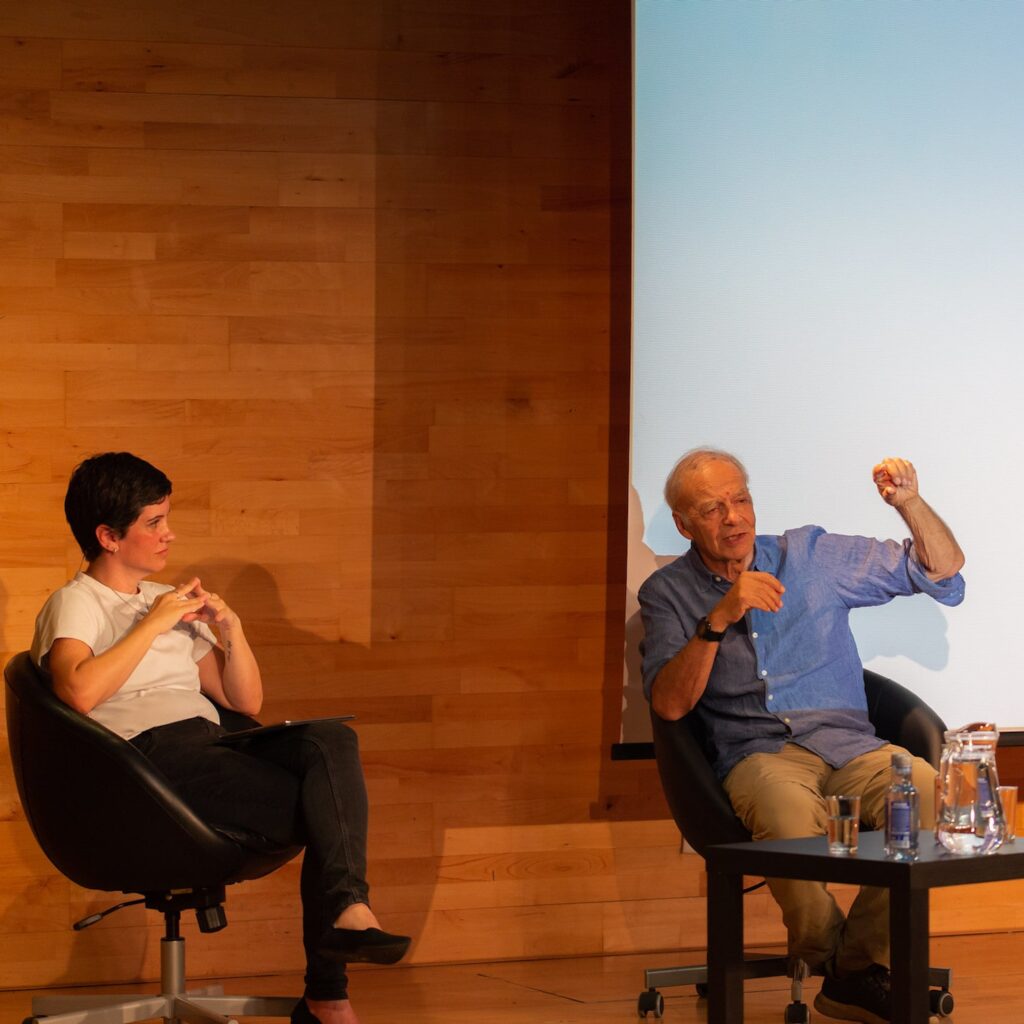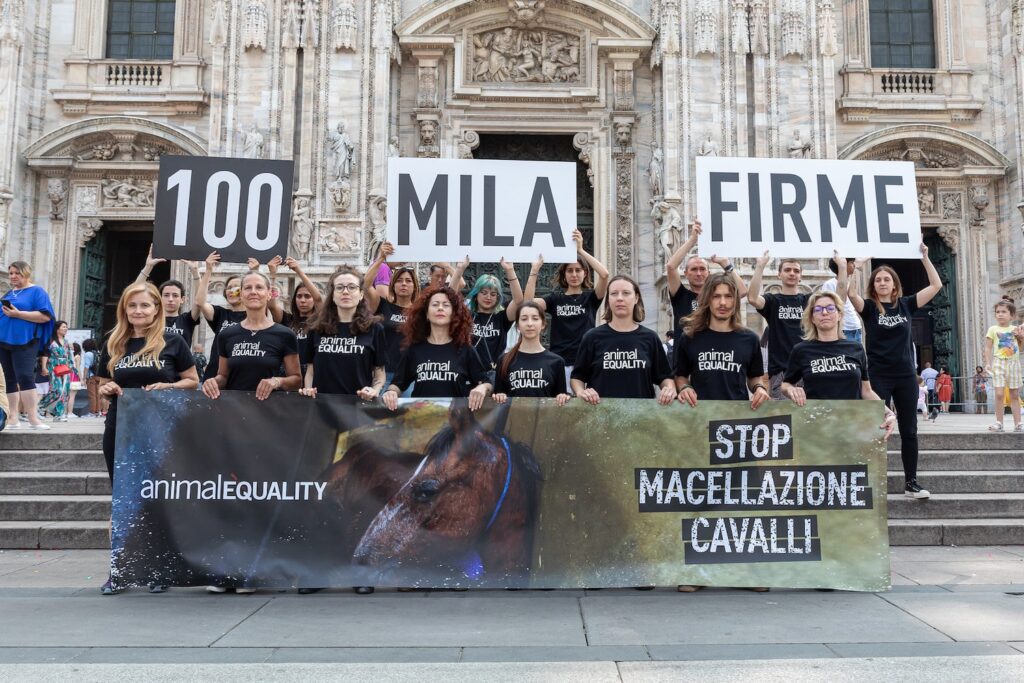 ITALY
Animal Equality's fights to end horse slaughter
Animal Equality initiated a global campaign against horse slaughter last year. Italy, the world's largest horse-meat importer and top consumer in Europe, held a protest against horse slaughter in Milan. Our Italian petition alone garnered 150,000 signatures and, worldwide, we have collected over 187,000 signatures advocating for this ban.
Picture: Animal Equality protest in Milan.
Giving Cows in the Dairy Industry a Voice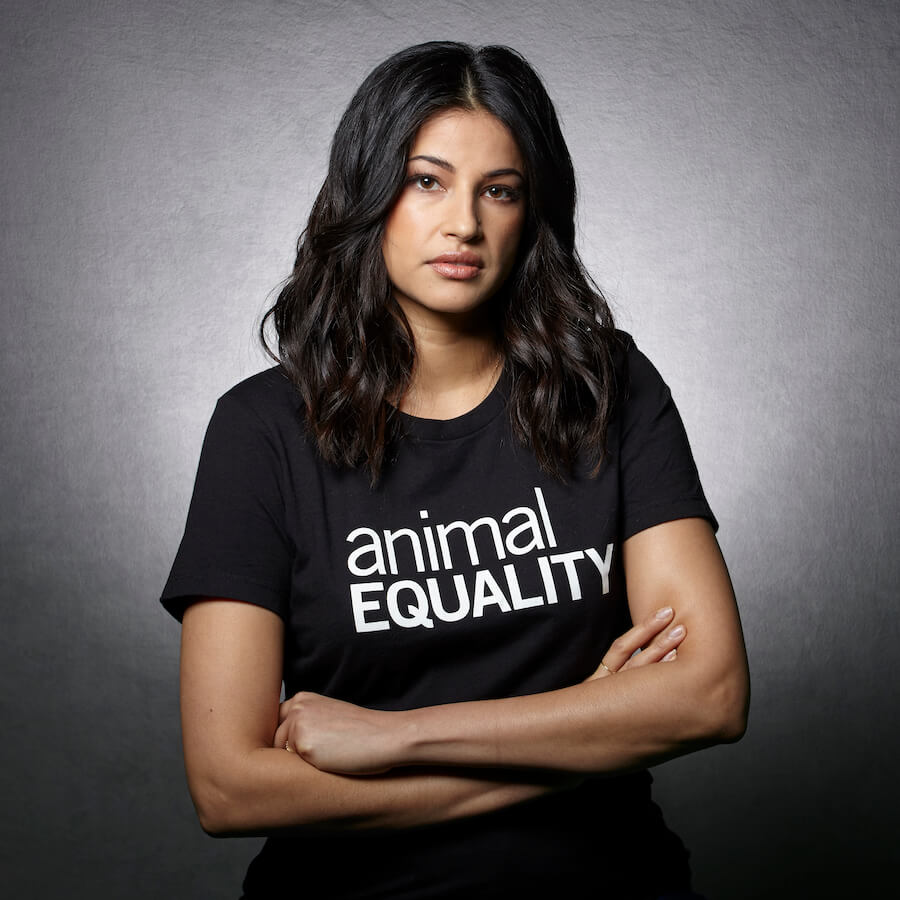 UNITED STATES
Animal Equality partners with celebrated actress and activist Richa Moorjani to release dairy investigation
Teaming up with committed activist and actress Richa Moorjani, we unveiled an investigation exposing India's dairy industry. This two-year endeavour spanned 27 farms, six markets, and two slaughterhouses across India, revealing the cruelty within this global industry. Richa's impactful, plant-based message is resonating with thousands.
Improving the Lives of Chickens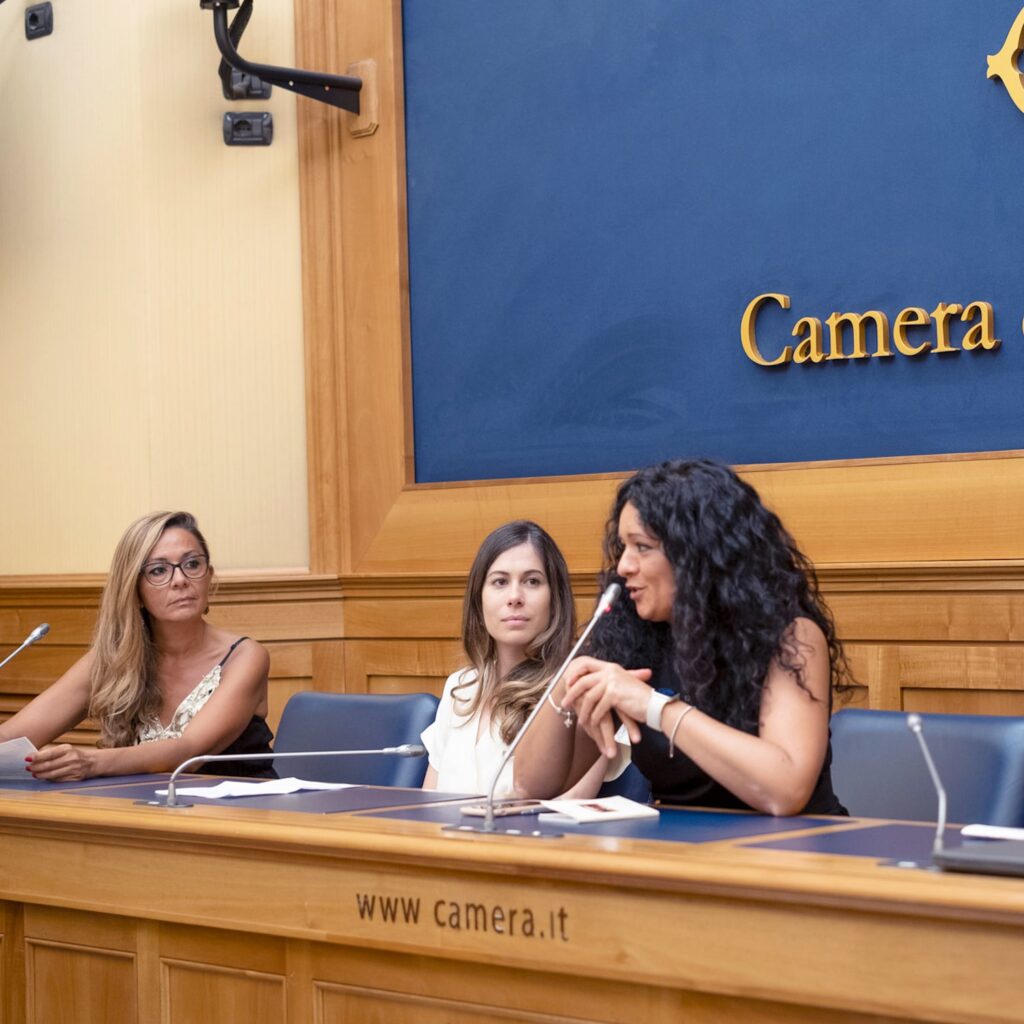 ITALY
Advancing law banning male chick killing in the egg industry
Following the approval of our bill to ban the killing of male chicks in Italy's egg industry by 2026, authorities have published a decree for its implementation. It promotes egg-sexing technologies and enforces a complete prohibition on maceration-based killing. This initiative will spare between 34 and 36 million chickens annually.
Picture: Animal Equality and Deputies at the Parliament talking about the ban on male chick killing.
GERMANY
Urging Lidl to commit to chicken protections
Animal Equality in Germany and 20+ Open Wing Alliance members are urging Lidl, a German supermarket chain, to adopt the European Chicken Commitment. Despite a 2022 investigation into Lidl's chicken supply chain, no changes to its supply chain have been made. We will persist in advocating for chickens.
Picture: Animal Equality LIDL protest in Berlin.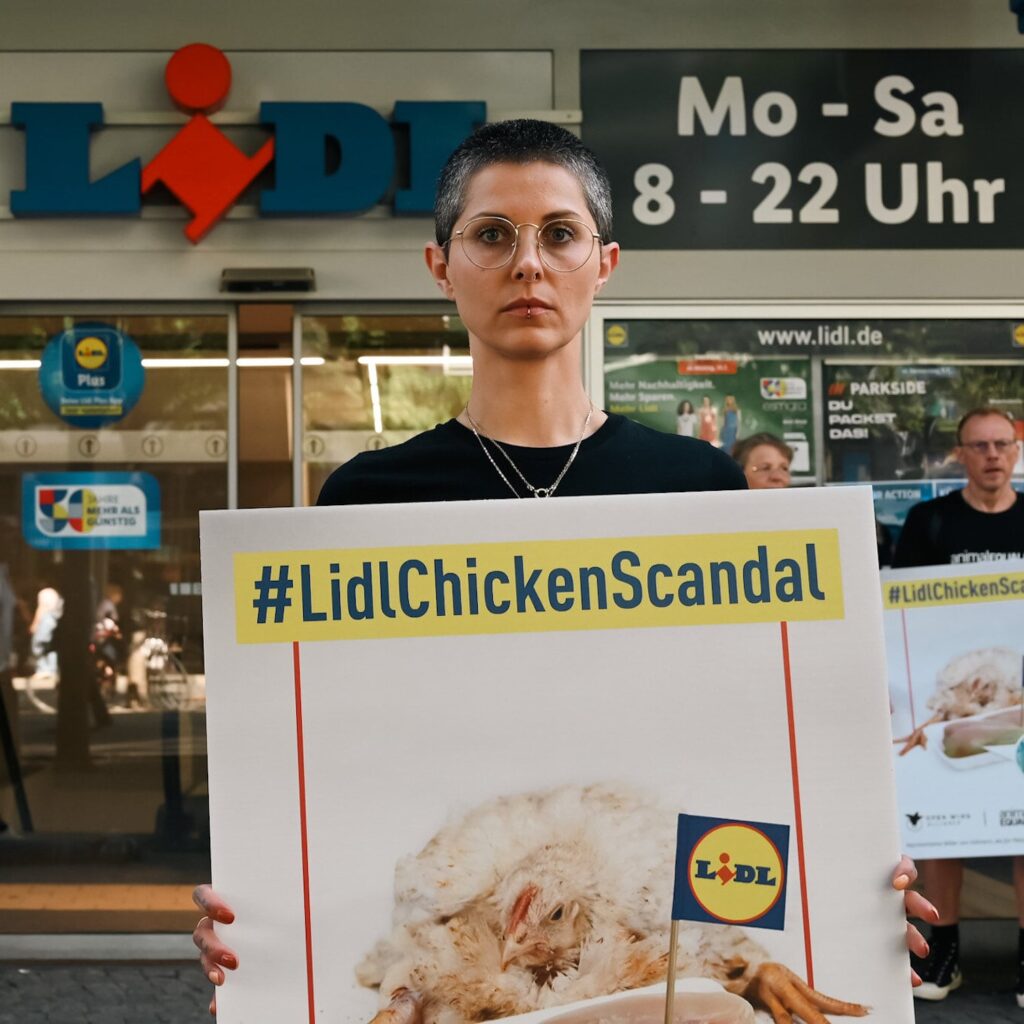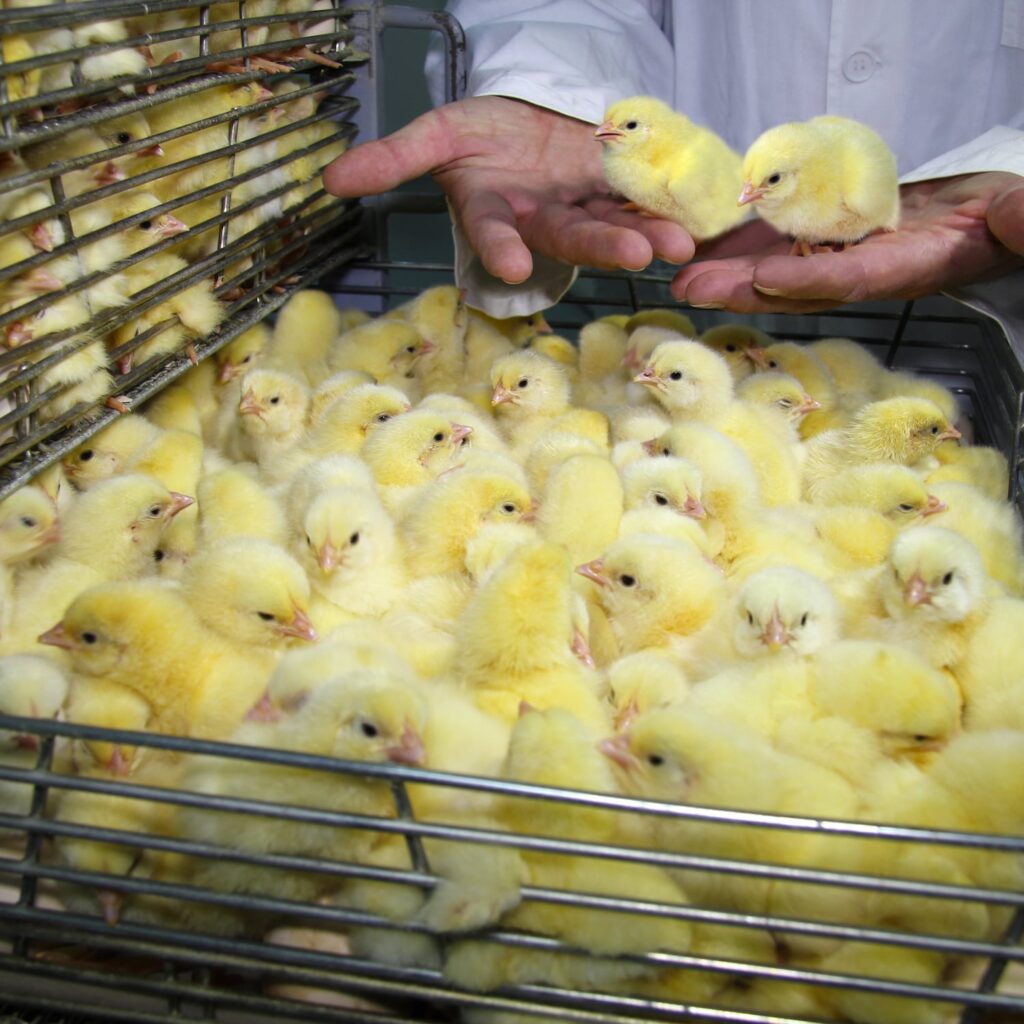 Mexico
Country's first report on the total number of chickens that die in factory farms
Animal Equality released a report concerning the previously undisclosed numbers of animals involved in Mexico's chicken meat and egg production, including those who die before even reaching the slaughterhouse. Key findings highlight over 100 million chicken deaths in farms, 130 million male chicks discarded in the egg industry, and 14 million hen deaths in cages. With this data, we will keep pushing to eliminate some of the worst farming practices in the country.
Protecting Fish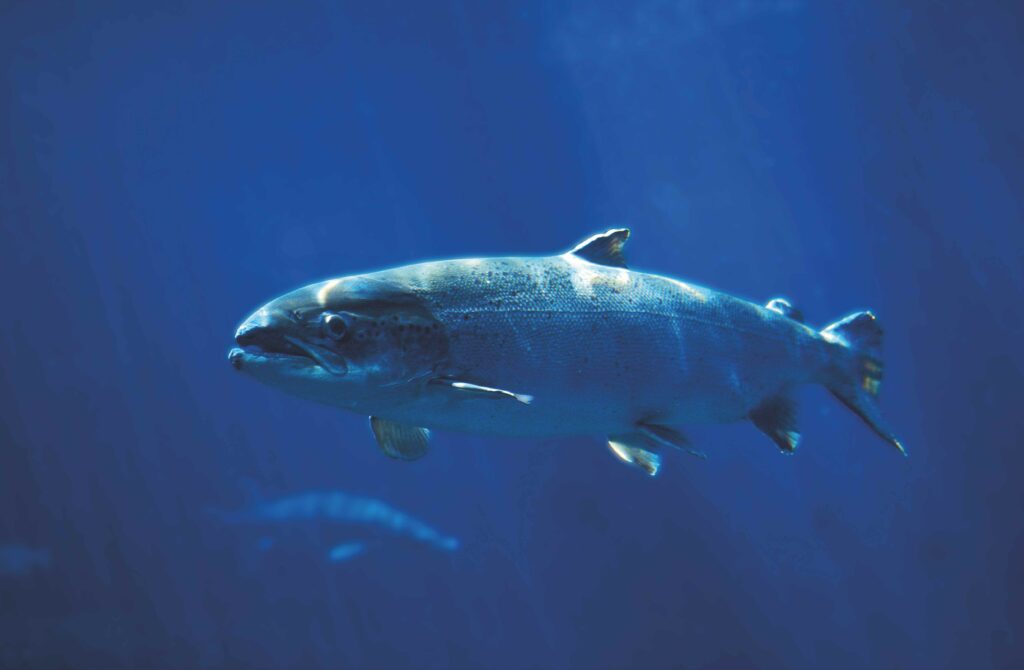 UNITED KINGDOM
BBC Countryfile features Animal Equality salmon investigation
Following Animal Equality's investigation into the fish farming industry in Scotland, the BBC television show Countryfile featured footage shared by Animal Equality. The show exposed the record numbers of salmon dying on Scottish farms before reaching the slaughterhouse, a staggering one in four. Alongside this, Animal Equality launched a new petition calling for consumers to boycott salmon products and for the Government to stop the growth of this industry.
Advocating for Ducks and Geese
GERMANY
Animal Equality hands over 58,000+ signatures to end force-feeding in the EU
Animal Equality handed over 58,000 signatures to Ariane Kari, the Federal Government Commissioner for Animal Welfare in Germany. This action is part of our broader campaign calling for an end to the forced fattening of ducks and geese in the European foie gras industry.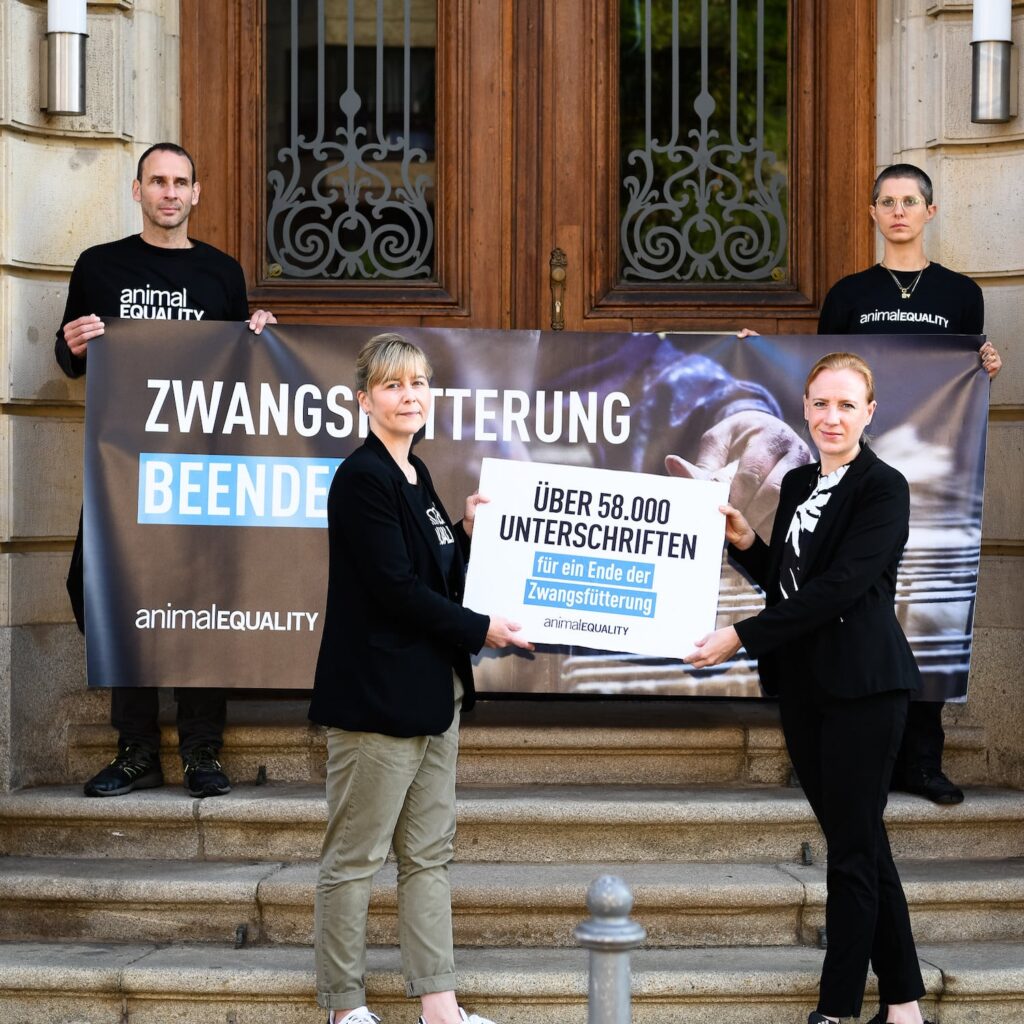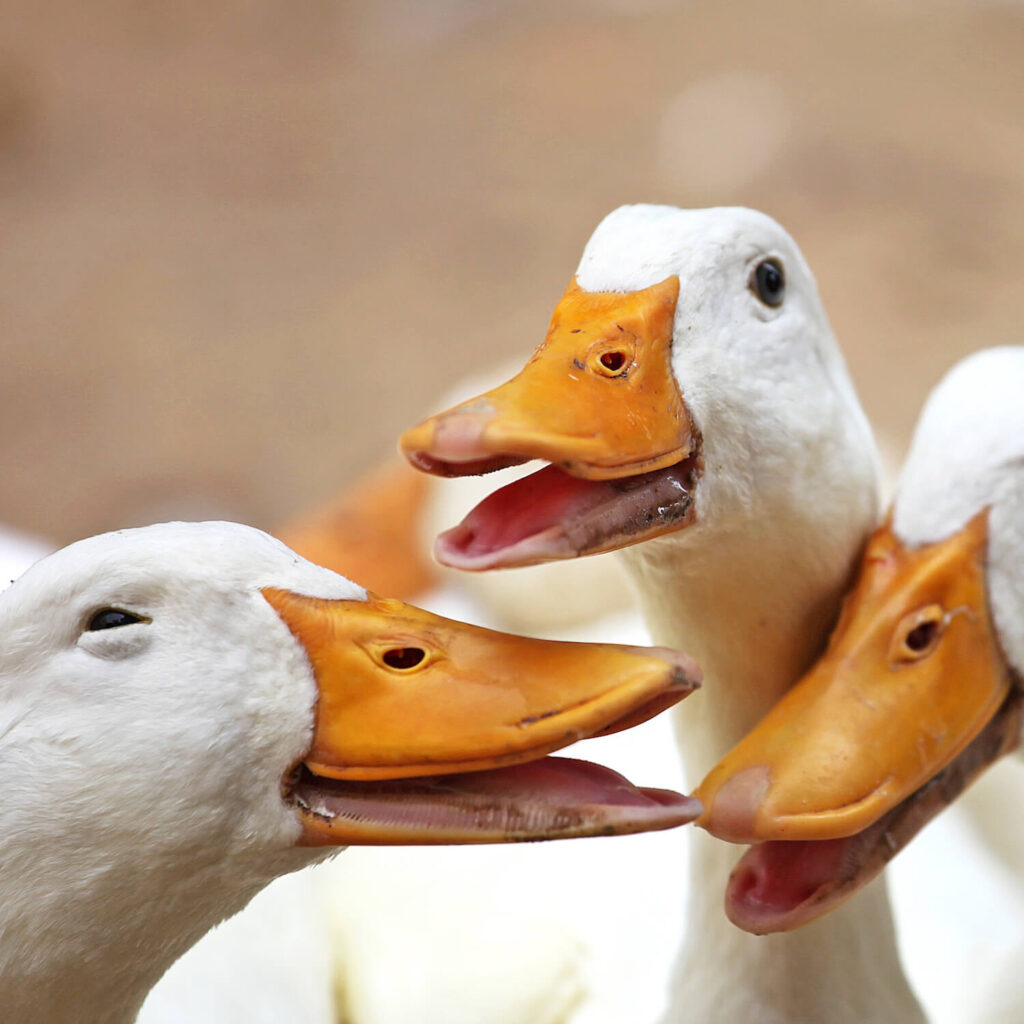 UNITED KINGDOM
Celebrities send letter to UK Prime Minister calling for foie gras import ban
Miriam Margolyes, Diane Morgan, Dame Twiggy Lawson, Alesha Dixon, and Dr Amir Khan were among those who signed an open letter to the UK's Prime Minister after the Environment Secretary suggested that a foie gras import ban is not a priority. Coordinated by Animal Equality and PETA, the letter received major media attention. This included an interview with Animal Equality's Executive Director, Abigail Penny, on the BBC.
Eliminating Cages for Hens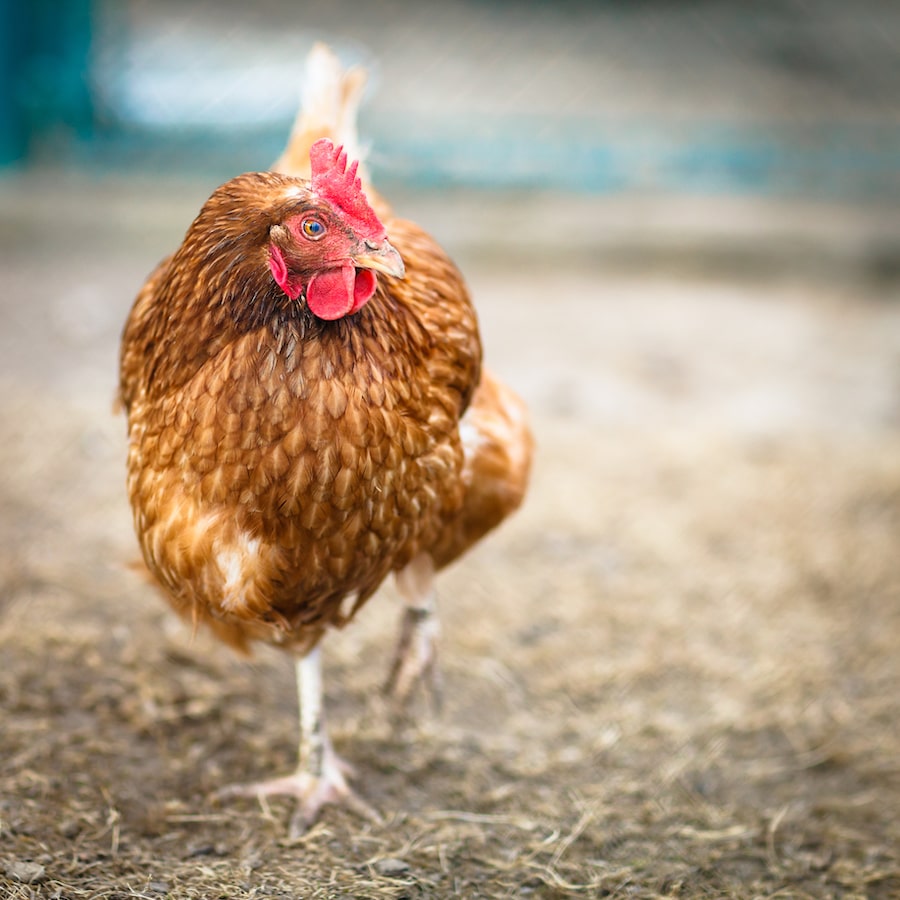 BRAZIL
With a new investigation, Animal Equality exposes cruelty behind eggs
Our undercover investigators documented four hen farms and one slaughterhouse in São Paulo, Brazil's largest egg-producing state. Xuxa and Junno, famous TV hosts and animal activists, narrated the investigation video and invited people to reduce or eliminate egg consumption to help these sensitive birds.
INDIA
Advancing the cage-free movement
Animal Equality is working with hotels in Mumbai, India, to advance its transition away from eggs produced by caged hens. Hotels like Intercontinental, Four Seasons, St. Regis, and Radisson have already progressed significantly, while Novotel in Bangalore has finally initiated its cage-free transition. We are also contacting egg producers to urge them to eliminate cages from their farms. Just this year, ten egg producers have pledged to do so.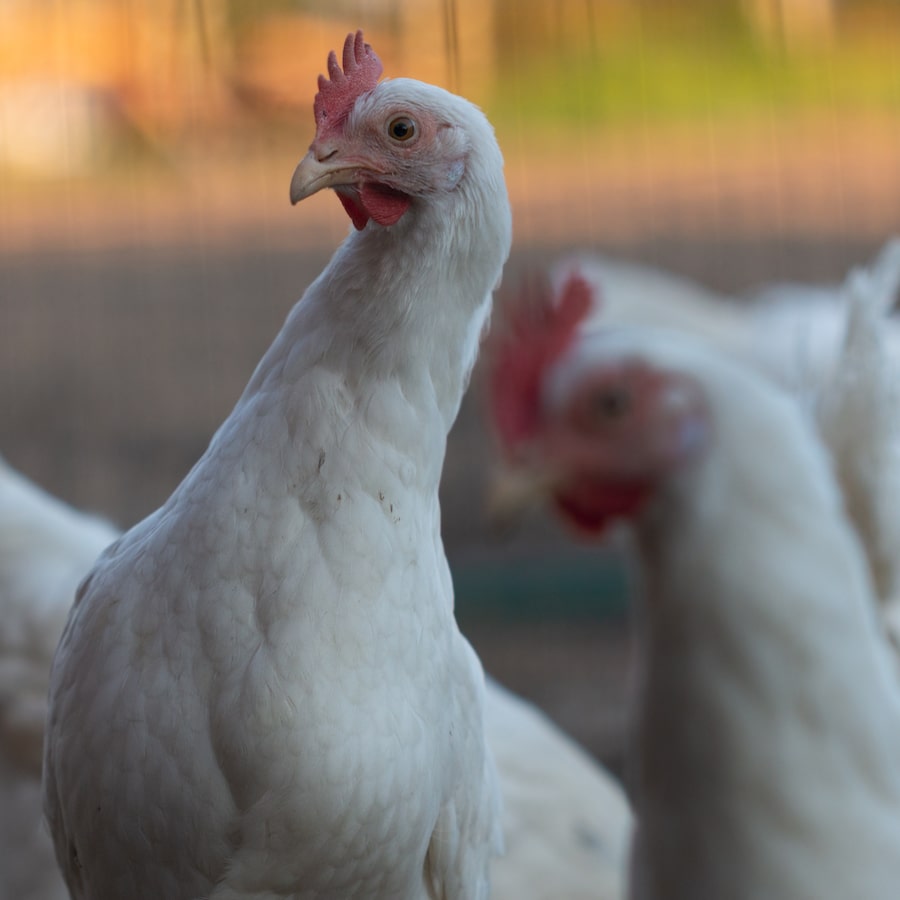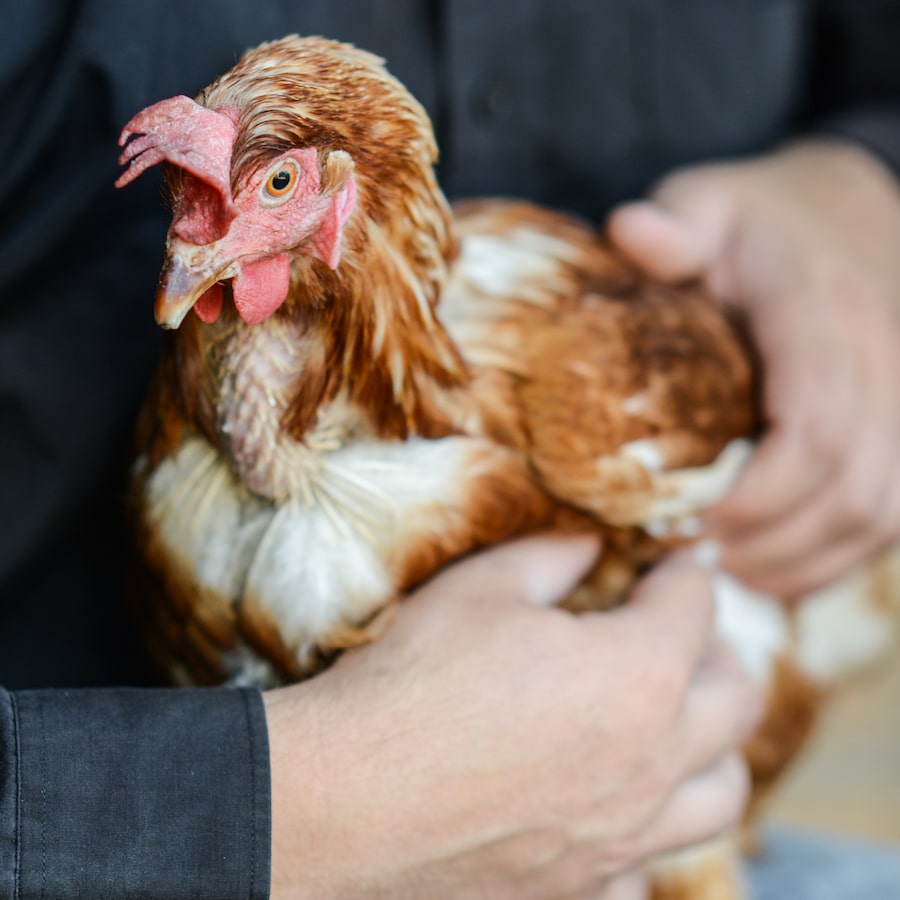 BRAZIL
Supermarket cage-free commitment to impact 300,000 hens per year
After an 11-month campaign led by Animal Equality, the Brazilian supermarket Supernosso finally committed to eliminating eggs from caged hens in its supply chain by 2028. As the first such commitment in Minas Gerais, it will impact around 300,000 hens yearly.
Taking Action for Pigs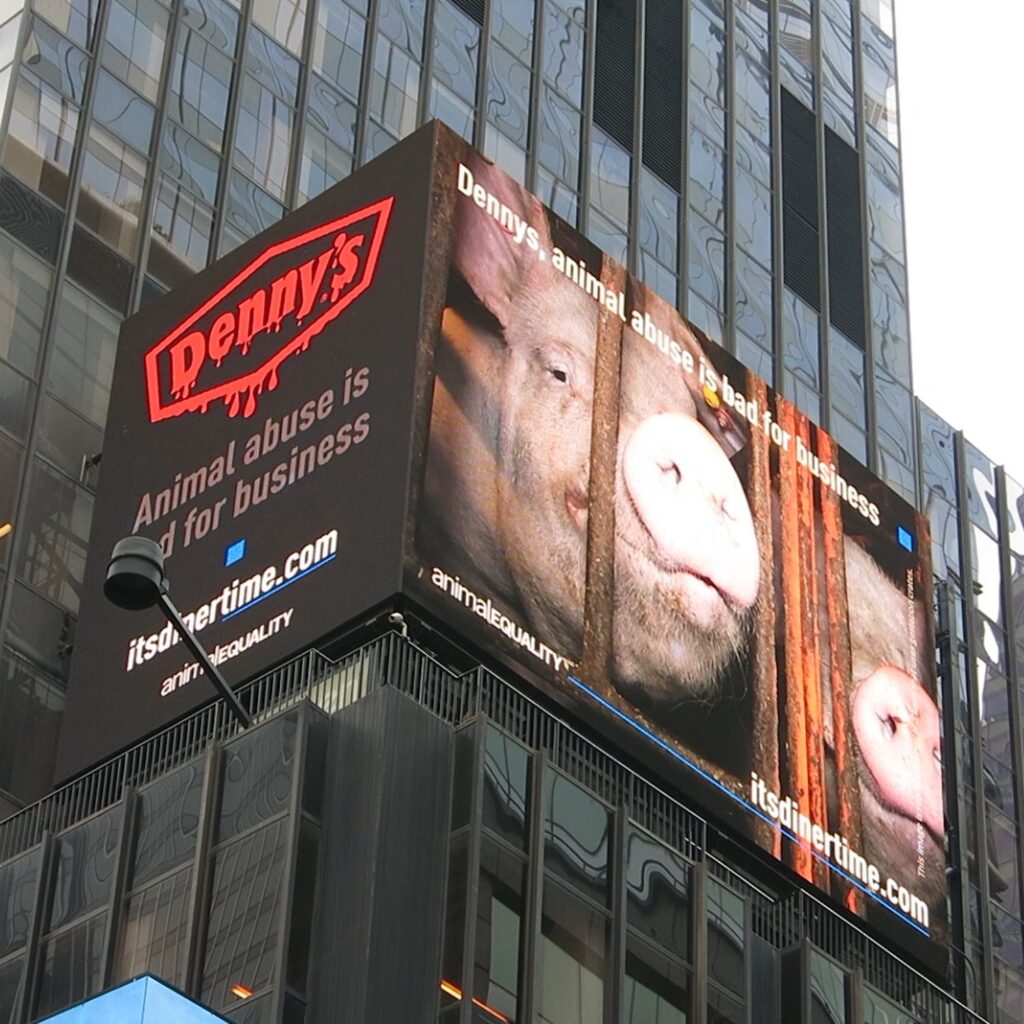 UNITED STATES
Animal Equality calls out American diner icon Denny's
Animal Equality launched a nationwide campaign against Denny's for not eliminating gestation crates from its supply chain as promised. The campaign video has gained over 185,000 views. More than 85 volunteers joined us in seven protests across Arkansas, Austin, Raleigh, Las Vegas, Philadelphia, Chicago, and Los Angeles, displaying impactful placards showing images of pregnant pigs in metal crates. We deployed two mobile billboards and a Times Square digital display with the message" 'Denny's, animal abuse is bad for business.' We organised three tweetstorms with over 10,000 tweets calling on Denny's to end the use of cages for pregnant pigs, and street interviews in NYC revealed widespread shock and condemnation of this cruelty among consumers.
Picture: Our billboard in Times Square.
SPAIN
Animal Equality releases 'The Real Cost of Meat', a new investigation inside pig farms
Animal Equality investigators documented five Spanish farms, unveiling appalling pig living conditions. We are using this evidence to urge the European Commission to uphold its commitment to reform animal welfare laws, with a proposal to eliminate cages for all animals by 2027.
Picture: A pig on one of the farms documented by Animal Equality.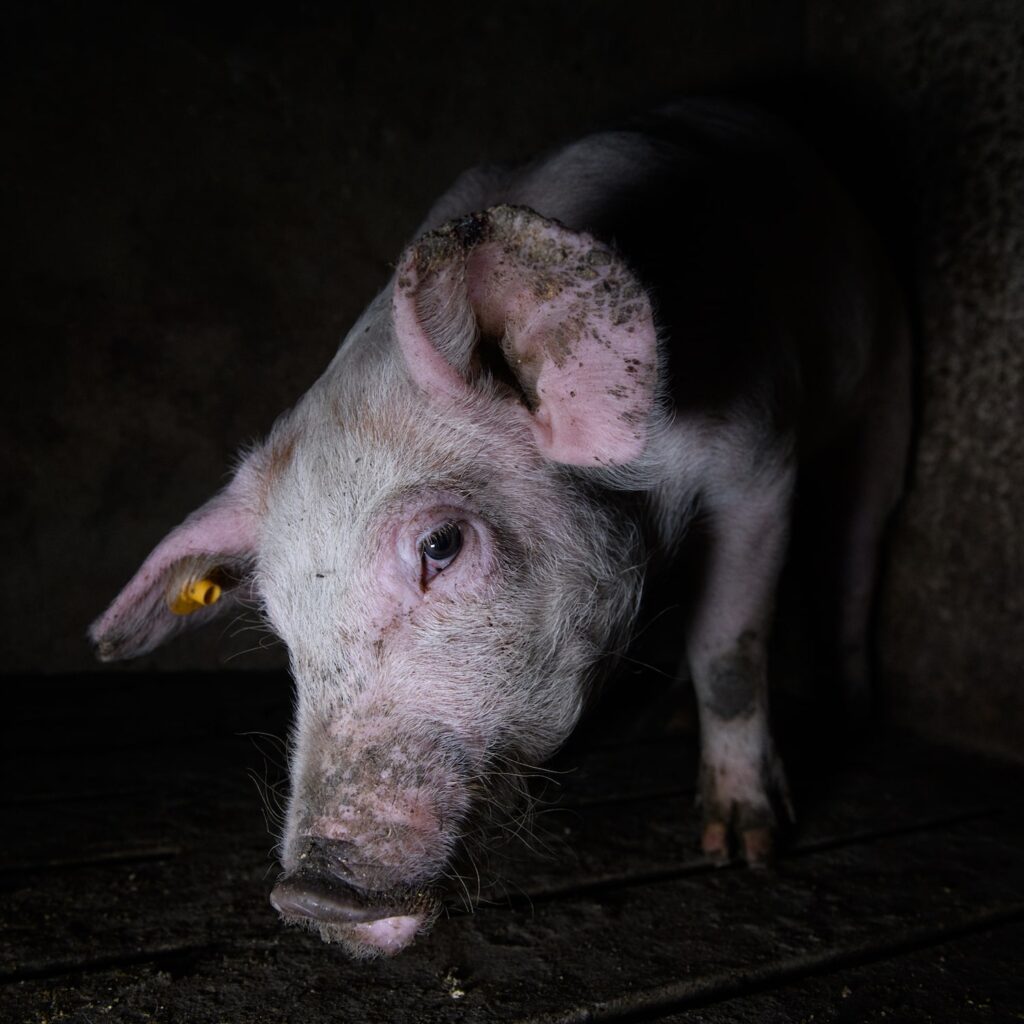 Fueling Media Attention for Farmed Animals
Thanks to your continued support, our work for animals is reaching millions of people via television, newspapers, radio, and other worldwide media. This means more people than ever are witnessing the cruelty and learning about compassionate alternatives!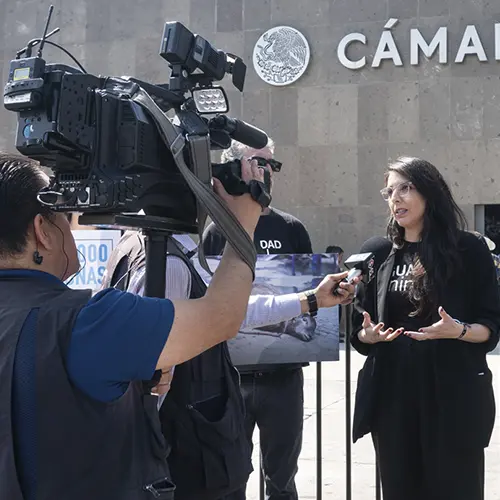 1,100+
MEDIA MENTIONS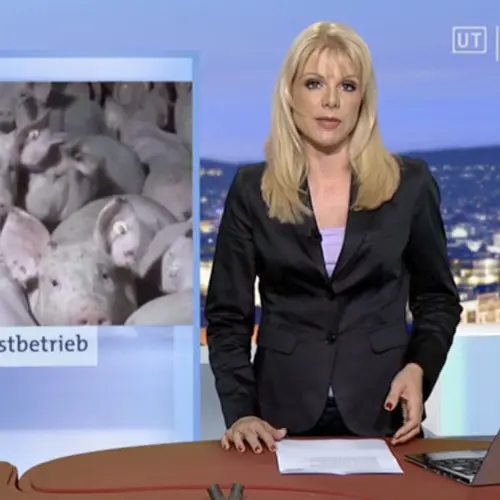 13.9+ MILLION

OF ESTIMATED VIEWS IN THE MEDIA
MEDIA COVERAGE OF OUR INVESTIGATIONS
The following news organizations have featured Animal Equality's undercover investigations and campaigns defending animals.









Indian media recognises Amruta Ubale's work for farmed animals
Amruta Ubale, Senior Director for Public Affairs at Animal Equality in India, has been honoured by Femina Magazine as a prominent woman shaping a new India. Her remarkable courage and dedication to protecting animals have led to significant achievements, including banning foie gras imports in India and preventing animal transportation across the Indo-Nepal border for sacrifice.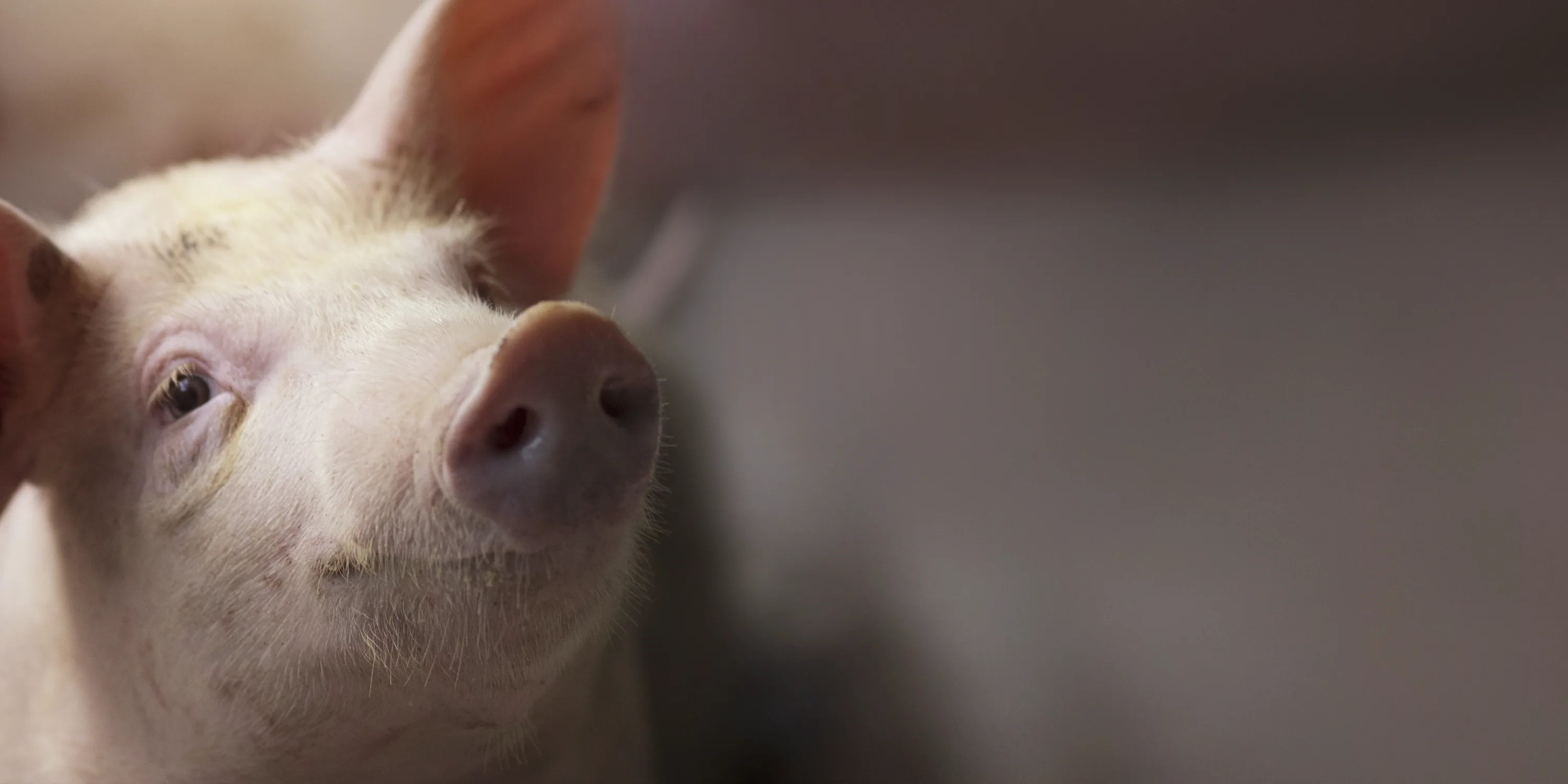 You Can Help Animals
YOU do your best for animals every day, as do we. Animal Equality will continue fighting this battle against the powerful animal agriculture industry. We need your support more than ever to continue changing the world for farmed animals.
Please, join us to make 2023 a historic year for them!