News
Get the latest news and updates from Animal Equality
Animal Equality Exposes The Suffering of Animals in More Than 30 Slaughterhouses in Mexico
Animal Equality Mexico has been documenting what happens inside the country's slaughterhouses since 2016. Our team has investigated over 30 facilities, gathering an abundance of evidence of extreme animal suffering, which we are now using to encourage the Mexican Government to recognise animals as sentient beings within the Constitution.
12/07/2022
Updated: 04/08/2022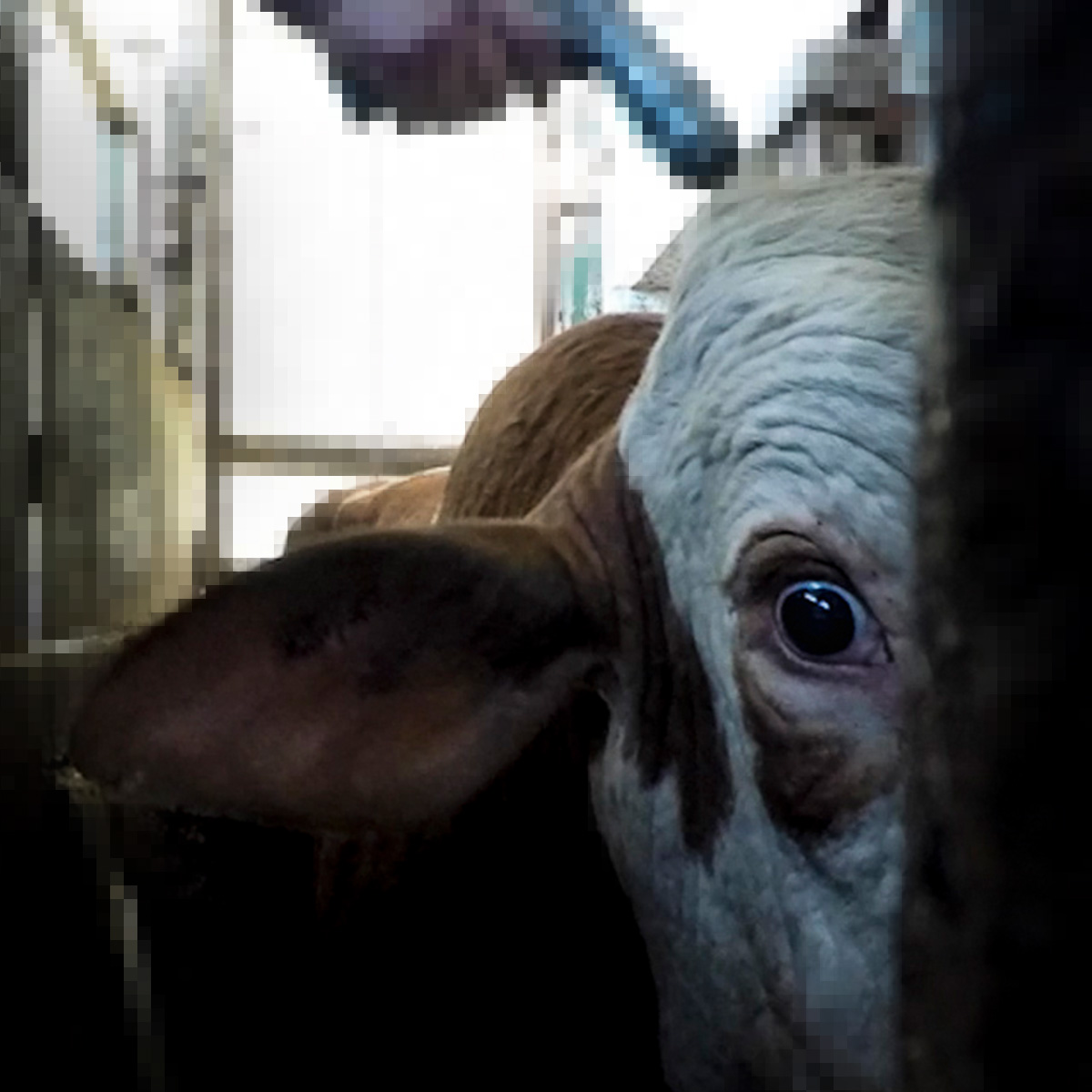 Animal Equality recently released a great deal of evidence of extreme animal suffering taking place inside Mexican slaughterhouses. The images were collected in 34 slaughterhouses in the states of Jalisco, Oaxaca, Chiapas, Tabasco and the State of Mexico itself.
The footage shows serious violations of the Official Mexican Standard, which states that animals must be killed using methods that avoid unnecessary suffering. We filmed workers kicking and hitting animals, as well as animals being killed while fully conscious.
This is the most extensive series of investigations inside slaughterhouses ever carried out in Mexico, and it exposes the cyclical system of animal exploitation and cruelty that takes place inside these facilities.
The Suffering Of Millions Of Animals In The Slaughterhouses Of Mexico
The footage we collected from the 34 facilities we investigated shows:
Mishandling of animals, who are moved by workers using electrical devices, kicking and yelling.
Animals show signs of distress such as fleeing behaviour and vocalisations.
Cows who are not stunned in a way that avoids unnecessary suffering. On the contrary, they suffer more because many are conscious when slaughtered.
Pigs who are not stunned in a way that avoids unnecessary suffering. In addition, in order to be stunned, they are randomly shocked with electricity, giving them time to regain consciousness before slaughter. Some pigs are shocked more than once. Due to the ineffectiveness of the way this process is carried out, some pigs are still conscious when they are lifted onto rails and bled to death.
Animals who are kept in unsafe spaces, where there are sharp and unsanitary objects, damp, rats, cockroaches and other animals.
Animal Equality Mexico has filed complaints about these abuses, paying special attention in particular to those states where laws and sanctions have already been passed to punish acts of cruelty in slaughterhouses, such as Jalisco.
Animals Feel Pain and Joy. The Law Must Recognise It
The images captured provide further proof of what many scientists have confirmed for years: cows and pigs, as well as other farmed animals, can suffer and experience extreme states of pain, panic and stress, both before and during slaughter.
For this reason, Animal Equality Mexico is promoting a legal initiative which seeks to recognise animals with complex nervous systems as sentient beings in the Political Constitution of the United Mexican States. The initiative is now awaiting to be discussed in the Chamber of Deputies.
We hope that with this investigation, the Constitutional Points Commission of the Chamber of Deputies will rule in favour of the initiative so that it can then be voted on in the Plenary. What this means is that, if passed at this stage, this reform will impact the lives of millions of animals and will place Mexico at the forefront of animal protection.
Without a doubt, this is one of the most extensive investigations we have conducted into Mexico's slaughterhouses and what we continue to see is unacceptable. Society has the right to know how animals are treated in our country and the serious omissions of the authorities. We are once again demonstrating that animals feel, that they suffer and that we have a responsibility to protect them. We must put an end to their suffering.

Dulce Ramírez, Vice-President for Latin America at Animal Equality and Executive Director in Mexico
Update: New Bill To Recognise Animal Sentience Introduced in Nuevo León, Mexico
Following the release of extensive evidence gathered by Animal Equality, on the 13th of July Animal Equality Mexico introduced an initiative to recognise animal sentience in the Political Constitution of Nuevo León, Mexico.
The Animal Protection and Welfare Law of the State of Nuevo León already establishes that animals are sentient beings. However, the Political Constitution gives much broader protection. This new Bill will be an important tool to better protect farmed animals in Nuevo León, where more than 42 million animals are killed for their flesh every year.
Animals feel emotions and pain just like humans and Animal Equality has extensively documented this through our undercover investigations. It's time we recognise this and protect these animals through detailed legislation and, on a personal level, by choosing plant-based alternatives. The new Bill that Animal Equality has introduced in Nuevo León is a step forward in protecting animals from some of the worst abuses.

Sharon Núñez, President and Co-Founder, Animal Equality
What happens next?
This initiative will be considered alongside other Bills that have been introduced and seek to reform the Constitution. Animal Equality's determination with similar Bills has paid off with the recent victory in Hidalgo, which became the first state in Mexico to legally protect farmed animals.
Upon its passing, Nuevo León will become one of the most progressive states in the country in animal protection by recognizing animal sentience in its Constitution.
What Can You Do To Help Animals?
Our investigations are at the core of what we do. They are a vital tool to show the public the reality of factory farms and slaughterhouses and accelerate change for animals.
Support our investigative and legal work today by making a donation.
While creating new laws to protect animals – as well as enforcing existing ones – is crucial, the best way to protect animals is to leave them off your plate. Help us build a more compassionate world. Try plant-based and encourage your family and friends to also enjoy a more compassionate way of eating. Together, we will build a brighter world for animals.
---
Latest News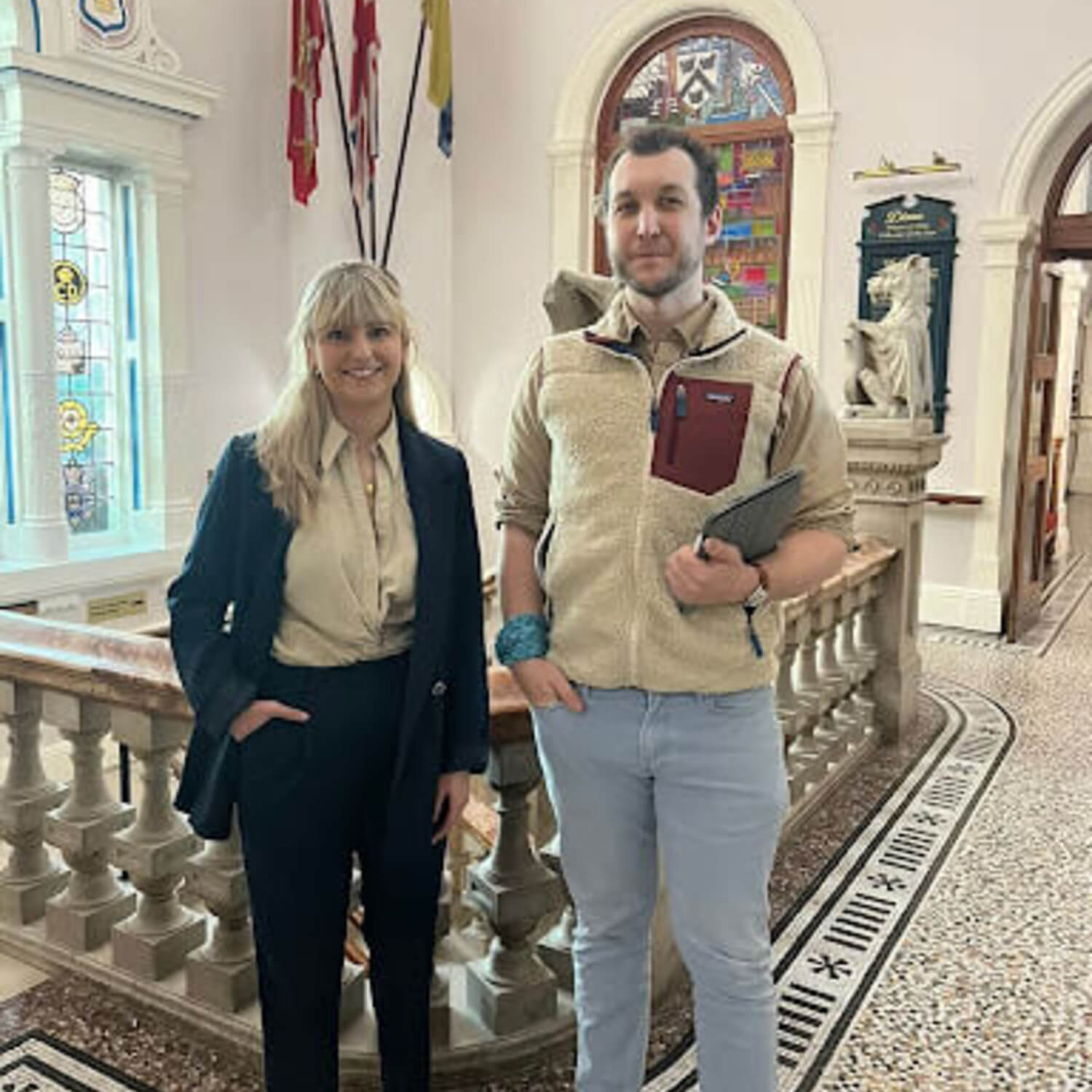 01/12/2023
---
On Wednesday 29th November, Councillors on the Planning Committee for North East Lincolnshire Council approved proposals for a controversial on-land intensive salmon farm in Cleethorpes, with four opposing and seven in favour. With plans to produce 5,000 tonnes of dead fish per year, there are no other fish farms of this scale in operation currently in the UK. Once constructed, the facility will be one of the largest in the world.
24/11/2023
---
Each year more than 200,000 tonnes of foie gras made by force-feeding are imported into the UK. Its production is so cruel that it is illegal to make in the UK, yet we hypocritically continue to permit imports. Previously unpublished images taken inside several duck farms in France show the terrible animal suffering involved in foie gras production.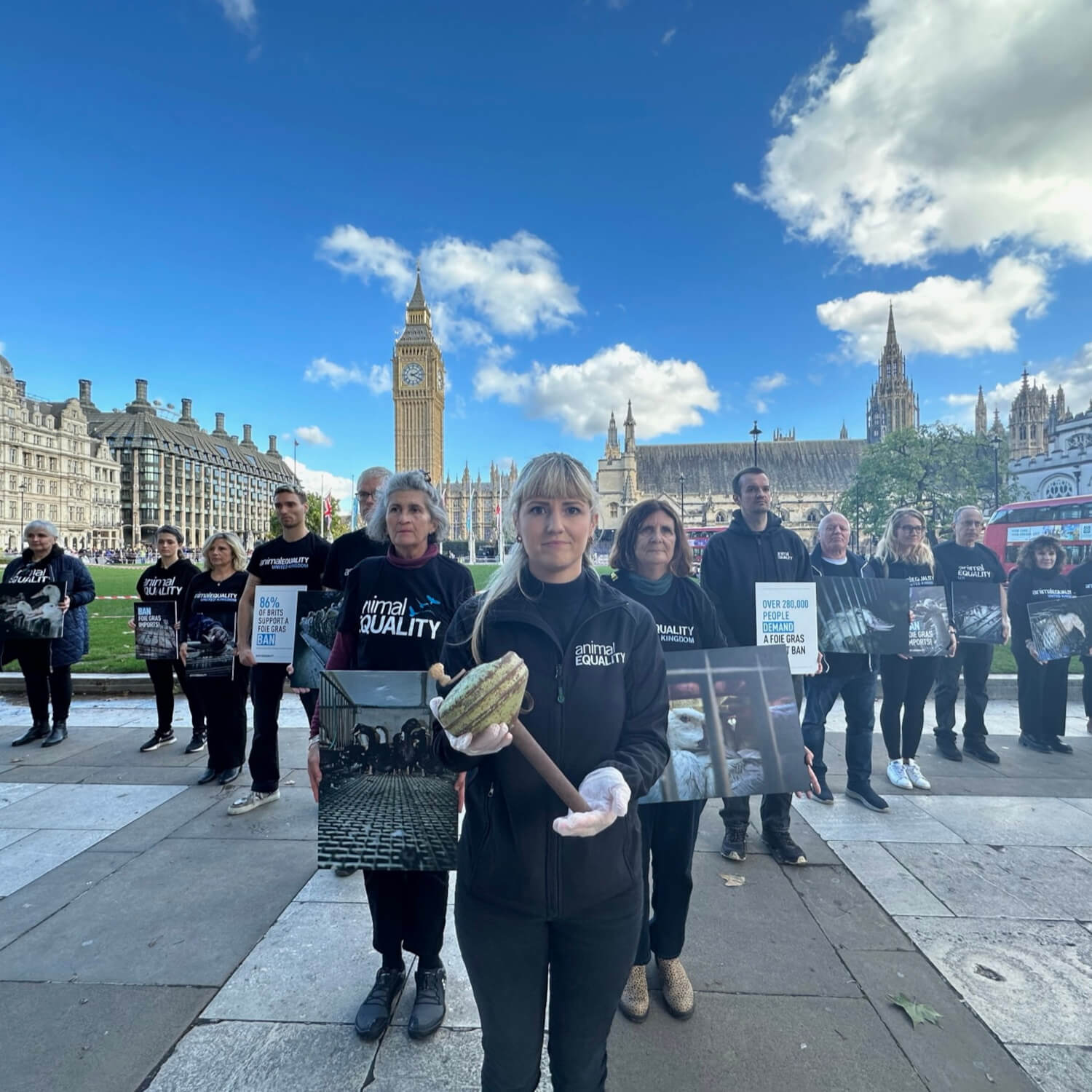 03/11/2023
---
Following conversations with Animal Equality, Giles Watling MP successfully tabled a Westminster Debate, speaking up for millions of ducks and geese trapped in cruel foie gras farms.