News
Get the latest news and updates from Animal Equality
Hidalgo becomes the first state in Mexico to introduce protections for animals on farms
The new law seeks to prevent some of the worst cruelties to animals who are confined on factory farms and criminalises animal cruelty in slaughterhouses.
14/06/2022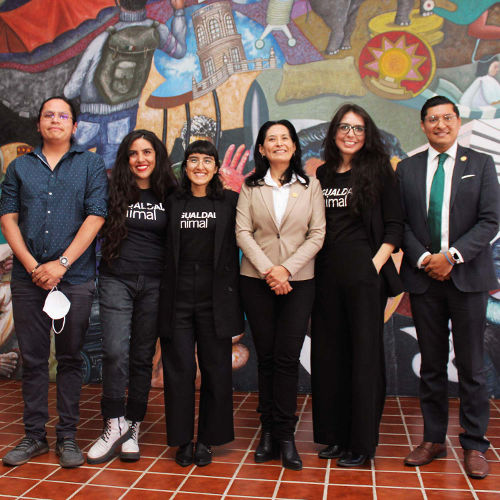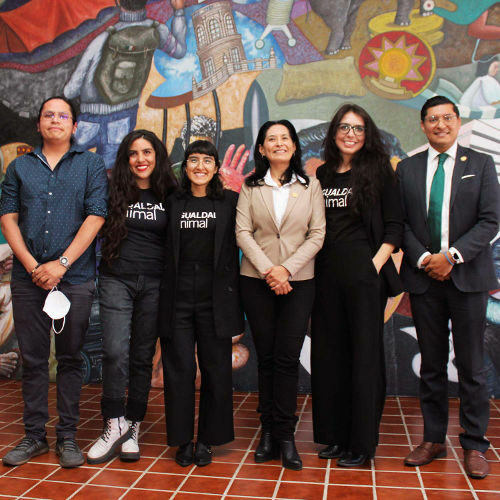 On 7th of June, politicians in the Hidalgo State Congress voted unanimously in favour of a new initiative which proposed new protections for farmed animals on factory farms and inside slaughterhouses. The vote was 23 votes in favour and 0 against with 0 abstaining.
The initiative was presented by local deputy Elvia Sierra Vite and promoted by Animal Equality in collaboration with local groups and civil associations such as Biofutura.
With these reforms, Hidalgo becomes the first State in Mexico to introduce protections to farmed animals while they're on farms, an issue that is currently not regulated in Mexico. The new law will impact an estimated 50 millions animals every year.
Animal Equality supporters played a vital role in securing the new law. But how did we get here?
How Progress Was Achieved
In 2019, Animal Equality released images captured from inside an unregulated sheep farm and slaughterhouse in Hidalgo, Mexico.
The images showed sheep being handled and slaughtered without controls or supervision.
During breeding, many lambs became sick with serious respiratory problems, causing many to die. Animal Equality's footage showed that the bodies of these lambs were left for days on the farms. Despite exposed wounds, only a few sheep received veterinary care.
The images also showed sick lambs being separated from their mothers and abandoned. Some sheep who were used for breeding incurred injuries as a result of the poor conditions, with some becoming so stressed from the conditions that they resorted to hitting the metal bars of their enclosure.
Due to the overcrowded and unnatural conditions, the sheep were not able to carry out many of their most basic, natural behaviours, like roaming or feeding on grass on the ground.
When it came to slaughter, many were killed while fully conscious. Not only was this unimaginably cruel and painful for the sheep, it was also a serious violation of animal health standards. Many times the slaughtering was even carried out by minors.
Animal Equality filed a complaint to the authorities about the acts committed against the sheep and launched a petition addressed to members of the Mexican Government calling for the complaint to be addressed immediately and to make such deliberate animal abuse in slaughterhouses a crime.
This investigation opened the eyes of many in Hidalgo to the cruelty happening behind closed doors in their home state.
Then in October 2021, Animal Equality released images and footage captured inside the Tizayuca Regional Municipal slaughterhouse in the state of Hidalgo.
The images showed serious abuse, with workers hitting pigs with rods and kicking them. Other forms of violent handling were also documented.
The images also showed pigs being slaughtered in clear view of other pigs which would have caused them serious stress. Pigs were rarely stunned before slaughter.
And even though the pigs weighed more than 100 kilos, they were lifted by one of their limbs and held in this position for almost a minute, which would have caused serious pain. Some pigs even remained conscious as they were bled out and were thrown into a scalding tank.
After investigators captured these images, Animal Equality filed three complaints with the relevant individuals within the Mexican Government and State Government of Hidalgo demanding that these acts of animal abuse be sanctioned.
On 20th December 2022, two months after the investigation at the Tizayuca Regional Municipal slaughterhouse, Animal Equality put forward and promoted a new legal initiative to ban some of the cruellest practices happening inside slaughterhouses and to introduce new protections for animals on farms in the state of Hidalgo.
What followed was a coordinated lobbying effort. Animal Equality's legal advocacy team began contacting the Members of Congress in Hidalgo, while Animal Equality supporters contacted the Congress online with a series of actions in the five months leading up to the vote.
Animal Equality also collaborated with local groups to further strengthen the campaign and make support for the initiative even stronger across the state.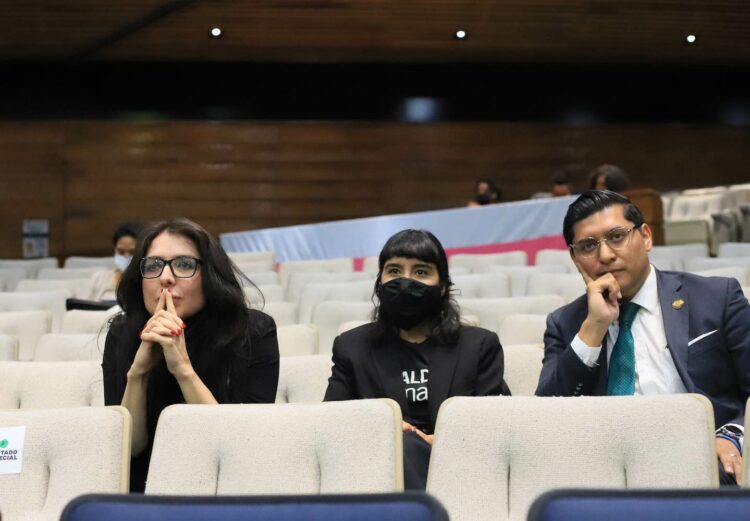 Then, on 7th June, politicians in the Hidalgo State Congress voted unanimously in favour of a new initiative which proposed specific protections for farmed animals on factory farms and inside slaughterhouses in the state of Hidalgo. The vote was 23 votes in favour and 0 against with 0 abstaining; this marked a historic moment for animals in Mexico.
This is undoubtedly progress of great importance for farmed animals, not only for this state, but also in setting an example for the whole country. This initiative shows that animals are sentient beings and that we have obligations towards them.

Dulce Ramírez, Vice-President for Latin America, Animal Equality
What's Next?
This achievement follows major legal reforms secured in the state of Jalisco and the state of Puebla in recent years by Animal Equality, and there is more to come.
This legal initiative is a part of a whole host of legal proposals put forward by Animal Equality in our ongoing campaign: Laws For Animals. As part of the campaign, Animal Equality is fighting to:
Introduce protections for animals on farms in the state of Jalisco.
Ban and criminalise unregulated slaughterhouses across Mexico.
Ban the sale of live animals in markets across Mexico.
Make animal sentience officially recognised in the Mexican constitution.
Give the Mexican Congress the power to legislate on issues related to animal welfare.
Changes like this happen because people decide to stand up for animals and take action by signing petitions, donating, peacefully demonstrating in the streets, and taking online campaign actions.
Together, we've fought incredibly hard for this moment and it shows what we're able to achieve.
If you want to help animals and be a part of the next moment of progress, now is the time to join us.
Right now, a special donor is matching all donations made to Animal Equality. This means that if you make a donation today, he will make the exact same donation, which means you'll be able to give twice as much to help animals.
And if you set up a monthly donation, the donor will match your monthly donations every month for an entire year.
If you've ever wanted to help animals, now is the time to do it. Make the most of the opportunity while it's here, it's only available for a limited time.
---
Latest News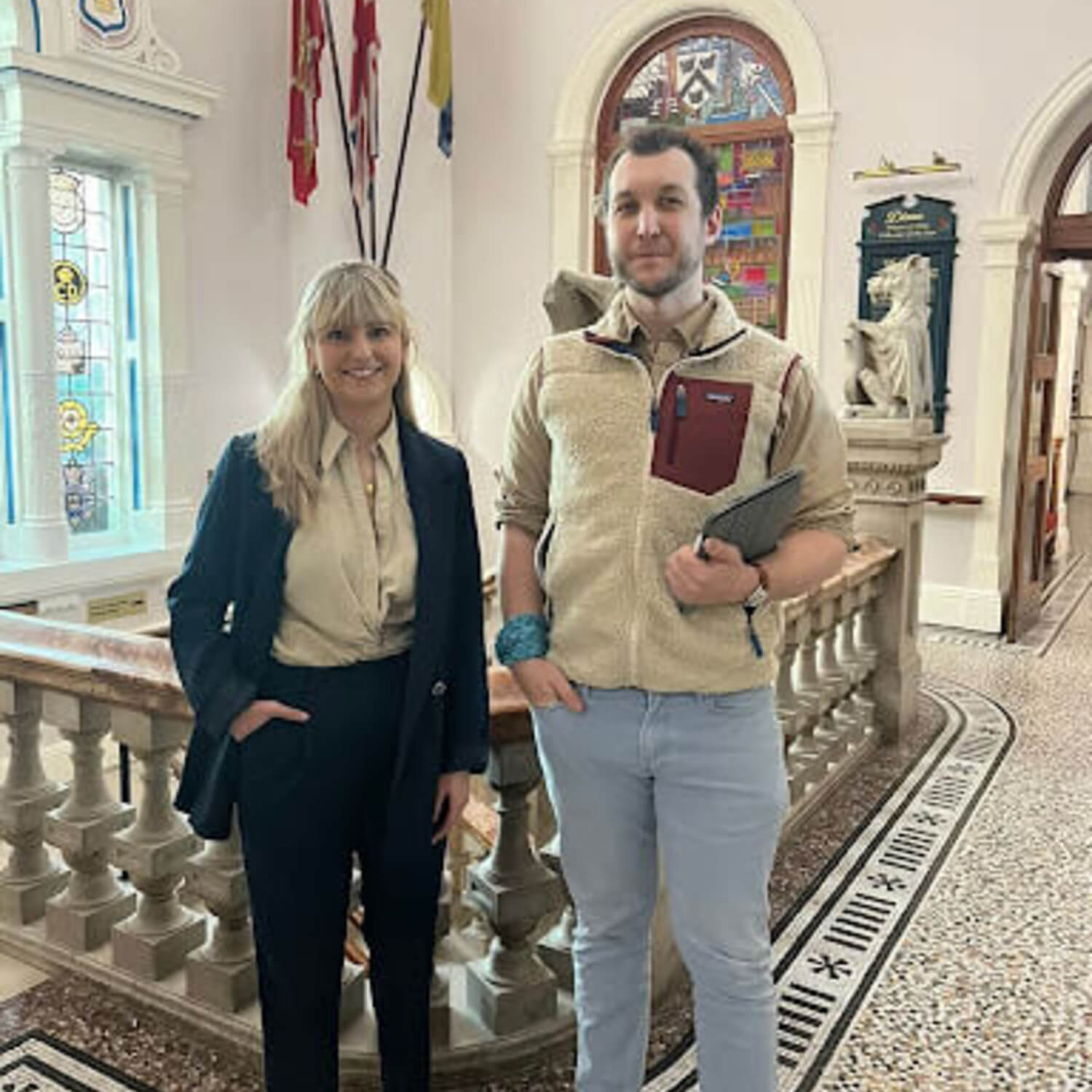 01/12/2023
---
On Wednesday 29th November, Councillors on the Planning Committee for North East Lincolnshire Council approved proposals for a controversial on-land intensive salmon farm in Cleethorpes, with four opposing and seven in favour. With plans to produce 5,000 tonnes of dead fish per year, there are no other fish farms of this scale in operation currently in the UK. Once constructed, the facility will be one of the largest in the world.
24/11/2023
---
Each year more than 200,000 tonnes of foie gras made by force-feeding are imported into the UK. Its production is so cruel that it is illegal to make in the UK, yet we hypocritically continue to permit imports. Previously unpublished images taken inside several duck farms in France show the terrible animal suffering involved in foie gras production.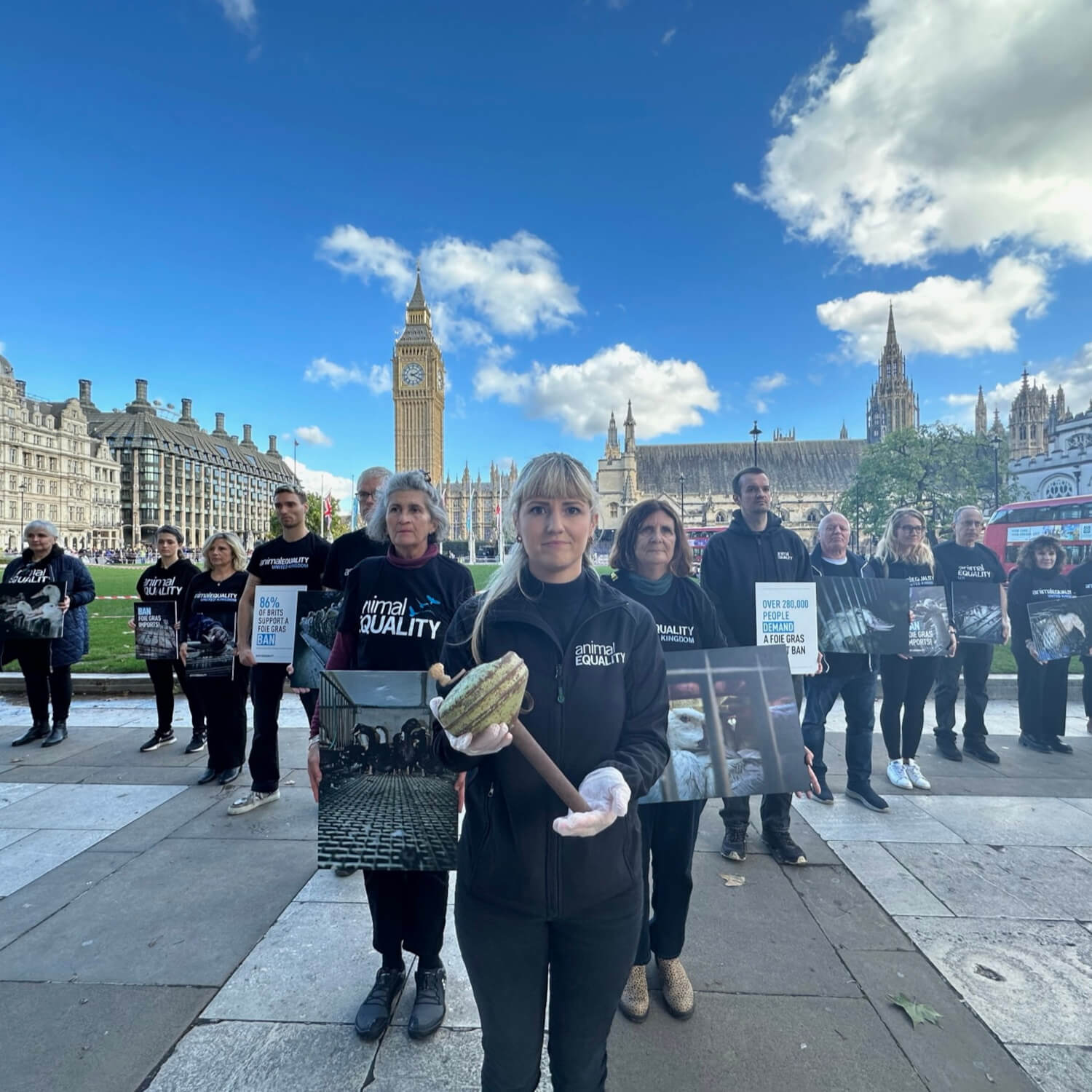 03/11/2023
---
Following conversations with Animal Equality, Giles Watling MP successfully tabled a Westminster Debate, speaking up for millions of ducks and geese trapped in cruel foie gras farms.