News
Get the latest news and updates from Animal Equality
MPs and Animal Welfare Experts Join Call to Ban Foie Gras in Britain
09/05/2018
Updated: 14/11/2018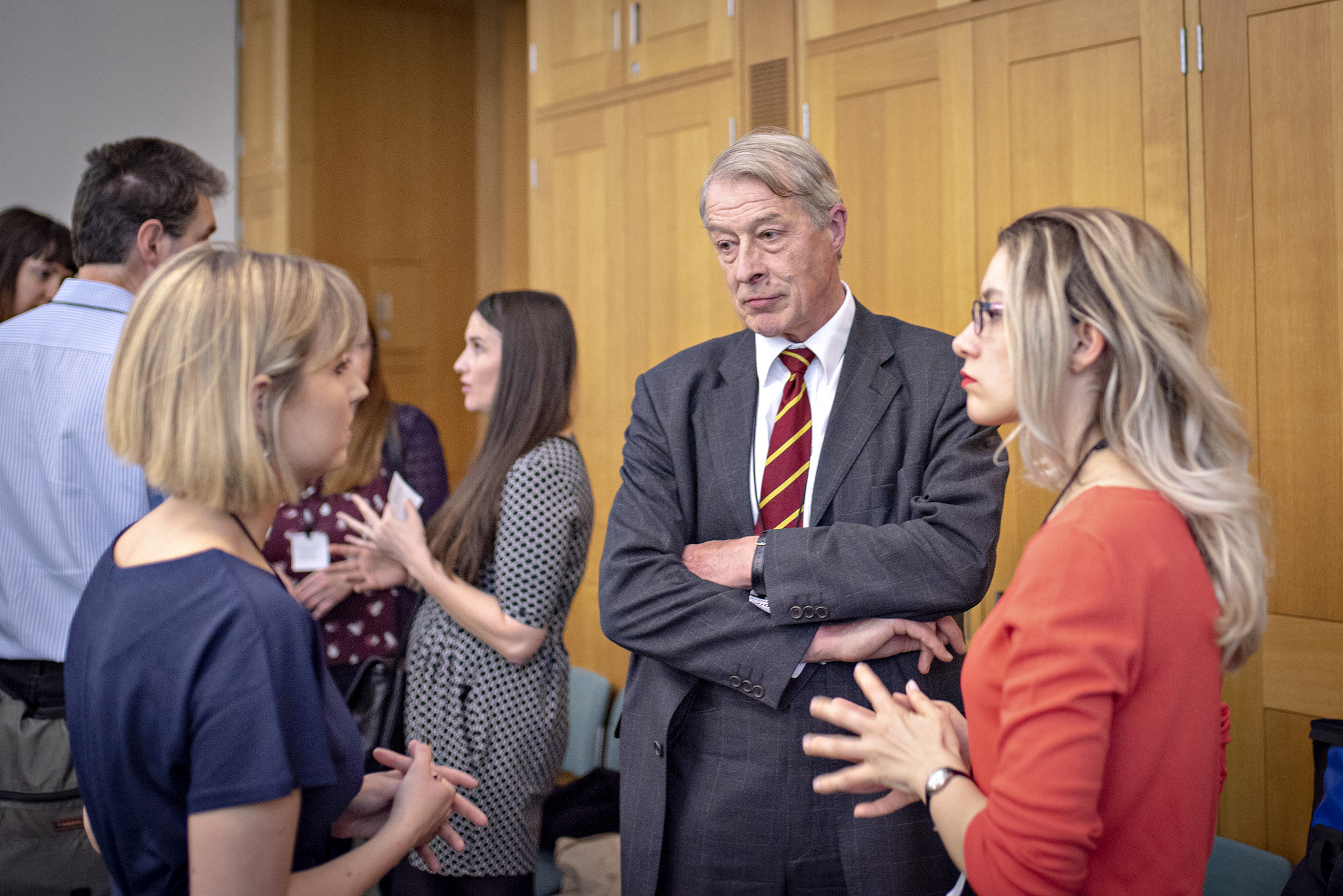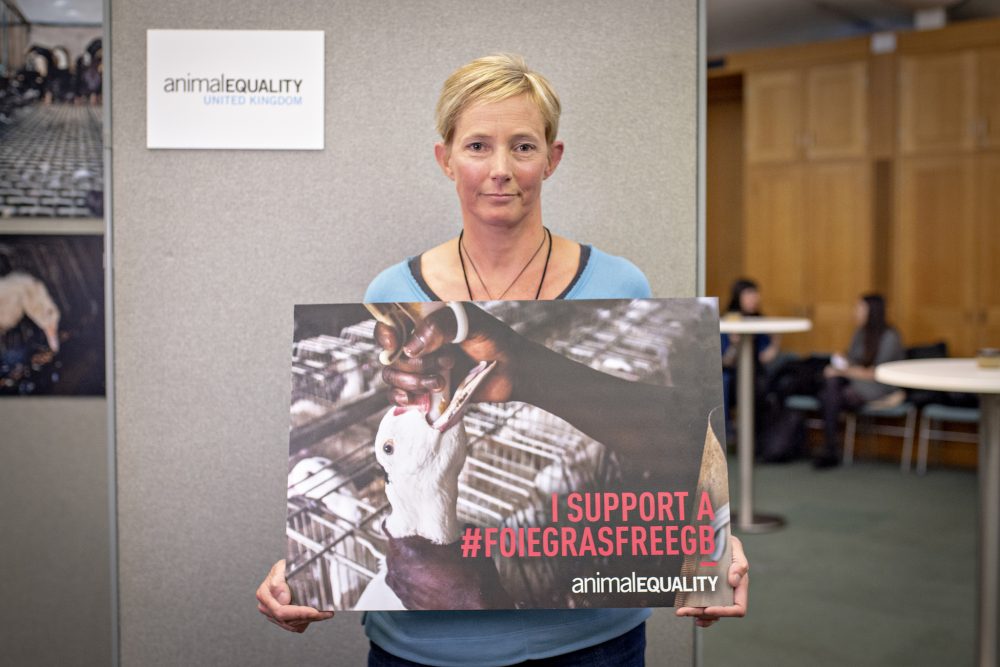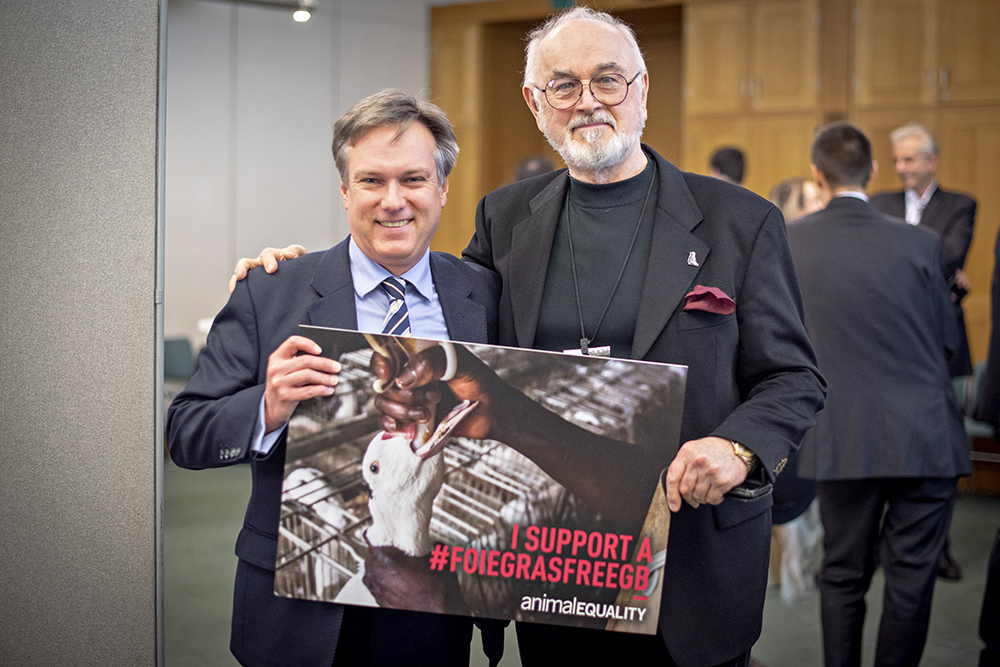 On Wednesday 2nd May, we held a reception at the House of Commons in support of our campaign for a Foie Gras-Free GB, calling for an import ban of this cruel delicacy when we exit the European Union.
Henry Smith MP, our host for the evening, opened the event with a warm welcome and encouragement for the campaign, which he thinks has "a very good chance" of success.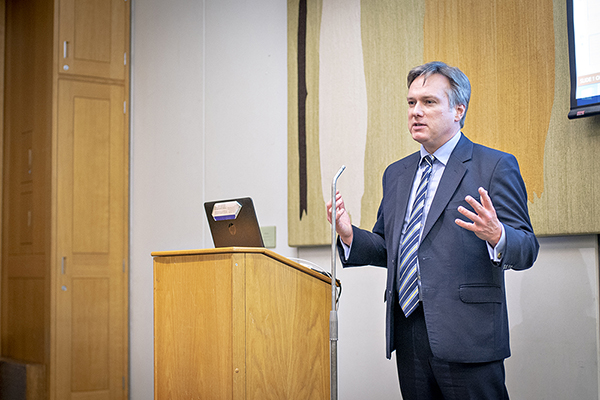 Dr Toni Shephard, Animal Equality's UK Executive Director then explained the background to the campaign using evidence from a 2011 investigation filmed in France and Spain, highlighting the devastating plight of ducks and geese used in the production of foie gras.
Emma Milne, the TV veterinarian, author and animal welfare campaigner spoke passionately about why Foie Gras is so inherently cruel and should therefore be banned in this country. She now resides in France so also spoke of the growing movement there against foie gras.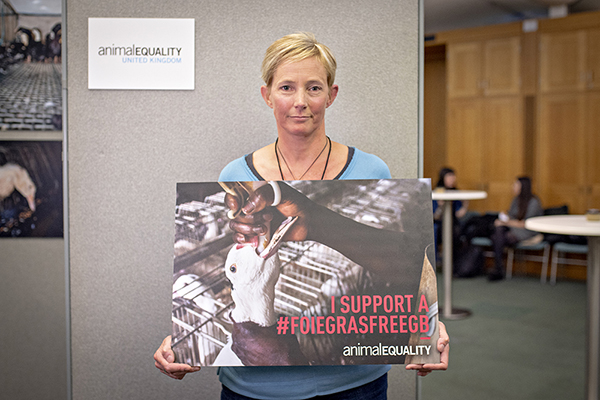 Finally, Professor Donald Broom, Colleen Macleod Professor of Animal Welfare (Emeritus) at the University of Cambridge gave a detailed account of the process by which foie gras is produced, taking us from birth to slaughter. It's not only the practice of gavage (or force-feeding) which causes pain and suffering to millions of, primarily, ducks but also the appalling conditions in which they're kept and obvious fear when approached by the workers. He also debunked some of the arguments for foie gras, such as tradition.
We were grateful to have many of our supporters there, including donors, volunteers, journalists, sector colleagues Conservative Animal Welfare Foundation, HSI UK, Animal Aid, and FAIRR, the actor Peter Egan, and MPs Sir David Amess and Kerry McCarthy, in addition to the speakers mentioned above.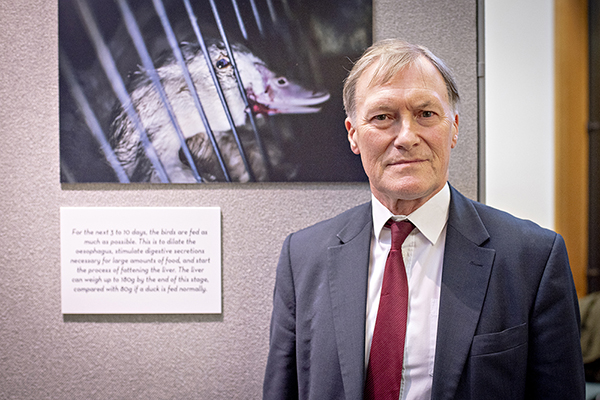 Almost 75,000 people have already signed the Animal Equality petition calling for a Foie Gras-Free GB, and 77% of respondents in a YouGov Poll carried out in June 2017 were supportive of a ban. Furthermore, Michael Gove MP has indicated that he is willing to halt the import of foie gras, and Labour has included this as a pledge in their recently published Animal Welfare Plan. We are therefore in a strong position to make this dream a reality come March 2019.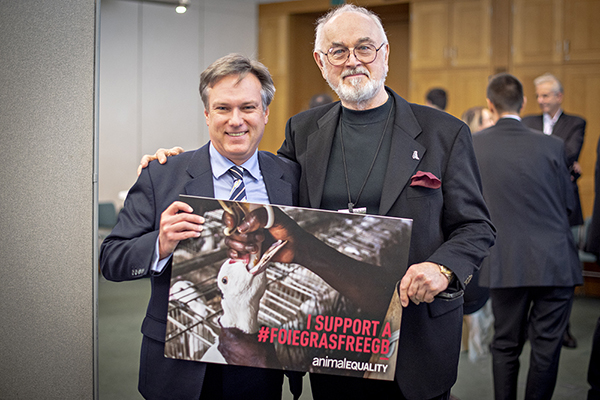 ---
United Kingdom
---
Latest News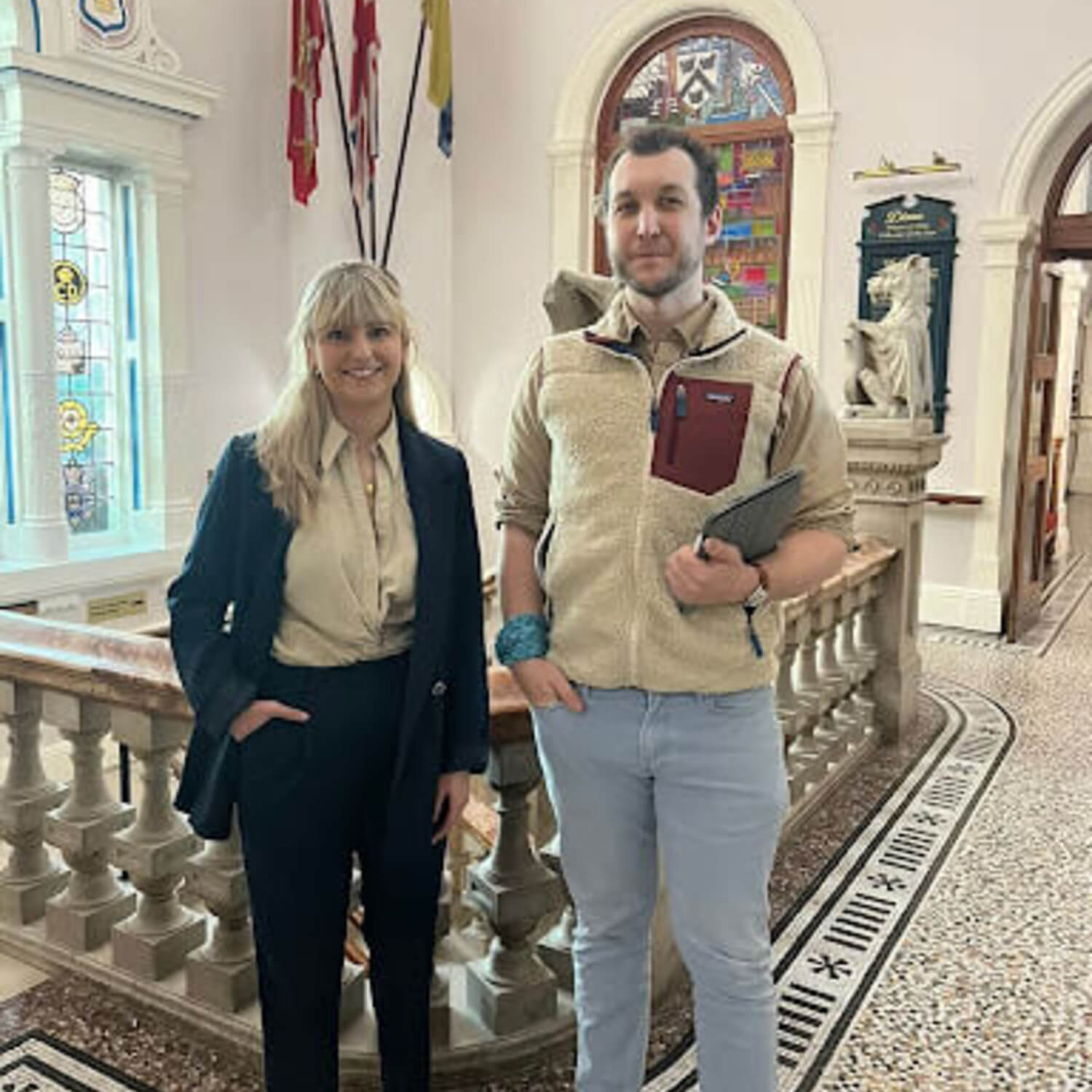 01/12/2023
---
On Wednesday 29th November, Councillors on the Planning Committee for North East Lincolnshire Council approved proposals for a controversial on-land intensive salmon farm in Cleethorpes, with four opposing and seven in favour. With plans to produce 5,000 tonnes of dead fish per year, there are no other fish farms of this scale in operation currently in the UK. Once constructed, the facility will be one of the largest in the world.
24/11/2023
---
Each year more than 200,000 tonnes of foie gras made by force-feeding are imported into the UK. Its production is so cruel that it is illegal to make in the UK, yet we hypocritically continue to permit imports. Previously unpublished images taken inside several duck farms in France show the terrible animal suffering involved in foie gras production.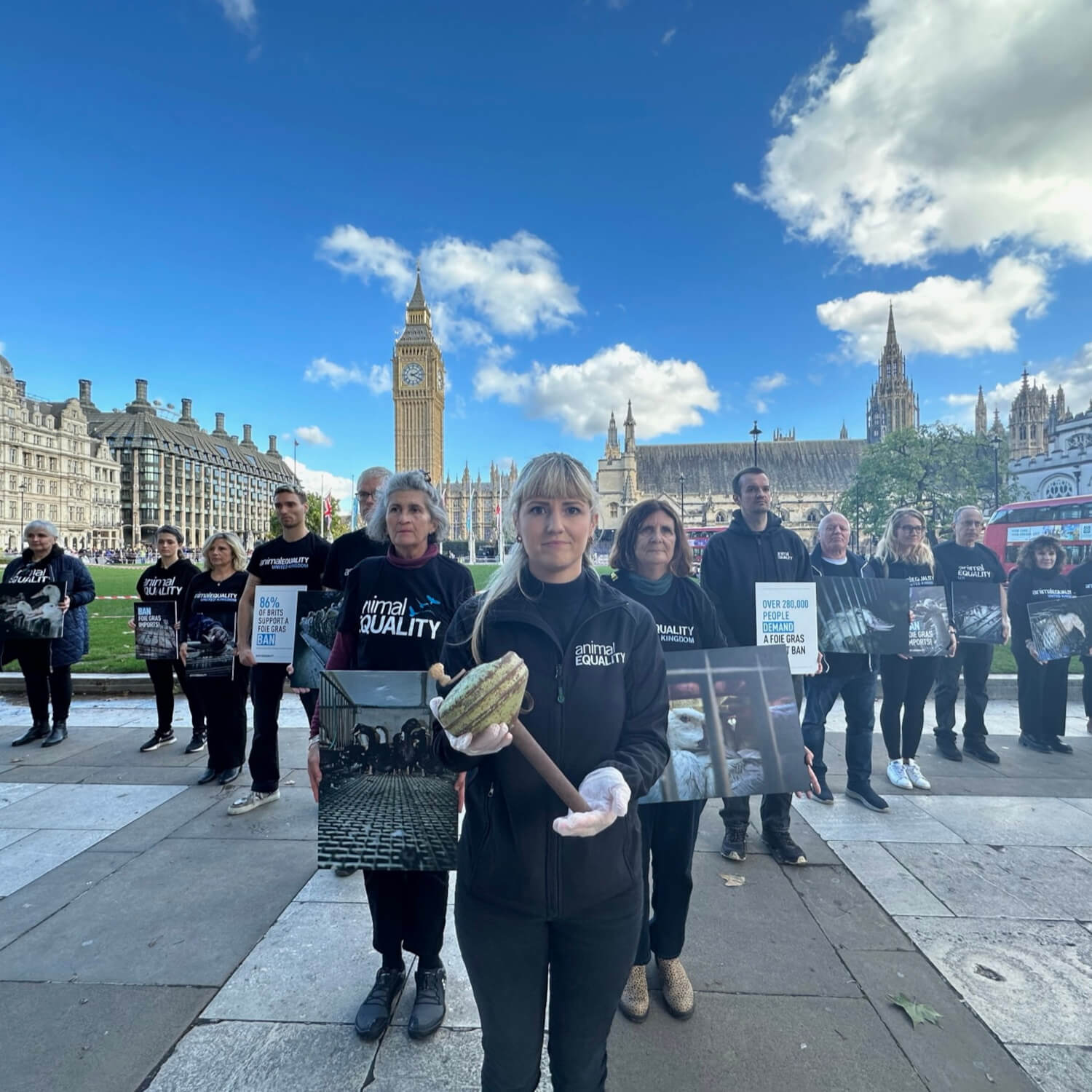 03/11/2023
---
Following conversations with Animal Equality, Giles Watling MP successfully tabled a Westminster Debate, speaking up for millions of ducks and geese trapped in cruel foie gras farms.