News
Get the latest news and updates from Animal Equality
Gloria: Thrown in a skip and left for dead
Animal Equality investigators rescue bird facing slow death on UK farm
26/07/2016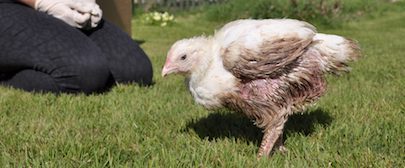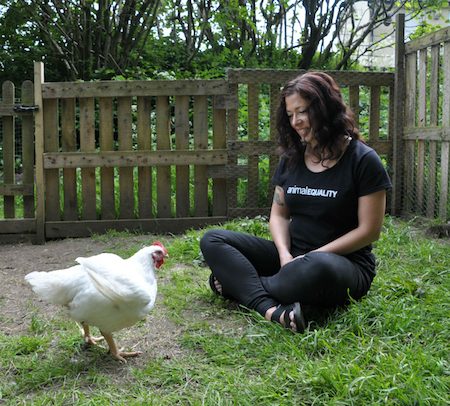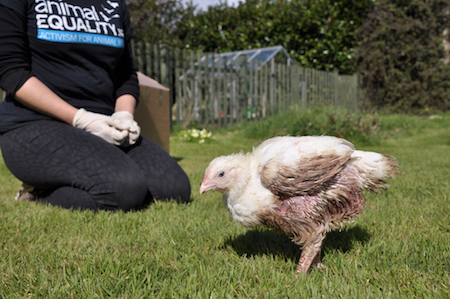 Our brave investigators bear witness to much cruelty and suffering, but even they were shocked by the merciless scenes they uncovered on Knapp Farm in Devon – which rears chickens on an industrial scale, with more than a million birds passing through the four gigantic sheds every year.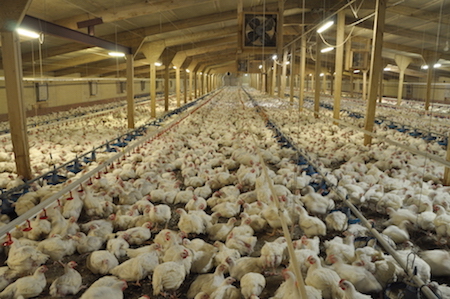 The farm, run by Halberton Poultry Limited, was visited as part of the filming for our upcoming virtual reality film documenting the harrowing lives of factory farmed chickens.
Our investigators first visited the Cullompton site on March 31st when the birds were just one-week old and already dead chicks were found in the skips and sheds. But it was on the third visit – at the end of April – when our shocked investigators opened the lid of a huge rubbish bin to find a weak young bird, shivering with cold but very much alive, sitting on top of a pile of rotting corpses.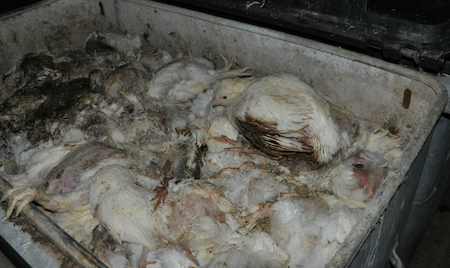 She was taken to safety and, incredibly, has survived the ordeal. Over the past month Gloria, as she was named by the two investigators who rescued her, has grown in size, strength and confidence – she is a factory farming survivor!
From the very beginning, conditions at the farm were dreadful. The birds were just a few days old when we first filmed, and yet already the sheds and the bins outside them contained hundreds of dead chicks – so tiny, and still with their yellow baby feathers.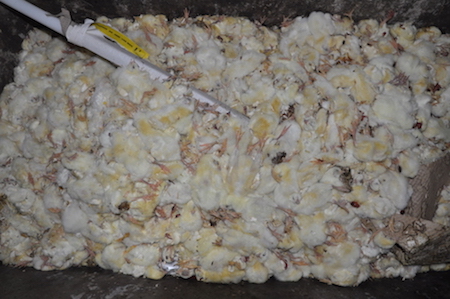 Just a couple of weeks later, the skips were fuller still with the bodies of those who hadn't made it, and many of the birds still in the sheds were showing signs of painful lameness.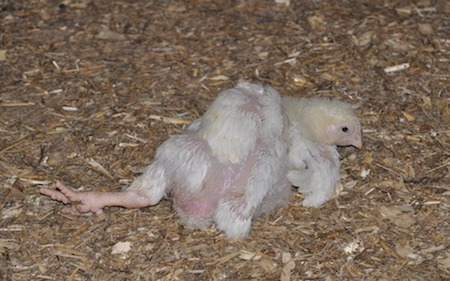 By our third visit, when we discovered Gloria, the skips were virtually overflowing with dead bodies. Factory farming is a merciless business that sees unprofitable animals as nothing more than garbage.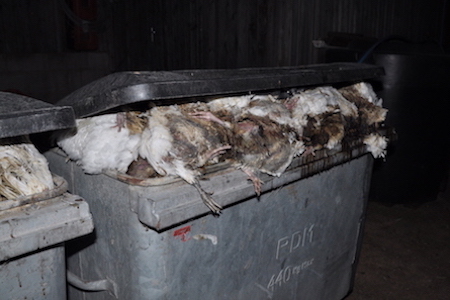 With Gloria safe, our investigators returned ten days later to find the condition of the birds in the sheds had deteriorated further. Some were on their backs unable to right themselves, while others had large sores or were too lame to move.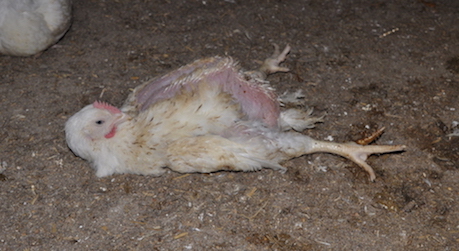 Four days later – our fifth and final visit – we filmed birds with their legs splayed out, desperately struggling but unable to stand. There were dead birds littering the floor in every shed, and the skips had been emptied but were already being filled again.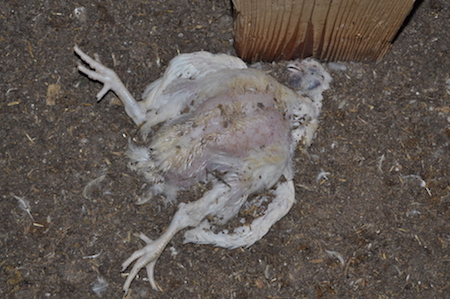 We have long known that intensive chicken farming sacrifices animal welfare in favour of profits at every opportunity, but abandoning a live bird to die on a pile of rotting corpses is a new low. It was pure chance our investigators were there that night, and found Gloria before it was too late. But we can't help wondering: how many more birds have they thrown into a skip and left to die?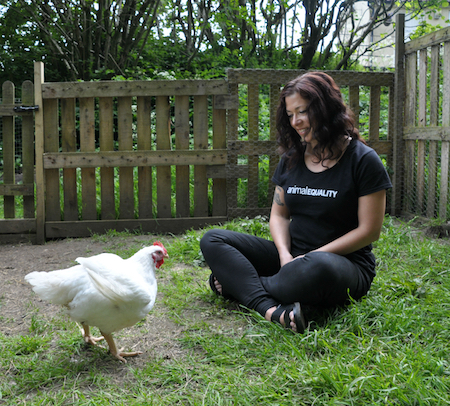 Gloria is now a family pet who loves human company and cuddles as much as any dog, yet a billion chickens just like her are farmed for their flesh in Britain every year.
You can help the rest – leave them off your plate. Visit veganuary.com for all the info you need on going meat-free.
---
United Kingdom
---
Latest News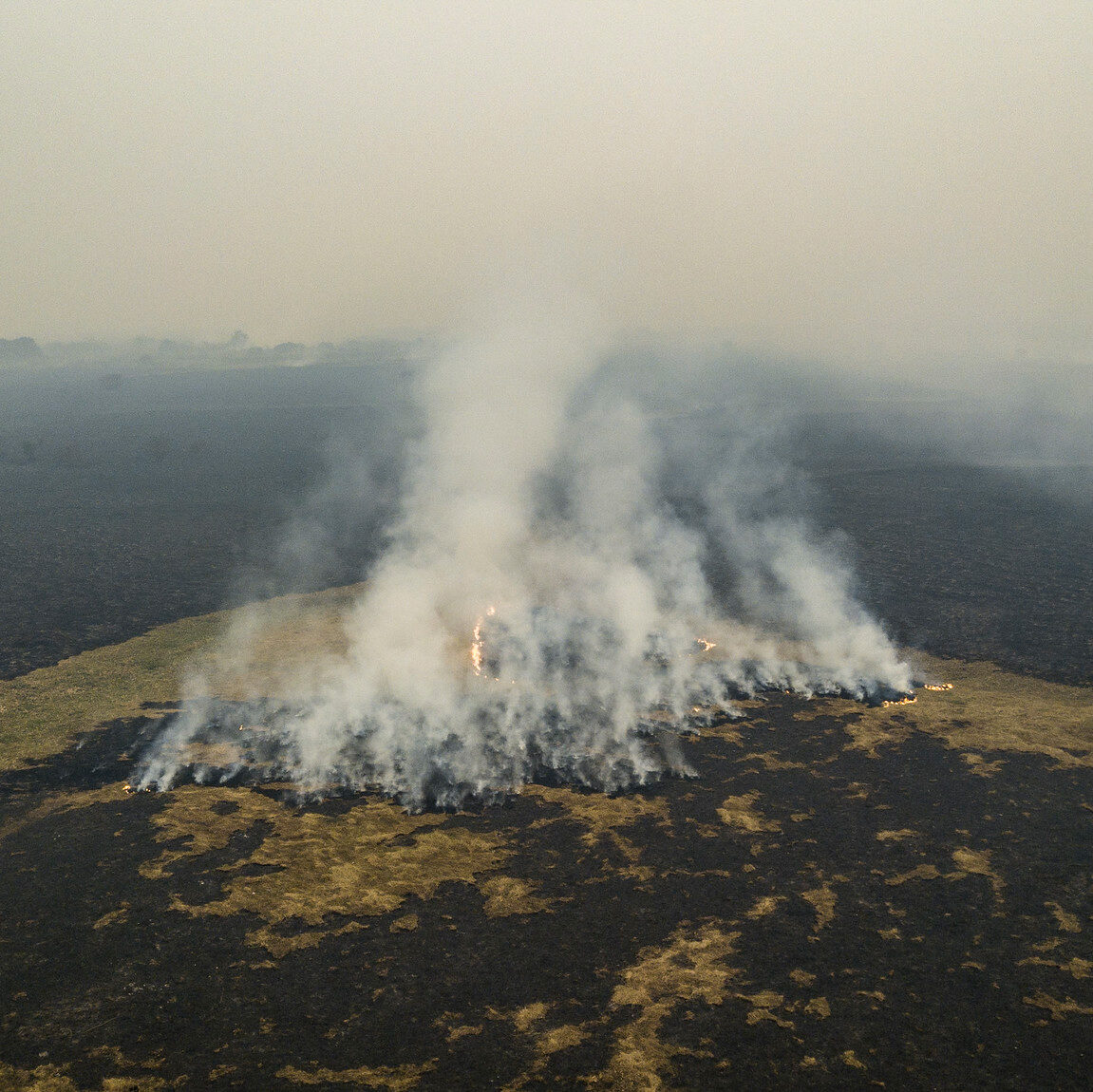 08/09/2021
---
Animal agriculture is destroying Brazil's habitats and our planet, and is responsible for the suffering of billions of animals. Animal Equality has today launched a global campaign urging the Brazilian Government and other world leaders to take specific actions that will hold the meat industry accountable for its crimes.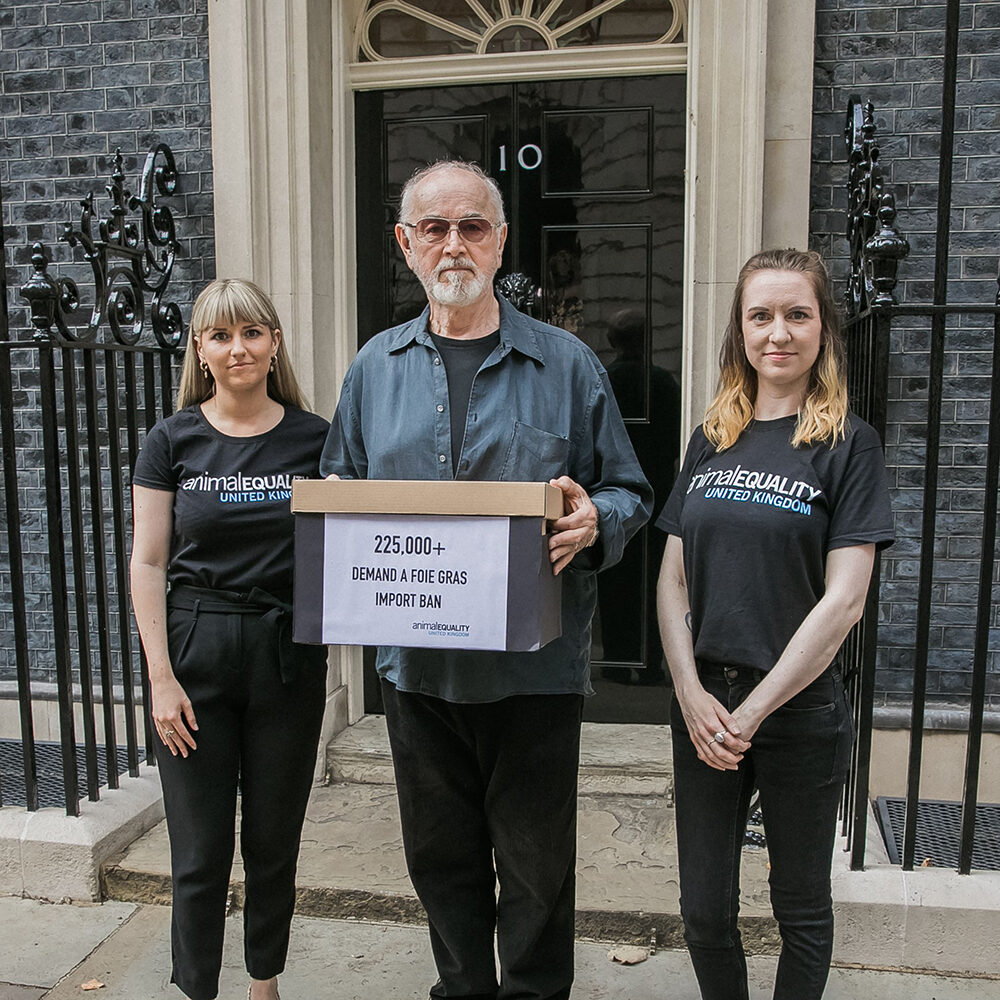 08/09/2021
---
Actor and animal advocate Peter Egan joined campaigners from Animal Equality in delivering over 225,000 petition signatures, calling for a UK-wide ban on the importation of foie gras made by force-feeding, to the UK Government at Number 10 Downing Street. (L-R): Actor and animal advocate, Peter Egan; Executive Director of…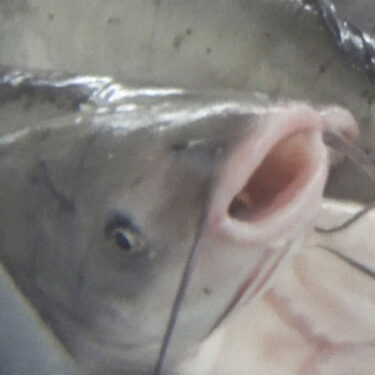 27/08/2021
---
Animal Equality has released disturbing scenes of animal suffering filmed at a Simmons Farm Raised Catfish slaughterhouse located in Yazoo City, Mississippi, United States. Simmons, which raises fish in intensive confinement pods, slaughters approximately 21,000 of these animals per day making it one of the largest catfish slaughterhouses in the…