Campaign exposing dairy's dark secrets challenges 'Februdairy'
03/12/2019
Update: Thanks to your generous support, we have successfully reached our Crowdfunder target! Visit dairysdarksecrets.co.uk to learn more.
Animal Equality UK has announced plans to launch hard-hitting billboards in ten British cities in response to the dairy industry's 'Februdairy' campaign.
There is a cycle of suffering that goes into every glass of milk and the public deserves to know about dairy's dirty secrets. If the industry won't tell the truth, then we will.
The public are led to believe that cows spend their days roaming around in the grass with their young, yet the dairy industry fails to point out that cows are forcibly impregnated every year, calves are separated from their mothers, and males are usually killed at just a few days old because they cannot produce milk. Whether it's local, organic, free-range or otherwise, these realities are an inescapable part of commercial farming.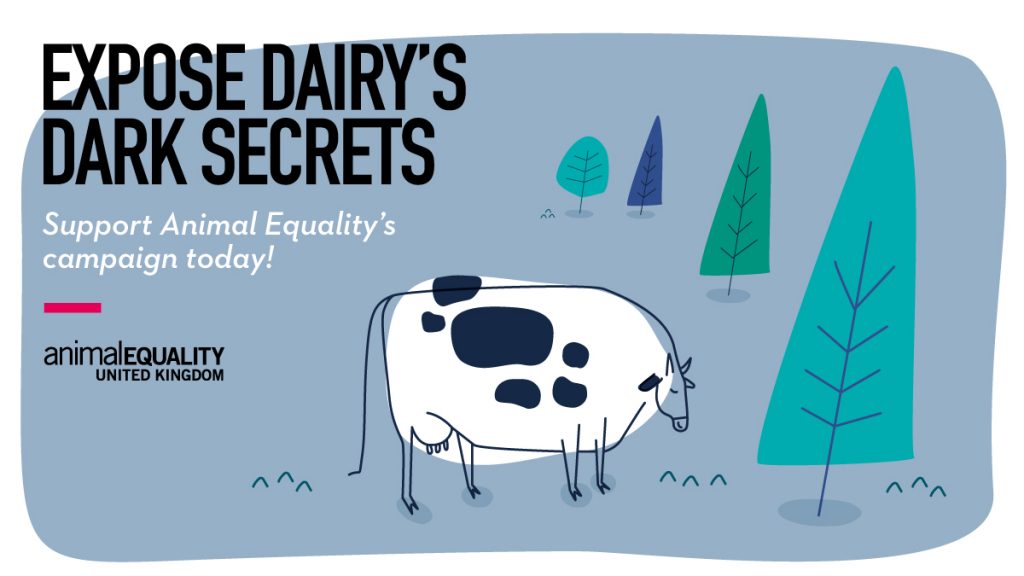 'Februdairy' is the dairy industry's desperate attempt to promote its products at a time when plant-based milks are growing in popularity, driven by increasing concerns around health, ethics and the environment. More and more people are opting for plant-based alternatives to dairy every single day and supermarket shelves are brimming with delicious options!
Animal Equality's ads will run throughout February 2020, reaching millions of people across the UK – from Belfast to Birmingham, London to Leeds, and more. For every £500 raised, we can fund a billboard in a different British city. Any money raised after our £5000 goal will go towards Animal Equality's life-saving work.
Will you help us speak up for cows? Visit animalequality.org.uk/act/februdairy to support and learn more about this campaign.
---