News
Get the latest news and updates from Animal Equality
Harrowing scenes of ducks and geese being force-fed filmed on a farm in France
15/11/2018
Updated: 14/01/2021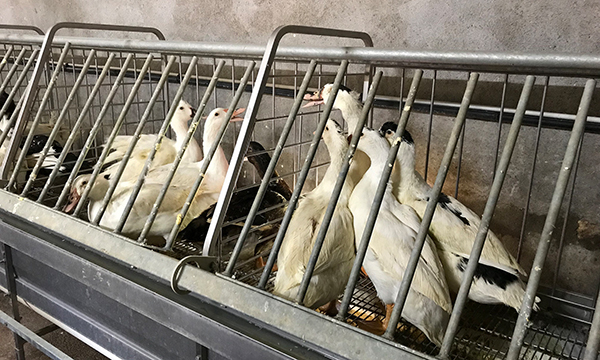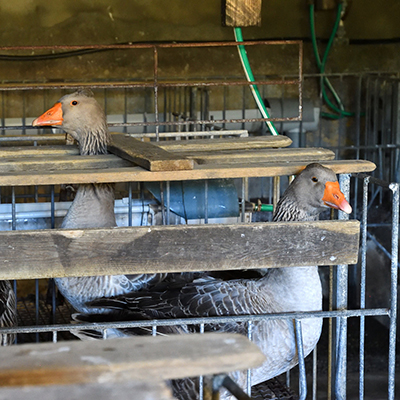 Animal Equality recently visited a foie gras farm to witness the production of the cruel 'delicacy' first hand. To our amazement, many farms in France offer public tours, open to families. We were welcomed onto one and filmed ducks and geese suffering severely in barren, wire cages and terrified birds struggling while being ruthlessly force fed with metal tubes.
Actor and animal advocate, Peter Egan and TV veterinarian, Emma Milne joined Animal Equality on the visit to 'La Ferme Turnac' foie gras farm in France. They witnessed terrified, panting ducks crammed into tiny, filthy cages and geese struggling to escape as a vast amount of food was pumped down their throats using a large metal tube.
Shocked that the farm was happy to put this horrific cruelty on display for families to watch, Peter Egan spoke out strongly against the practice: "It's disgusting. It should be banned."
Speaking about the force-feeding process, veterinarian and animal welfare campaigner Emma Milne said "The vocalisation was absolutely clear that it was an extremely unpleasant experience. If that's what they're happy to show you, I dread to think what some of the worse farms are like."
If the cruelty we filmed on this farm is the most humane way that foie gras can be produced, then it clearly has no place in a compassionate nation like the UK. Show your support for an import ban and add your name to the 100,000+ people calling for a foie gras-free Great Britain.
---
Latest News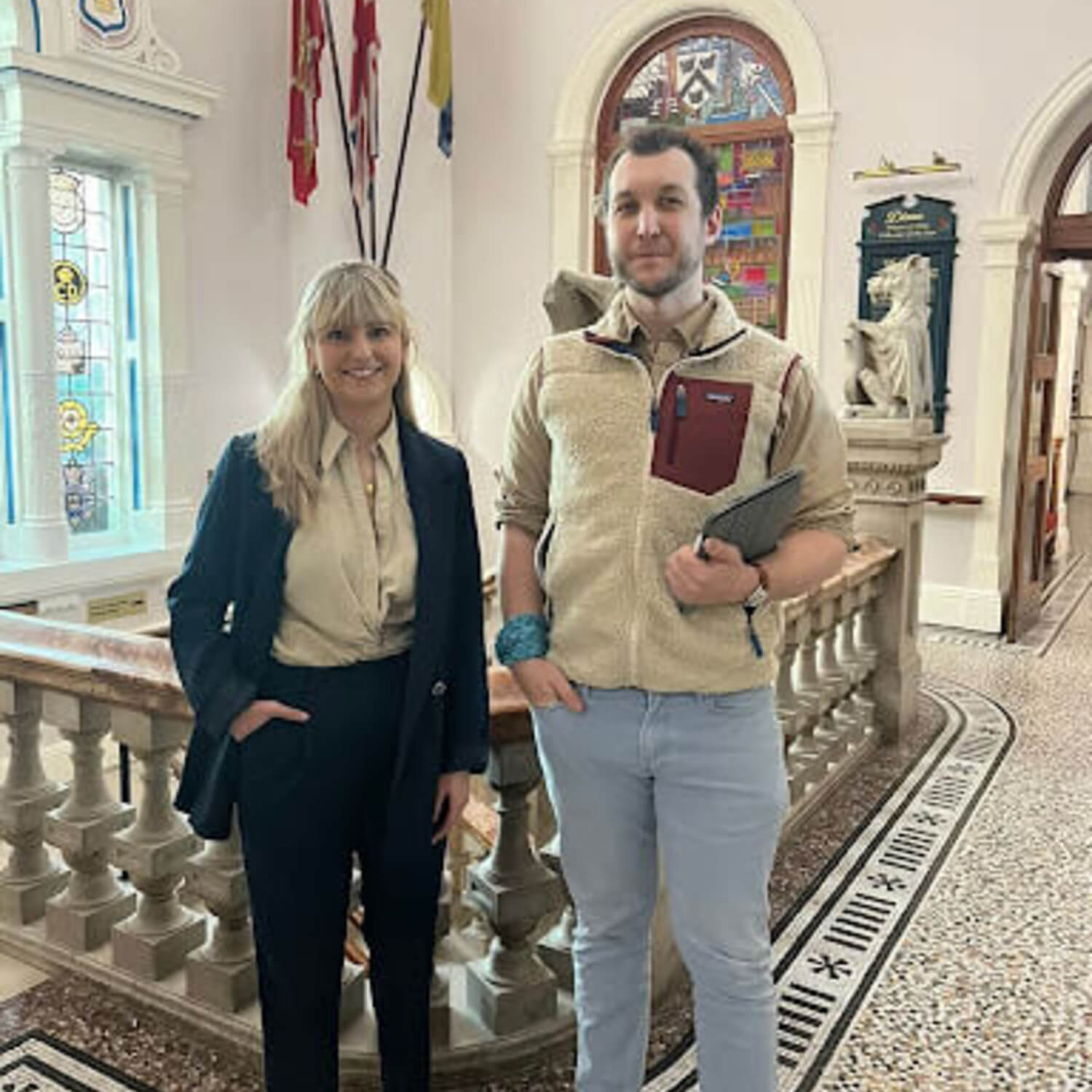 01/12/2023
---
On Wednesday 29th November, Councillors on the Planning Committee for North East Lincolnshire Council approved proposals for a controversial on-land intensive salmon farm in Cleethorpes, with four opposing and seven in favour. With plans to produce 5,000 tonnes of dead fish per year, there are no other fish farms of this scale in operation currently in the UK. Once constructed, the facility will be one of the largest in the world.
24/11/2023
---
Each year more than 200,000 tonnes of foie gras made by force-feeding are imported into the UK. Its production is so cruel that it is illegal to make in the UK, yet we hypocritically continue to permit imports. Previously unpublished images taken inside several duck farms in France show the terrible animal suffering involved in foie gras production.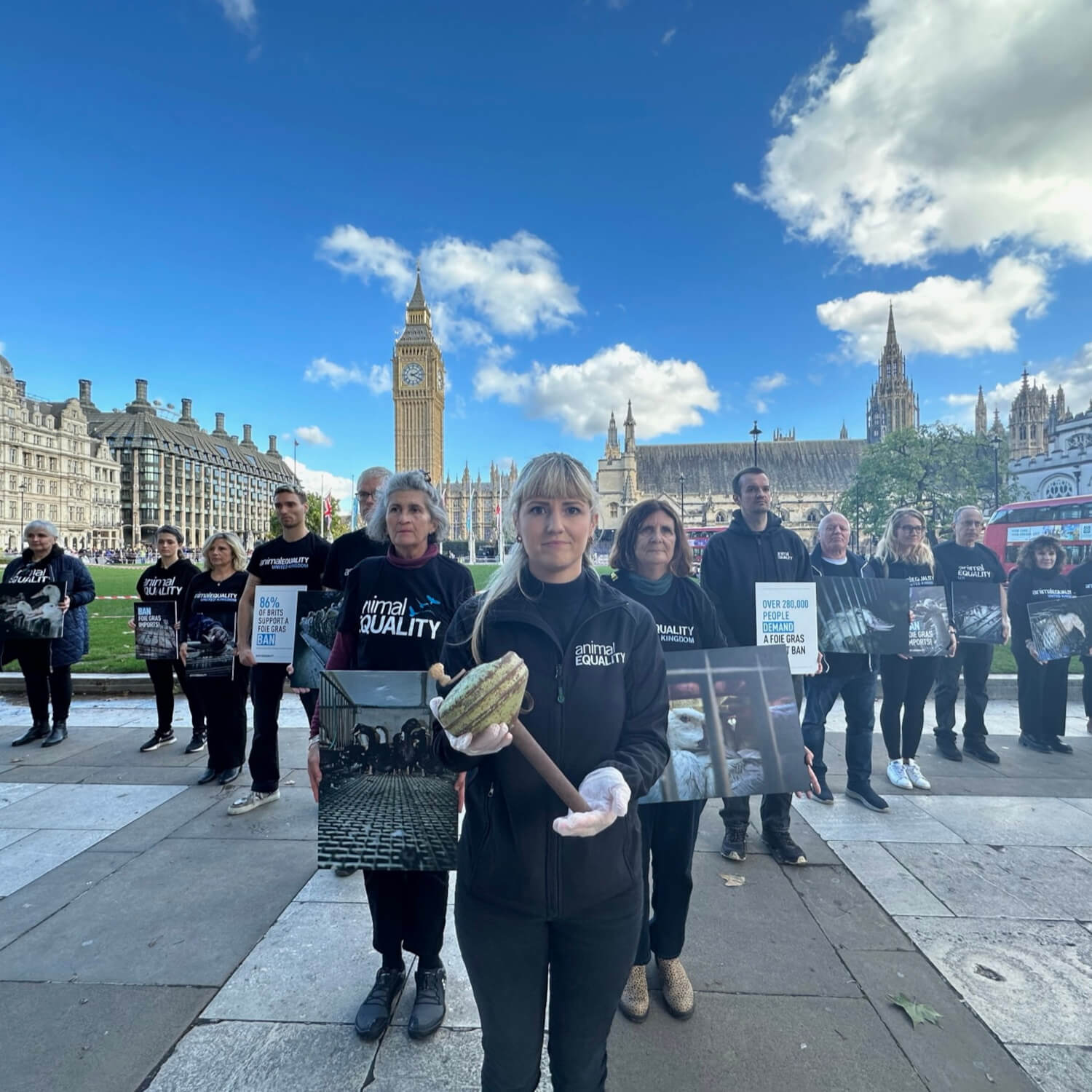 03/11/2023
---
Following conversations with Animal Equality, Giles Watling MP successfully tabled a Westminster Debate, speaking up for millions of ducks and geese trapped in cruel foie gras farms.