Evanna Lynch: The Dairy Industry in Virtual Reality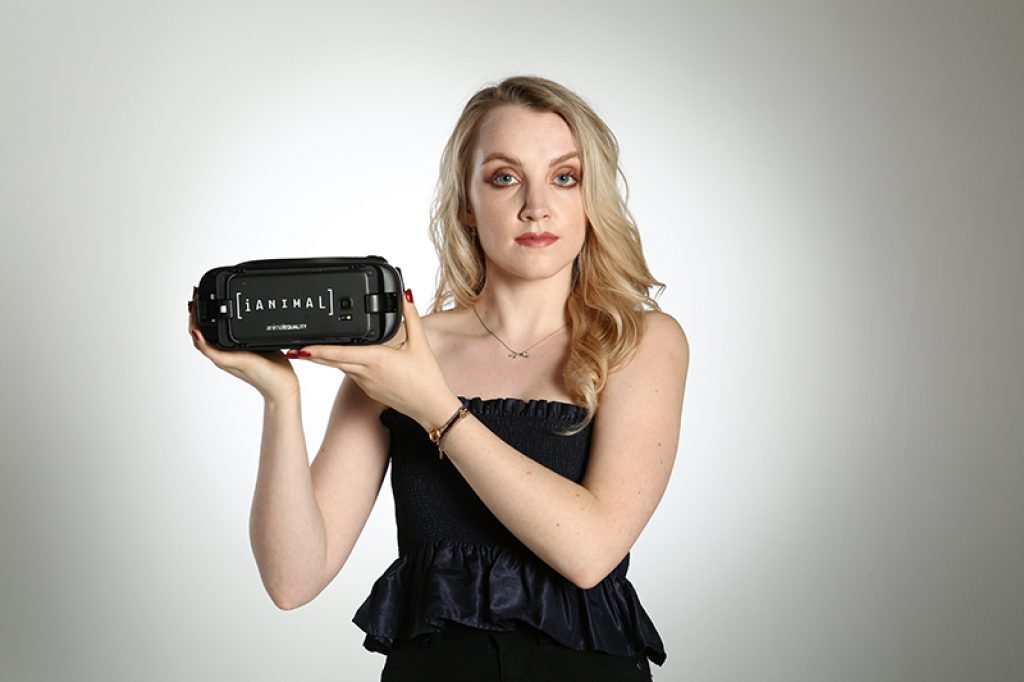 Evanna Lynch is an actress and writer best known for her role as Luna Lovegood in the Harry Potter films.
Evanna has been supporting Animal Equality's work since 2017 when she narrated an investigation video about the dairy industry called iAnimal.
iAnimal used innovative virtual reality technology to take viewers on an immersive experience inside factory farms to show the lives of cows in the dairy industry in full 360 degrees.
Since the release of iAnimal, Evanna Lynch has been supporting our campaign for a ban on UK imports of foie gras, which is produced by force-feeding ducks and geese.
Evanna Narrates Our Virtual Reality Investigation Video:
Joaquin Phoenix: Tower Bridge Protest Against Factory Farming
Oscar-award winning actor, ​​Joaquin Phoenix, joined Animal Equality on Tower Bridge in London on the 2nd February 2020 to draw attention to the link between animal agriculture and the climate emergency.
Taking place in advance of the BAFTA ceremony, Phoenix and other activists dropped a 390-square-foot banner that read 'Factory farming is destroying our planet. Go vegan' from the iconic landmark, as a plea to the public to stop eating animal products.
When you witness the horror that really happens behind closed doors and slaughterhouses to farm animals all over the world, it's impossible not to be affected by it and to realise that we have to do something drastic to stop it.

Joaquin Phoenix
Joaquin Phoenix Protests Against Factory Farming:
Peter Egan: Fighting for a Foie Gras Ban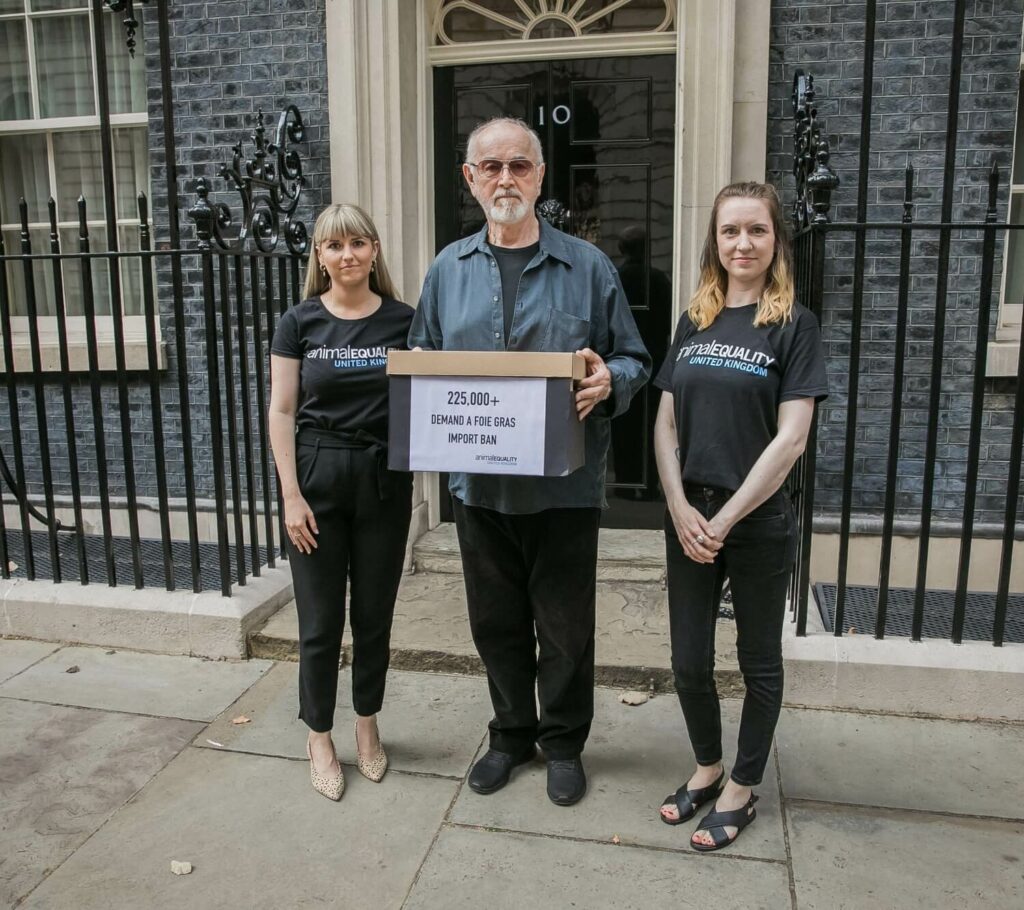 Much-loved actor, Peter Egan, who has starred in Downton Abbey and After Life, is a passionate animal activist.
In 2018, he ventured inside a foie gras farm in France with us, where he witnessed first-hand the appalling cruelty that this so-called 'delicacy' causes to millions of ducks and geese every year.
And just this year, he helped us to hand-in over 225,000 signatures from our petition to the Government at 10 Downing Street.
Peter Egan's Experience Inside a Foie Gras Farm:
Rooney Mara: Going Undercover on UK Farms
Can you imagine seeing inside a factory farm with your own eyes? Animal activist and actor Rooney Mara experienced just that when she joined Animal Equality on an undercover investigation inside two British farms in 2019.
Alongside the investigation, Animal Equality released 'With My Own Eyes', a short film narrated by Rooney, which exposes the intense cruelty within the secretive meat industry. Rooney tells the heartbreaking stories of the millions of pigs and chickens raised for meat every year in the UK.
Nothing prepares you for looking into the eyes of a mother pig whose life is to be impregnated and left in a cage until she's slaughtered. I can't imagine how awful it must be to be literally trapped and crushing your own babies and not be able to do anything about it.

Rooney Mara
Rooney Mara's Experience Inside British Farms: