News
Get the latest news and updates from Animal Equality
Veganuary and Animal Equality: Working Together to Change the World!
With a shared vision of helping as many animals as possible, our partnering suggests many more victories for animals in the future.
08/12/2015
Updated: 17/11/2018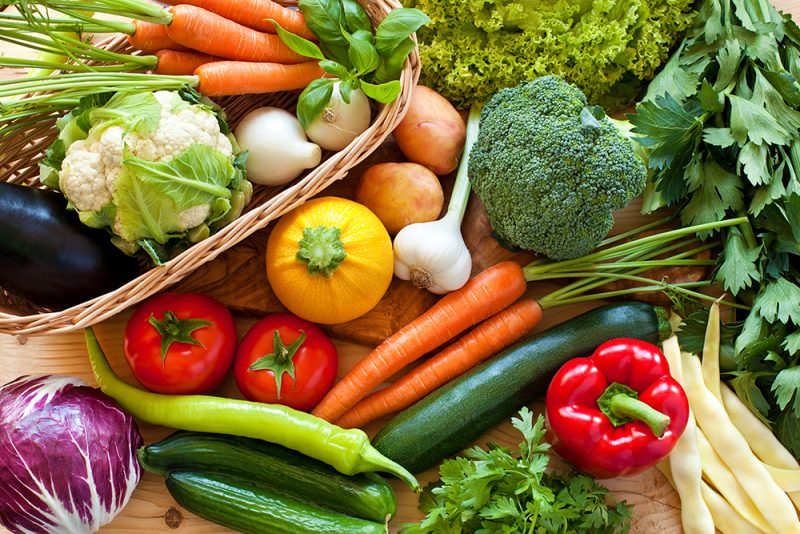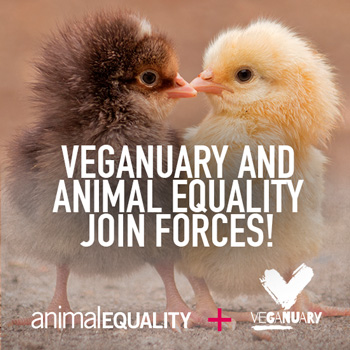 Animal Equality and Veganuary have decided to join forces, and will be working together to create a more just and compassionate world for animals. With both organisations campaigning globally, this will significantly impact animal rights worldwide.
Veganuary is a global campaign encouraging people to try vegan in January. With participants originating from 115 different countries, they provide information and support to make veganism accessible, easy and enjoyable.
"We're excited to be working with Veganuary", said Sharon Núñez International Director for Animal Equality. "In only a few years they've inspired thousands of people to try veganism and their efforts outside of January have resulted in a substantial proportion of their participants staying vegan. One of our goals at Animal Equality is to achieve behavioural and lasting change in society, and Veganuary's ability to bring veganism into the mainstream is perfectly aligned with that."
Jane Land, Co-Founder of Veganuary, echoed Núñez's sentiments. "We've long admired the work and ethos of Animal Equality. The evidence from their investigations and the scope of their campaigning is vital when it comes to changing public attitudes in regards to animals. We already use a lot of their imagery and footage in our participant communications, so it makes sense for us to combine forces to achieve a far greater impact."
With a shared vision of helping as many animals as possible, our partnering suggests many more victories for animals in the future.
Interested in taking part in Veganuary 2016? Register for free at Veganuary.com to enjoy tips, exclusive offers and ongoing support.
---
United Kingdom
---
Latest News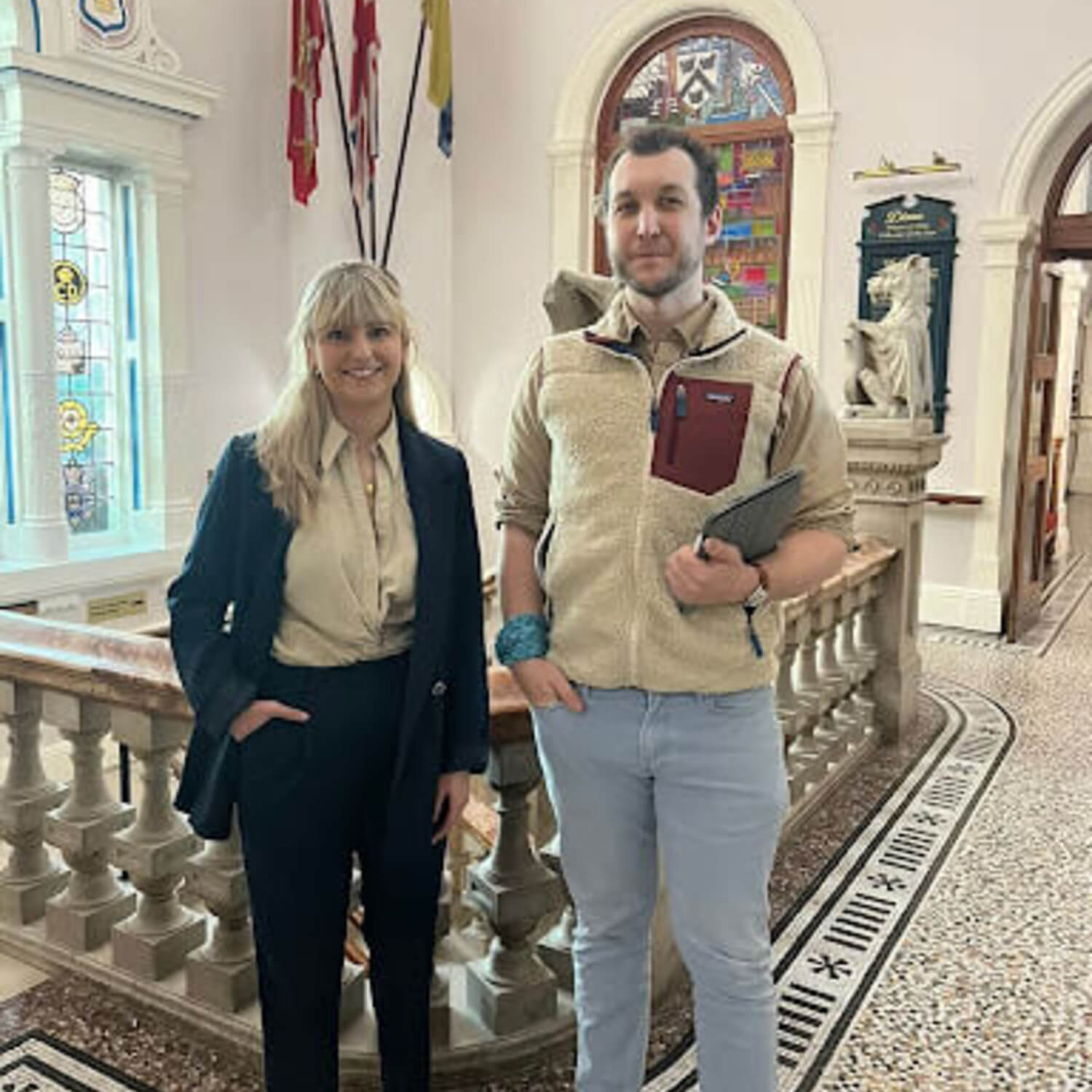 01/12/2023
---
On Wednesday 29th November, Councillors on the Planning Committee for North East Lincolnshire Council approved proposals for a controversial on-land intensive salmon farm in Cleethorpes, with four opposing and seven in favour. With plans to produce 5,000 tonnes of dead fish per year, there are no other fish farms of this scale in operation currently in the UK. Once constructed, the facility will be one of the largest in the world.
24/11/2023
---
Each year more than 200,000 tonnes of foie gras made by force-feeding are imported into the UK. Its production is so cruel that it is illegal to make in the UK, yet we hypocritically continue to permit imports. Previously unpublished images taken inside several duck farms in France show the terrible animal suffering involved in foie gras production.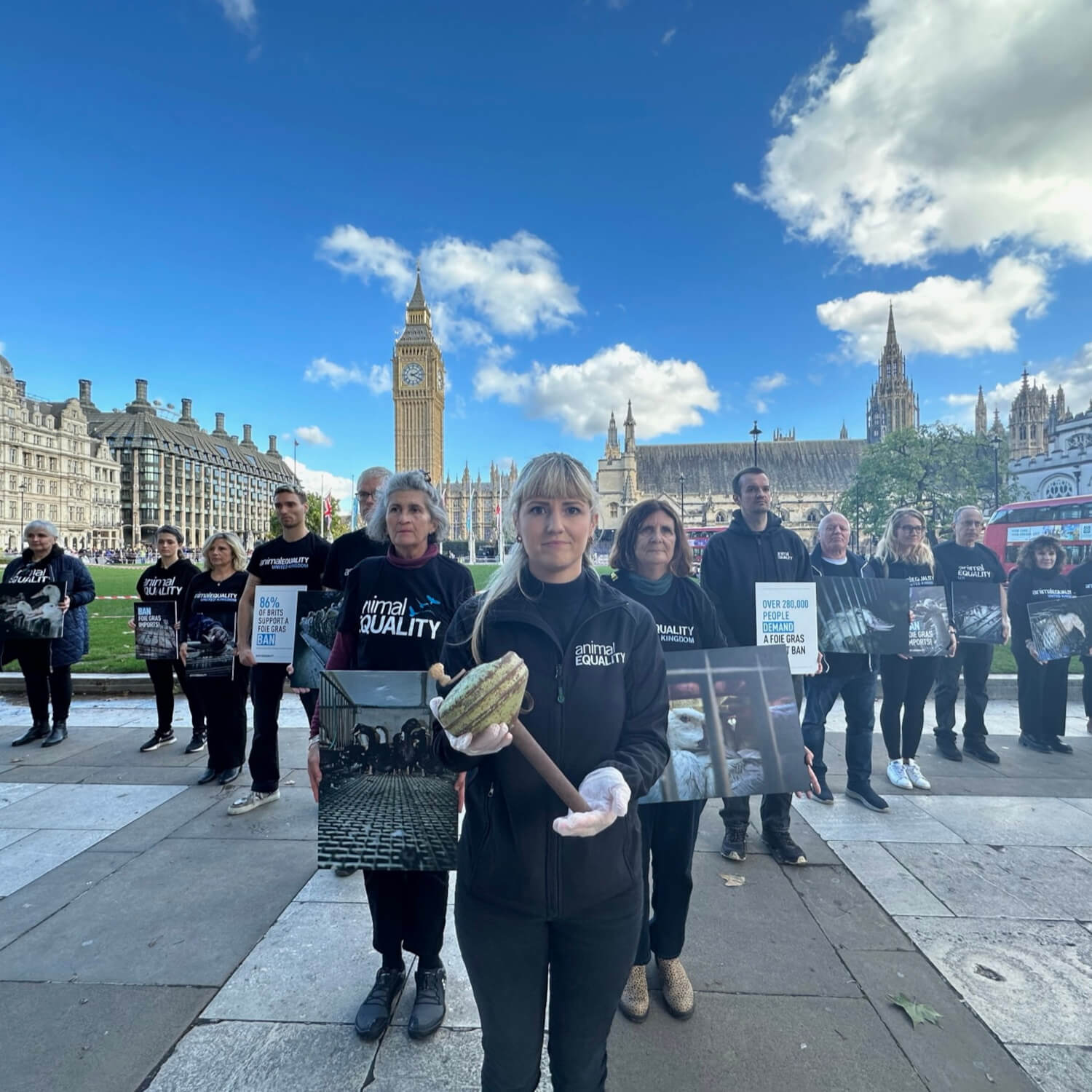 03/11/2023
---
Following conversations with Animal Equality, Giles Watling MP successfully tabled a Westminster Debate, speaking up for millions of ducks and geese trapped in cruel foie gras farms.