News
Get the latest news and updates from Animal Equality
Tens of Millions of Scottish Farmed Fish Dying Before Slaughter Each Year
Footage released by Animal Equality shows buckets full of dead salmon being collected from Meall Mhor Loch Fyne in Scotland, in a process known as 'lift up'.
16/01/2023
Updated: 13/11/2023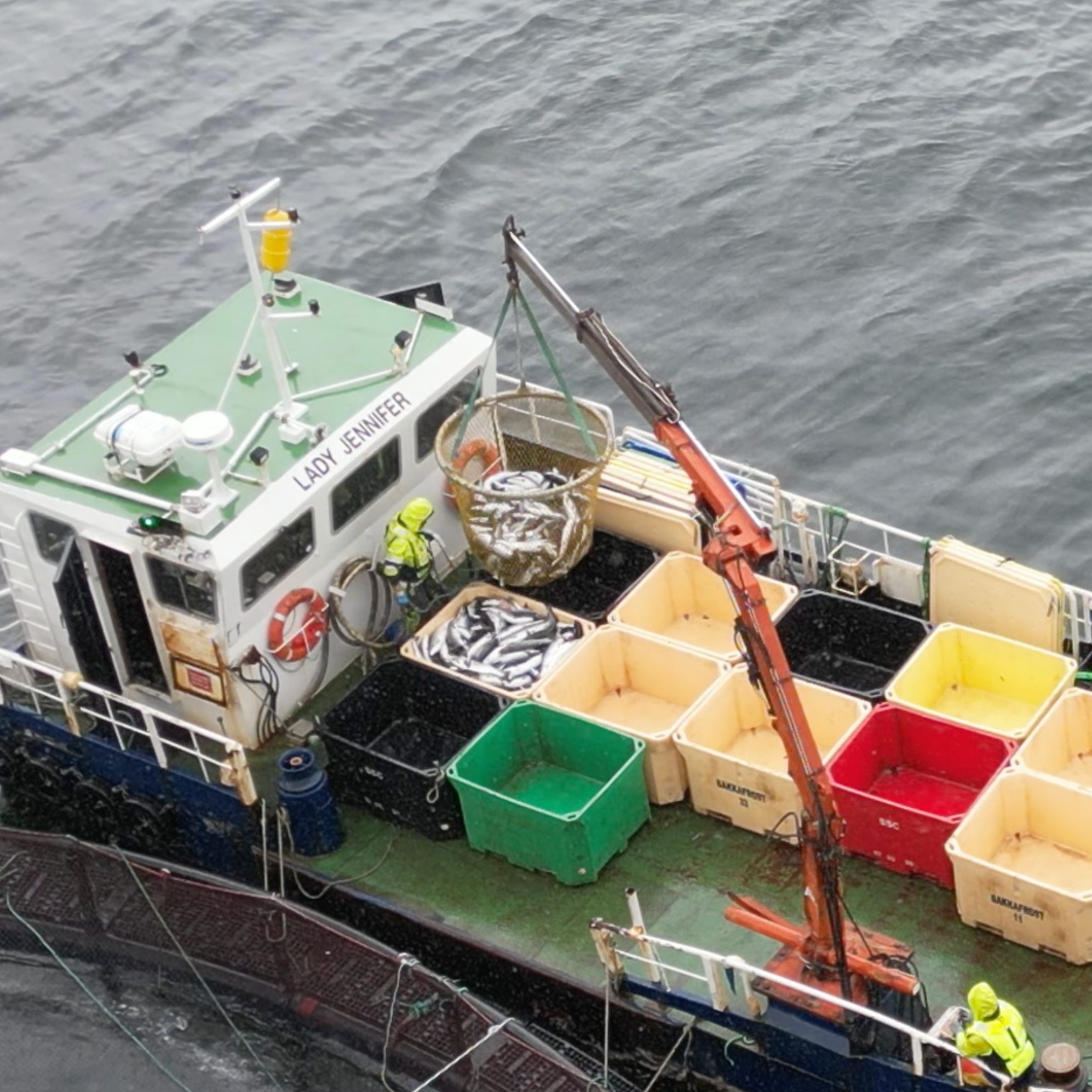 Every year in the UK, up to 77 million fish are farmed and slaughtered, but many more don't even make it to slaughter.
According to a report from industry membership body Salmon Scotland, 2.8 million farmed salmon died on-farm in Scotland in September 2022 alone.
This means an estimated 20 to 30 million farmed salmon may be dying on-farm on average each year.
Mortality in Salmon Fish Farming: The Data
In October 2022, Animal Equality filmed at an aquaculture site operated by Faroese company Bakkafrost (formerly The Scottish Salmon Company). The action follows several reports over recent months of fish at the specific site suffering from poor gill health.
In September, reports from the Fish Health Inspectorate showed that over 16,000 salmon died at Meall Mhor Loch Fyne during a two-week period. This same site was investigated by fellow animal advocates in April 2021, where footage shows fish suffering from untreated injuries and deformities swimming in filthy waters.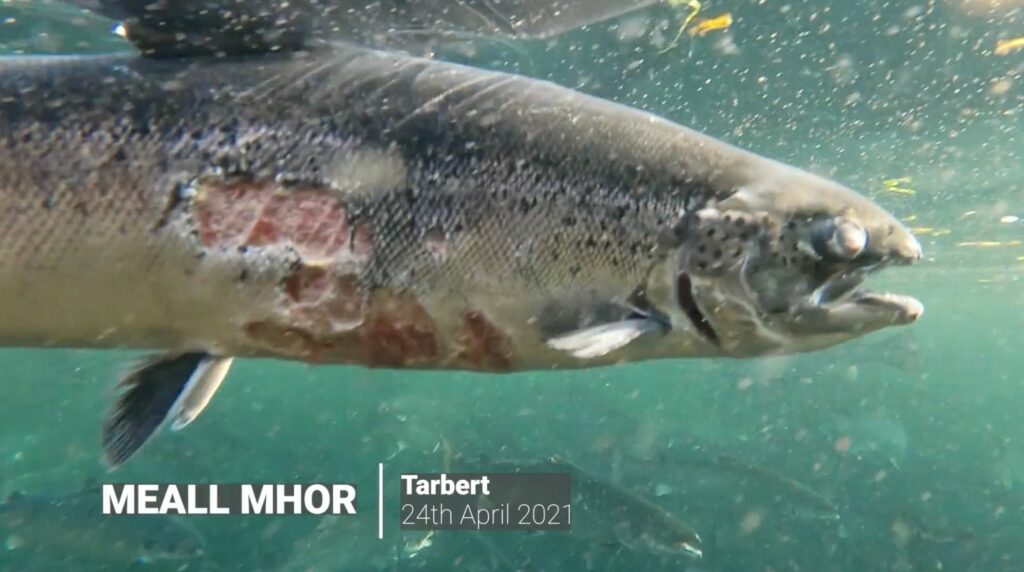 The early death of fish is an issue that has persisted for the company for some time.
A self-proclaimed 'pioneer in aquaculture', in a 2021 Sustainability Report Bakkafrost admitted to 78% 'survival rate' at its Scottish operations, and across certain Bakkafrost-operated sites in 2022, the corporation reported cumulative death rates of 80.2%, 57.7%, 42.3% and 39.1%. This time last year Bakkafrost reported a staggering 82.1% cumulative mortality rate at its Druimyeon Bay site, with four in five fish not making it to the abattoir.
According to activist and Founder of $camon $cotland, Don Staniford, it is not only Bakkafrost who struggles with high mortality on-farm.
In a new report published by the organisation, it was found that between January and July 2022 the Scottish aquaculture industry averaged a 22% cumulative mortality rate, with one in every five salmon or trout not reaching the slaughterhouse.
Other producers averaging high mortality rates include Wester Ross Fisheries, Loch Duart, Mowi Scotland and Scottish Sea Farms. The report also highlighted a recent spike in mortalities, with 2021 marking the highest ever on record, with over 30,000 tonnes of dead farmed fish reported across Scotland last year.
Scottish salmon farming is dead in the water. Mass mortalities, welfare abuse, lice infestations and infectious diseases are plaguing salmon farms across the Highlands and Islands of Scotland.

Don Staniford, Director of $camon $cotland
Why Do Fish Die On-Farm?
Fish die prematurely on farms for a variety of reasons, including:
violent handling or transportation
rough lice treatments
'treatment losses' resulting from chemical mistakes or human error
algal blooms
infections or infectious diseases
severe weather conditions
stressful environments
predation
Despite the huge numbers of fish farmed and killed every year in the UK, these animals receive little legal protection.
The data doesn't lie. It's undeniable that early fish mortality is a rapidly worsening issue. Over recent years deaths in fish pens have reached record levels for a number of reasons, including a sharp rise in infectious diseases among the fish who are packed into unnaturally overcrowded cages, as well as poor gill health and rough treatments to remove lice from the infested waters. As the industry grows, so do these issues. We must take back the power and boycott farmed fish, it's the only way that we can begin to curb this ever-worsening problem.

Abigail Penny, Executive Director of Animal Equality UK
Our Work To Protect Fish
In February 2021, Animal Equality released a first-of-its-kind investigation inside a Scottish salmon slaughterhouse showing fish being left to suffocate on the floor, improper stunning and fish being killed while fully conscious.
Following our findings, the Scottish Government announced that it would put in place mandatory inspections inside fish slaughterhouses in the country for the first time ever.
In late 2021, Animal Equality and the Conservative Animal Welfare Foundation produced a joint report making a case for CCTV to be mandated in all UK fish slaughterhouses.
This ask is supported by 25 of the world's leading aquatic animal experts who signed an open letter to the Animal Welfare Committee in December 2021, calling for urgent action to be taken.
Signatories include Dr Jonathan Balcombe, Author of 'What a Fish Knows'; Dr Becca Franks of New York University; Professor Steven Harnad, Editor of Journal of Animal Sentience; Dr Lynne Sneddon of the University of Gothenburg; and Dr John Webster, Founder Member of the Farm Animal Welfare Council.
And in July 2022, the first-ever Parliamentary event to discuss the welfare of fish at the time of killing took place and Animal Equality was invited to attend and present our findings and recommendations.
The Animal Welfare Committee is currently considering the issue of the welfare of farmed fish at the time of killing and is exploring the need for changes to current practice or legislation, marking an incredible milestone for farmed fish.
The Committee's findings are expected to be published later this year and will be submitted to the UK Government for consideration and legislative action.
Viewed as little more than numbers on a page, these animals suffer such a miserable existence that many don't even make it to the slaughterhouse. Those who do make it suffer an equally terrifying fate since the minimal and ambiguous laws currently in place do little to protect these animals in their final moments.

Abigail Penny, Executive Director of Animal Equality UK
Take Action For Fish
Fish are intelligent, sensitive animals, yet they are forgotten.
If we take into account the fish that make it to slaughter and the ones who die before, every year approximately 100 million fish are killed by the fish industry. And what's worse is that this industry is essentially being left to self-regulate, with few welfare-oriented inspections taking place by official regulatory bodies and ambiguous laws at the time of killing.
We all have the power to end this suffering right now by leaving fish off of our plates today. By boycotting this cruel industry, we can spare these animals from a lifetime of misery.
We can also take the opportunity to call on the Government to do better. That's why Animal Equality has launched a petition calling for CCTV to be made mandatory inside fish slaughterhouses in the UK. Please, help us better protect fish by adding your name below:
Help Fish: Try Plant-Based
The best way to help fish is to reduce or eliminate your fish consumption or switch out fish products for plant-based alternatives.
Every day thousands of people like you start their plant-based journey. Whether it's because you want to eat healthier, protect the planet, or to prevent animals from suffering in factory farms, every meal counts!.
To get you started on your plant-based journey, we have put together a free downloadable recipe book, full of delicious recipes perfect for beginners. So what are you waiting for? Try plant-based now!
---
Latest News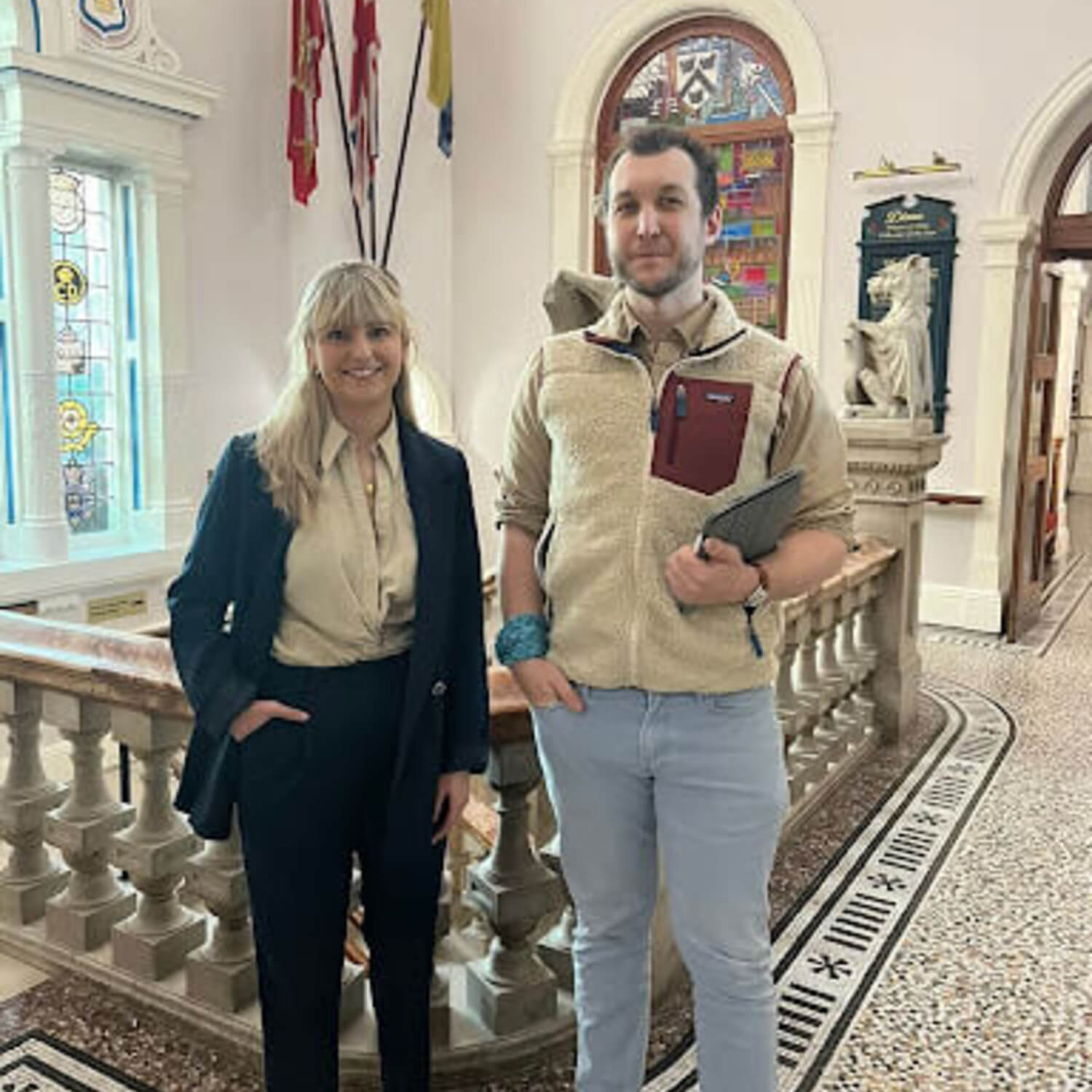 01/12/2023
---
On Wednesday 29th November, Councillors on the Planning Committee for North East Lincolnshire Council approved proposals for a controversial on-land intensive salmon farm in Cleethorpes, with four opposing and seven in favour. With plans to produce 5,000 tonnes of dead fish per year, there are no other fish farms of this scale in operation currently in the UK. Once constructed, the facility will be one of the largest in the world.
24/11/2023
---
Each year more than 200,000 tonnes of foie gras made by force-feeding are imported into the UK. Its production is so cruel that it is illegal to make in the UK, yet we hypocritically continue to permit imports. Previously unpublished images taken inside several duck farms in France show the terrible animal suffering involved in foie gras production.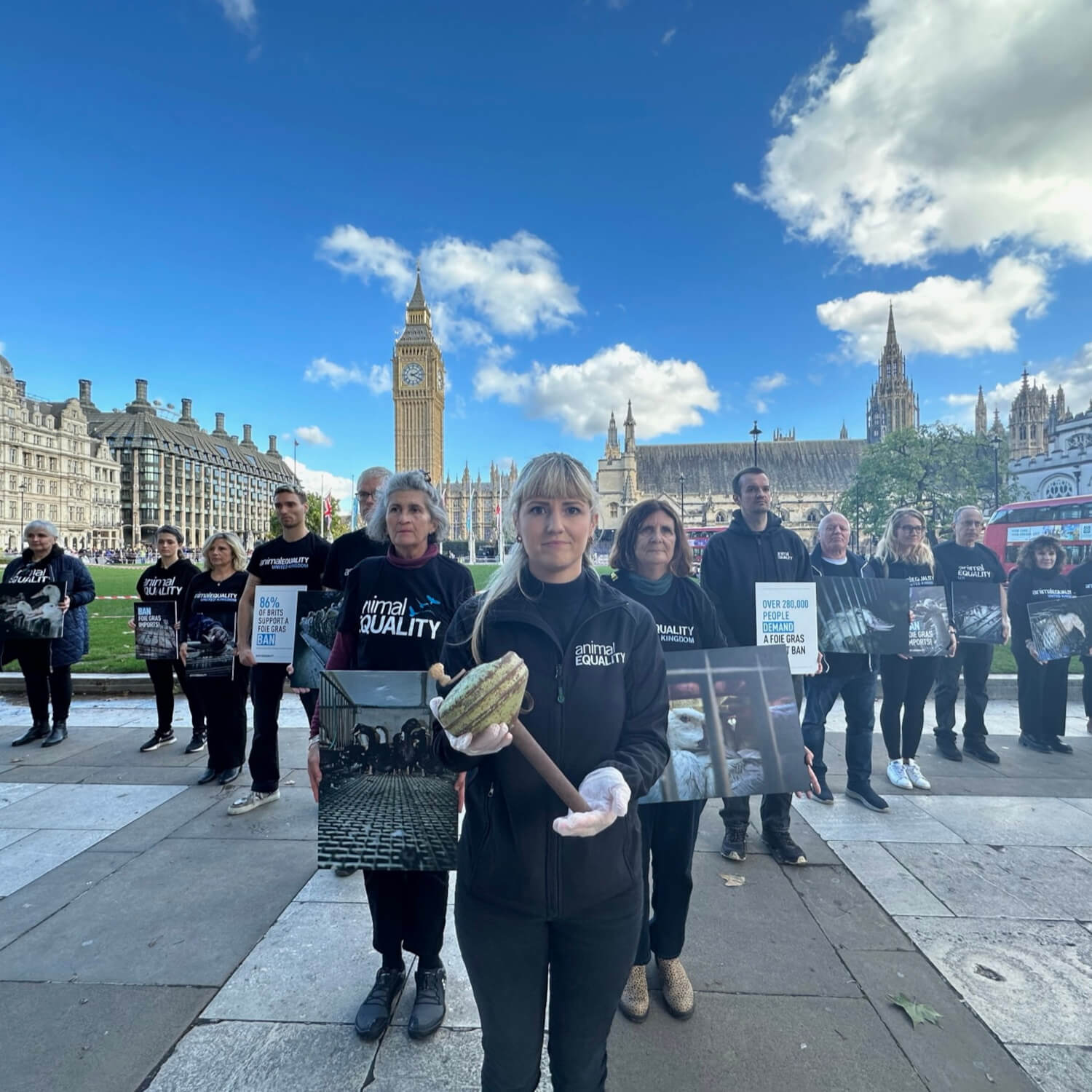 03/11/2023
---
Following conversations with Animal Equality, Giles Watling MP successfully tabled a Westminster Debate, speaking up for millions of ducks and geese trapped in cruel foie gras farms.