News
Get the latest news and updates from Animal Equality
Government Drops Foie Gras Ban From Queen's Speech
Animal advocates, celebs, politicians and members of the public express their collective disgust and disappointment that a ban on foie gras imports did not make the cut in this year's Queen's Speech.
10/05/2022
Updated: 14/04/2023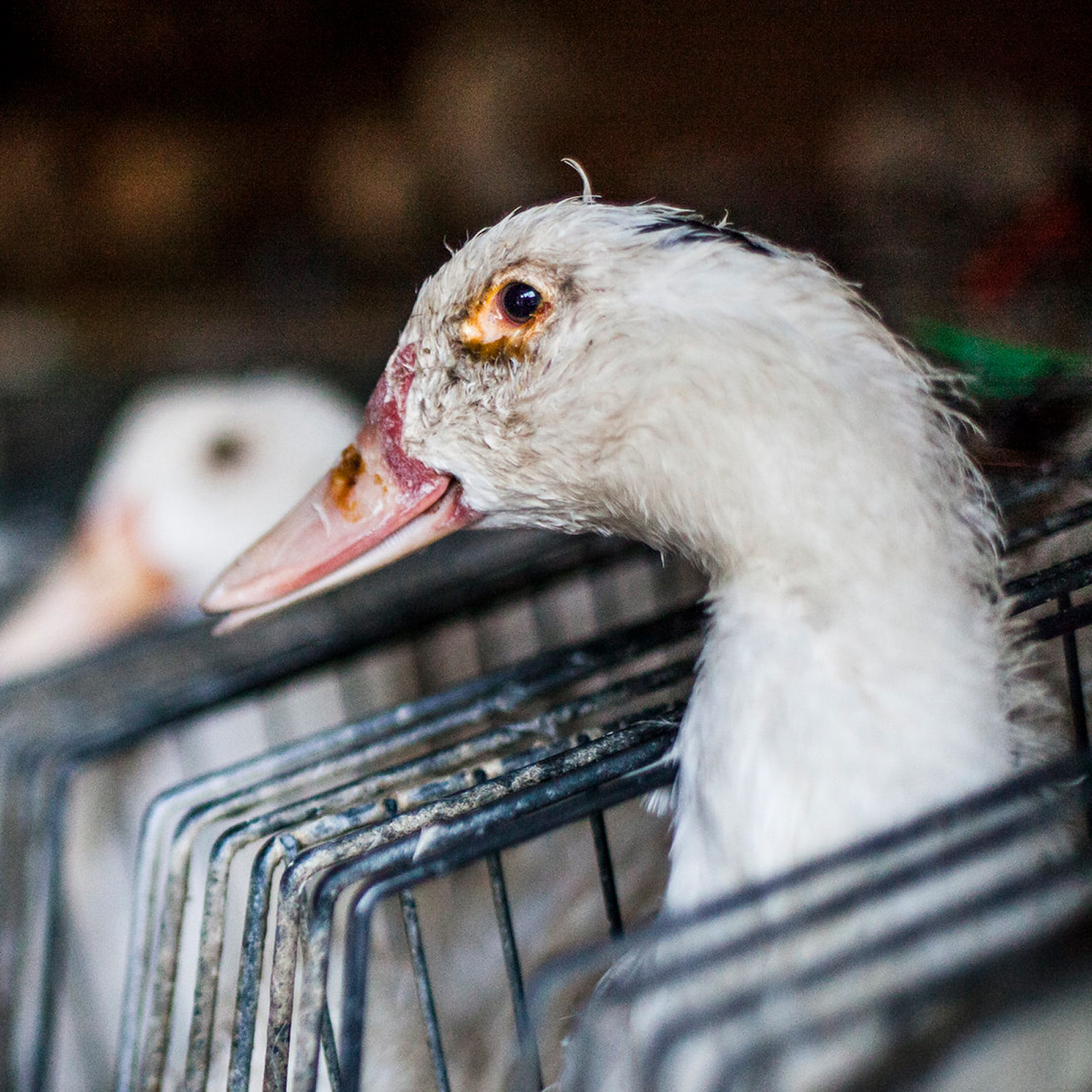 The speech, written by the Government and delivered by Prince Charles, was noticeably silent on issues of animal protection and animal agriculture. Despite extensive promises over recent months and years that the UK would enact legislation to secure its place as a leader on the world stage, today's plans failed to include mention of the Animals Abroad Bill, to the bitter disappointment of many.
Amongst other things, the Animals Abroad Bill sought to ban imports of foie gras made by force-feeding into the UK, imports of fur, and hunting 'trophies' – plans that have received widespread and overwhelming support from citizens across the nation.
What began with ambitious, groundbreaking plans to ban foie gras, fur, shark finning, elephant ride ads and hunting 'trophies' has been stripped away over time, leaving the Queen's Speech in tatters. Animal Equality will continue to defend animals and the British people's wishes, and the Government should know: we will not let this issue drop.

Abigail Penny, Executive Director of Animal Equality UK
What is Force-feeding?
Force-feeding ducks and geese in order to produce foie gras involves confining millions of ducks and geese per year into small cages. Over a two week period, these animals are constrained and painfully force-fed multiple times a day in a process known as 'gavage'. A tube is forced down the throats of ducks and geese, forcing them to ingest volumes of food far larger than they would typically eat. This is all to produce a 'delicacy', that is in reality the diseased liver of the duck or goose who endured the agonising practice.
Force-feeding animals is a crime to carry out in the UK; this first came into force in 2000 under The Welfare of Farmed Animals (England) Regulations 2000, which later became The Welfare of Farmed Animals Regulations (2007), yet we continue to import 200 tonnes of the product onto our shores every year.
What Does The Public Say?
A recent YouGov poll, commissioned by Animal Equality, revealed that 86% of survey respondents across Great Britain who expressed an opinion showed opposition to the force-feeding of animals during farming, with a further 81% showing support for a legislative ban on the importation of foie gras made by force-feeding.
In last year's Queen's Speech the UK Government took the opportunity to release its long-awaited 'Action Plan for Animal Welfare'. The Department of Environment, Food and Rural Affairs presented the plan as the UK's 'first ever action plan to improve the welfare and conservation of animals at home and abroad'. This year, in a disappointing U-turn, animals were not even mentioned once.
Reflecting on today's speech, Abigail Penny, Executive Director of Animal Equality UK, said: "After years of hints and high hopes for a foie gras ban, the Prime Minister is turning his back on animals and the British public at the eleventh hour. Foie gras is a 'luxury' item that the UK public does not support. By ignoring the wishes of the majority, what kind of message is the Government sending to the country and the people it is meant to represent?"
The Public Mistrust in the Government
Results published from a second YouGov poll that Animal Equality commissioned reveal that just 1% of citizens across Great Britain 'trust a great deal' that the Government will deliver on its political promises.
With 83% of respondents who expressed an opinion stating that they 'don't trust' the Government to follow through on its commitments, campaigners claim that the Government is "at serious risk of appearing to overpromise and underdeliver". And after the proposed ban on foie gras imports was dropped from today's speech, it appears they were right to have cause for concern.
This same level of distrust was found amongst those who it could be assumed would support the Government, Conservative voters. Of those who expressed an opinion in the poll, and who voted for the party in the 2019 general election, 62% marked that they too do not trust the Government to make good on its promises.
YouGov also found that 74% of respondents who expressed an opinion are 'not confident' – and a mere 3% are 'very confident' – that the Government will enact legislation to improve animal welfare in the UK.
What Can You Do
As disappointing as today's outcome was, we cannot let ourselves be demoralised. Millions of animals are counting on us. This is a betrayal of animals and we will not let the Government get away with it – our fight against foie gras doesn't end here!
Animal Equality's petition to ban foie gras in the UK has gathered over 260,000 signatures in support of a ban on foie gras made by force-feeding.
You can help ducks and geese by adding your name to the petition and sharing it with your friends and family.
---
Latest News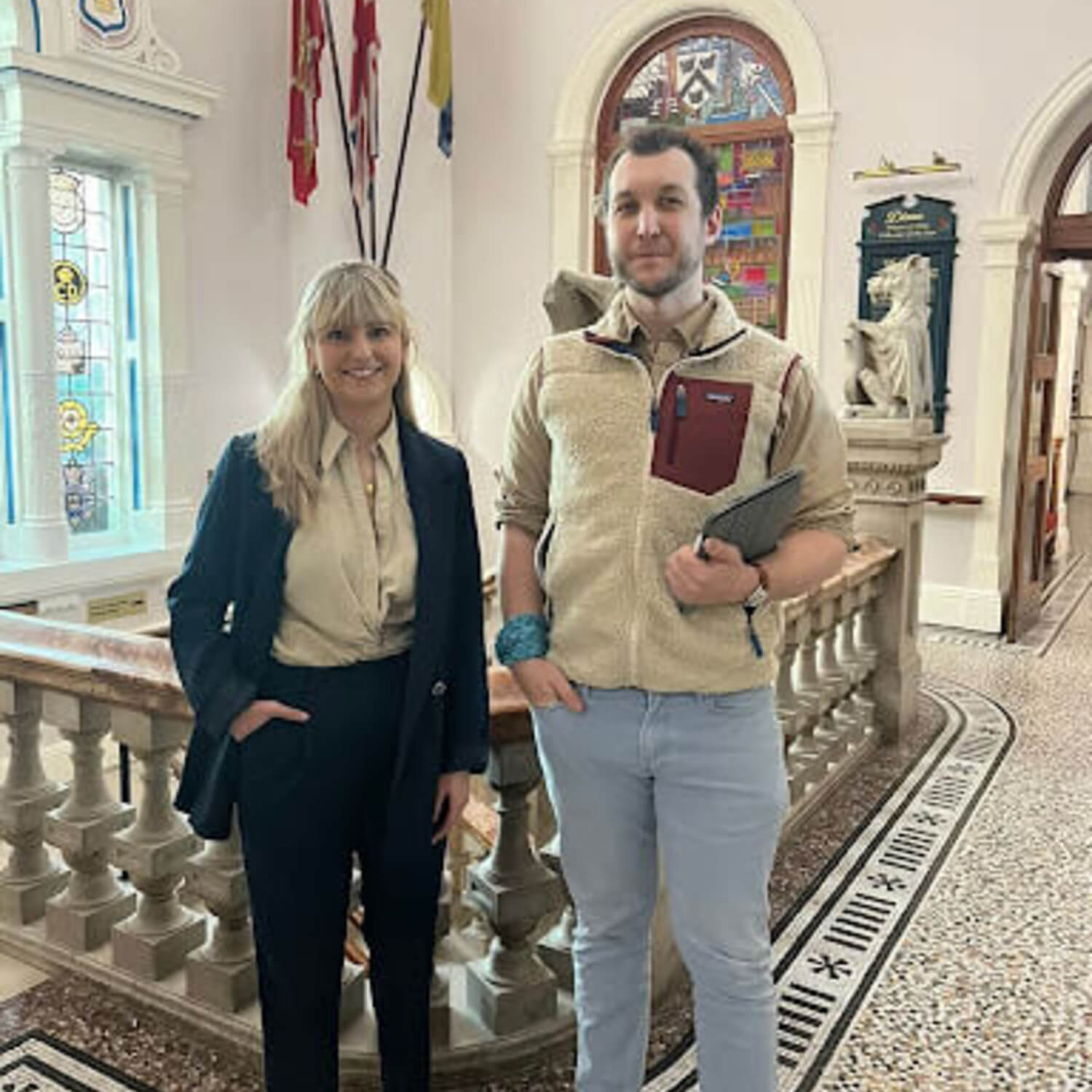 01/12/2023
---
On Wednesday 29th November, Councillors on the Planning Committee for North East Lincolnshire Council approved proposals for a controversial on-land intensive salmon farm in Cleethorpes, with four opposing and seven in favour. With plans to produce 5,000 tonnes of dead fish per year, there are no other fish farms of this scale in operation currently in the UK. Once constructed, the facility will be one of the largest in the world.
24/11/2023
---
Each year more than 200,000 tonnes of foie gras made by force-feeding are imported into the UK. Its production is so cruel that it is illegal to make in the UK, yet we hypocritically continue to permit imports. Previously unpublished images taken inside several duck farms in France show the terrible animal suffering involved in foie gras production.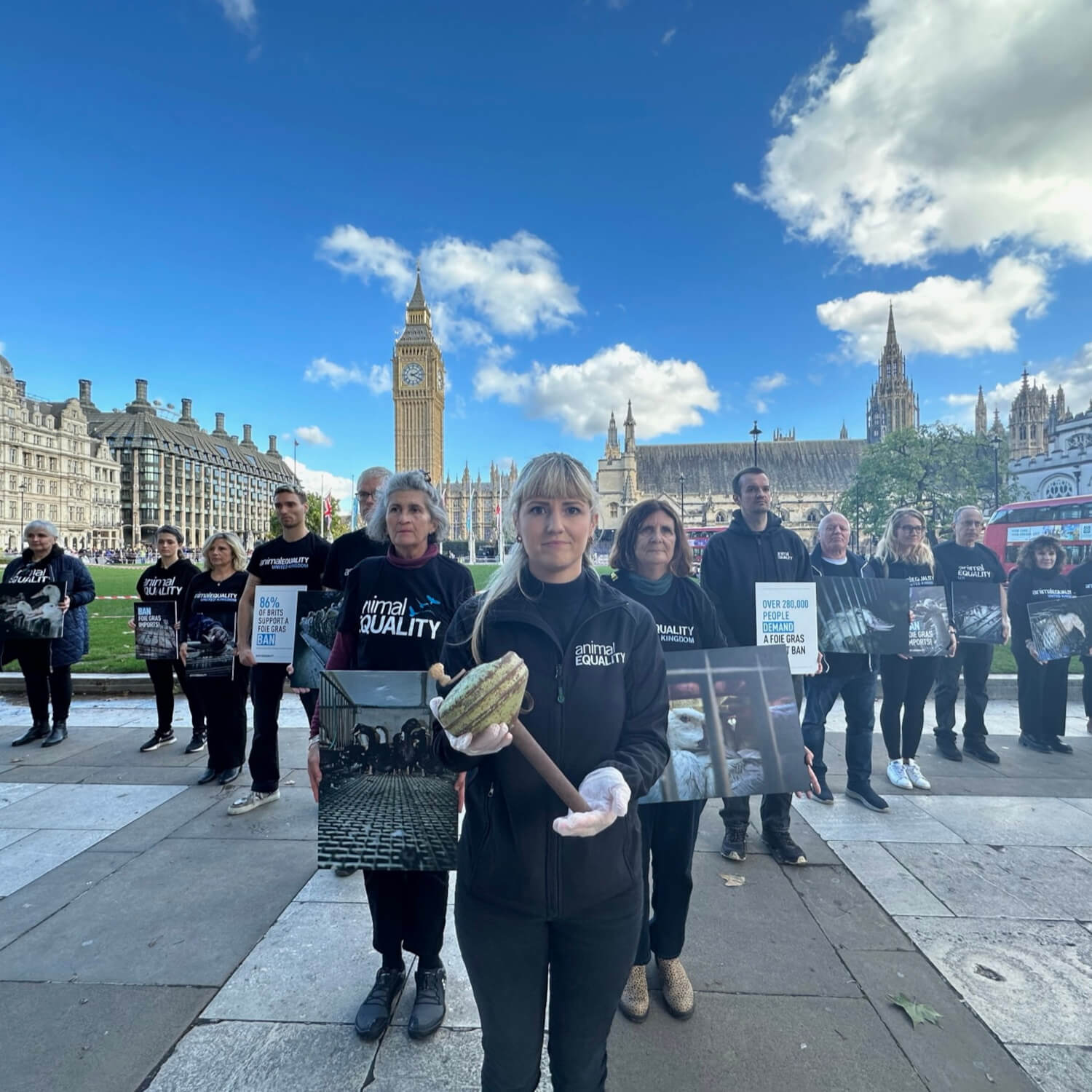 03/11/2023
---
Following conversations with Animal Equality, Giles Watling MP successfully tabled a Westminster Debate, speaking up for millions of ducks and geese trapped in cruel foie gras farms.