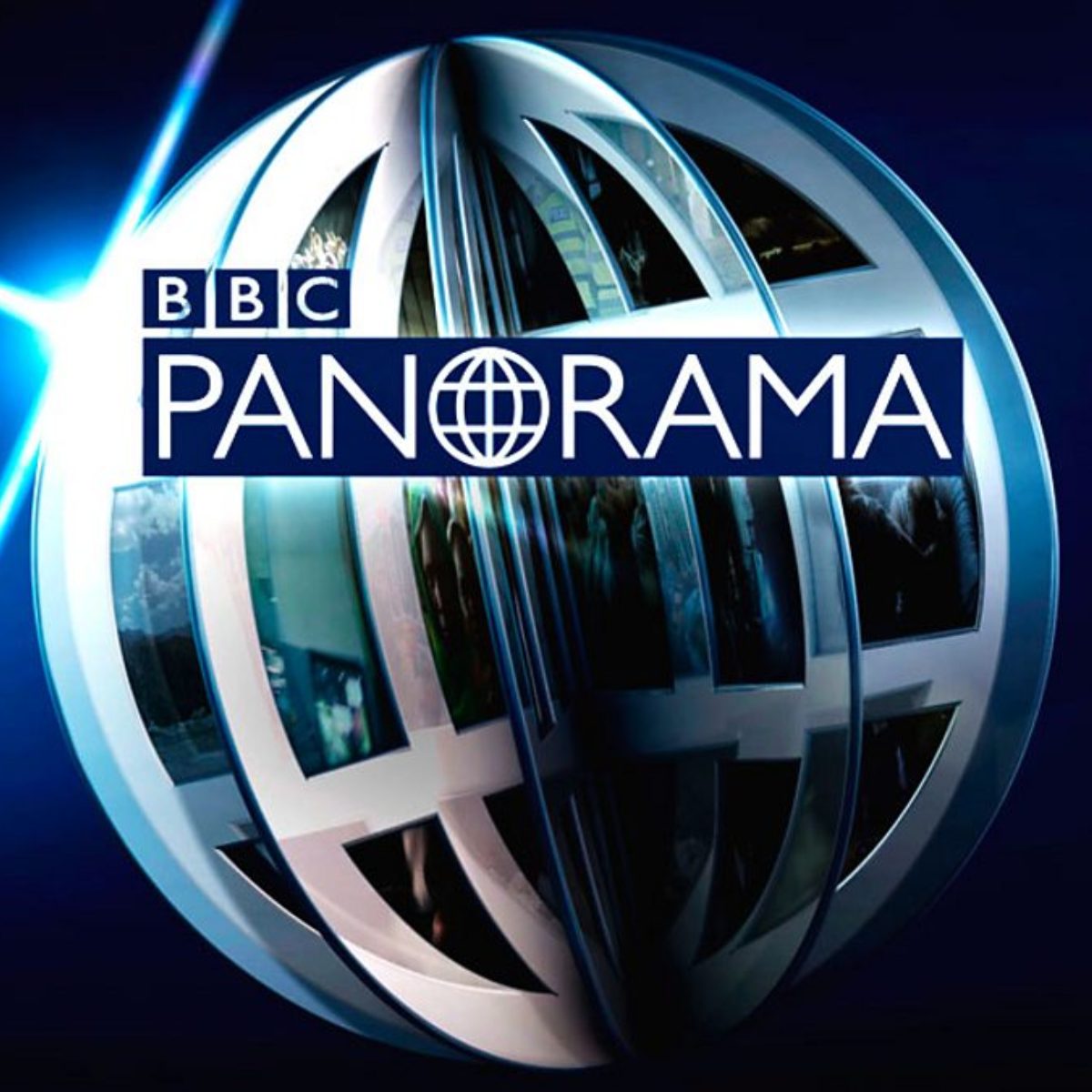 The True Cost of Milk: Our Footage On BBC Panorama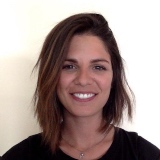 ---
Animal Equality's undercover investigator talked about the cruelty behind the dairy industry on BBC1's Panorama documentary 'A Cow's Life: The True Cost of Milk'.
On Monday 14th February, Animal Equality released disturbing undercover footage of deliberate violence and neglect on Madox Farm, in Carmarthenshire, South Wales, which holds over 650 cows and their calves.
The farm supplies Freshways – the UK's largest independent dairy processor and wholesaler that distributes dairy products to major retailers, including Costa Coffee and British Airways.
The investigation was aired on Monday 14th February on BBC1's Panorama in a 30 minute long episode: 'A Cow's Life: The True Cost of Milk. The segment was seen by millions of people, putting once again the reality of what goes on behind the closed doors of factory farms in the national spotlight. 
The footage aired on BBC1's Panorama is just a fraction of what our investigator discovered inside the farm. Watch the full video here:
Our Investigation Inside Madox Farm: What We Found
Animal Equality's investigator worked undercover on Madox Farm for several months and documented troubling scenes of abuse and neglect, including a number of serious legal violations.
The footage reveals workers punching and kicking cows in the face and stomach, as well as hitting them with sharp, metal shovels. It also shows cows unable to stand being hoisted by their hips with a lift and dragged against the cold concrete floor.
But that's not all that our cameras documented. Listed below are the main problems we found on the farm, which unfortunately are widespread in the dairy industry.
Lameness
Many cows on Madox Farm suffer from severe lameness.
However, instead of receiving proper medical care, some are left hobbling for days and others have their hind legs shackled together.
We filmed lame and exhausted cows being regularly milked, which – in one incident captured on our cameras – caused a cow to collapse inside the milking barn, causing further pain and injury to her leg and hip.
In the UK, about 25% of all cows exploited for their milk may suffer from lameness in their life.
It would be unusual to find [a farm] without any lameness. […] Being milked frequently means they have to spend a lot of time on concrete

Roger Blowey, Farm Veterinarian
Delayed Euthanasia
On several occasions, our investigator documented instances where cows were denied immediate veterinary care. One cow was left in excruciating pain overnight after her unborn calf had died inside of her.
Despite a veterinarian recommending prompt euthanasia and offering his services for just £30-40 that same day, the on-site acting manager failed to take urgent action. The cow died overnight alone and in extreme pain.
This is one place where they'd rather just save the money

Veterinarian speaking about Madox Farm
Violence
Our footage reveals several instances of extreme violence towards cows who, due to severe lameness or exhausted by repeated pregnancies, cannot stand up.
Workers are filmed punching cows in the face, kicking them in the stomach and hitting them with brooms and shovels. In multiple instances, they painfully twist the cows' tails to make them stand up and move.
We filmed a cow who had recently given birth collapsing in a doorway after being moved from the calving pen. Workers hit, kick, twist her tail, and drag her by the collar until she gets up, before collapsing again from clear exhaustion.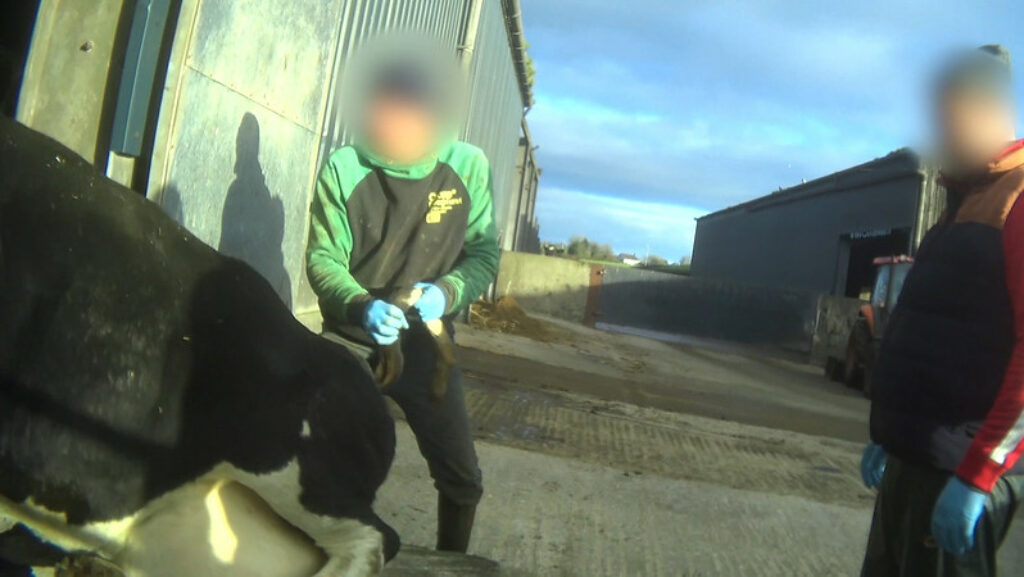 Quite clearly that would constitute an offence and we would prosecute something like that. It's basically an assault against the animal. […] There's no good reason for kicking the animal while it's stricken, it's going cause, especially to the stomach, some unnecessary suffering and pain,

Criminal Defence Barrister, Ayesha Smart
Another restrained cow is filmed being goaded by the acting farm manager who hits her in the face with a stomach tube while repeatedly trying to insert it into her mouth. The cow suffers internal injuries and bleeds profusely from the mouth.
Despite her clear discomfort, the worker did nothing to prevent the bleeding, nor did anyone investigate the internal injury.
We've got a number of different types of criminal offence and frankly it's not an acceptable way to deal with cattle.

Criminal Defence Barrister, Ayesha Smart
On several occasions, lame cows are hoisted by a lift and dragged along the concrete floor after becoming unable to stand. This process is clearly painful for cows. However, the workers are filmed laughing at them making jokes about how they will be 'dinner'.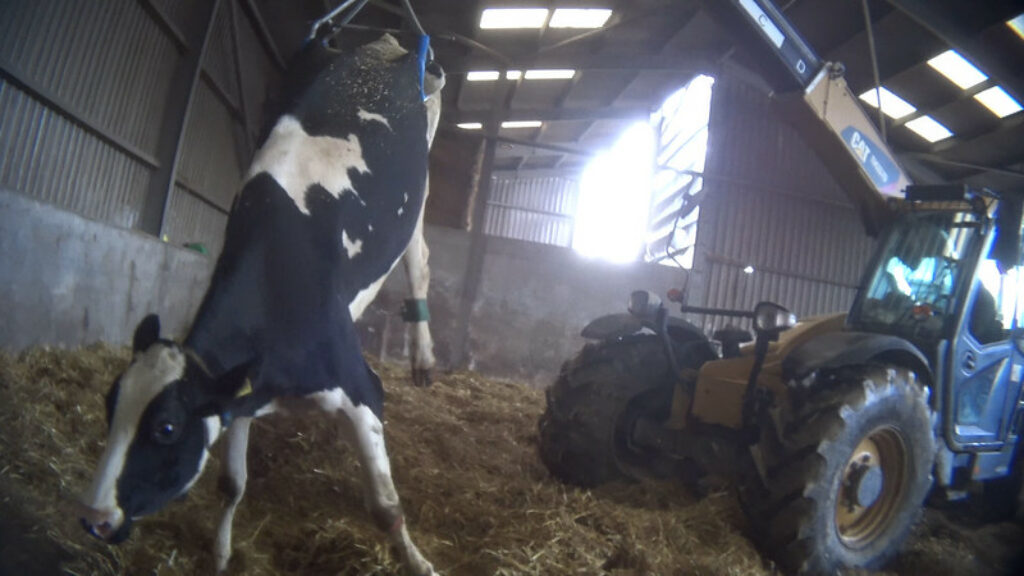 What's being done there will be fairly common practice.

Roger Blowey, Farm Veterinarian
Cow and Calf Separation
Cow and calf separation is standard practice on dairy farms. As cows produce milk for their babies, their calves are torn away from them hours after they are born so we can take the milk that is intended for them.
At Madox farm, cows who are pregnant and due to give birth are kept in a separate area. After a cow gives birth, her baby is taken away from her, usually within few hours. She is then moved back into the barn and put into the milking rotation.
Our cameras filmed heartbreaking scenes of a mother cow following her calf while they are taken away from her in a wheelbarrow.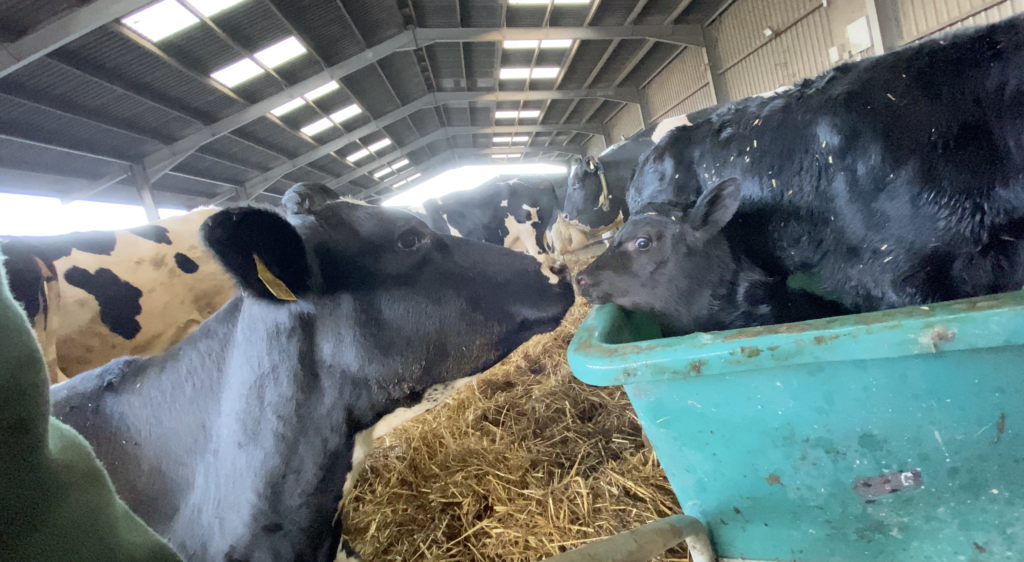 The bond between a calf and a mother is a very strong bond. It's very stressful for the calf to be removed.

Professor Andrew Knight, Founding Director of Centre for Animal Welfare, University of Winchester
Does It All Come Down To Money?
Milk is far too cheap. Sometimes I look at the cows and think it's an insult.

Abi Reader, dairy farmer and Board Member of The National Farmers' Union
One thing that seemed to be common ground among all dairy representatives interviewed during the programme is the issue of money.
Because of the extremely low price of milk, farmers claim to be forced to maximise milk yield and so they push cow's bodies to the brink. Even on the alleged 'Ethical Farm' they admitted that keeping the calves with their mothers makes them grow faster so they can sell them sooner and keep costs down.
But is the profitability of the industry an excuse for the extreme violence that our investigation documented?
Instead of taking responsibility, the industry tried to shift the blame and responsibility for what happens to cows on farms onto the shoulders of consumers.
When asked about consumer understanding of the industry, James Griffiths of Taynton Court Farm, said: "I suspect they have a rose-tinted view of dairy in green fields all the time. They probably don't realise some of the realities of what we do."
Realities such as separating cows from their newborn calves, and forcing cows to produce unnatural milk yields throughout their short lives.
Farmers argue that if people paid more, welfare issues would no longer exist. But this is not the case. Animal Equality has visited 'higher welfare' dairy farms and found animals suffering and being treated brutally – such as on Coombe Farm, an organic dairy accredited by the RSPCA and The Soil Association, where we discovered newborn calves being violently slapped and sworn at.
So, what about Red Tractor? This certification claims its products meet certain welfare standards. Is this the case?
Looking just at the dairy industry, 95% of all milk production in the UK is Red Tractor-certified, and so was the farm we investigated, Madox Farm. After being contacted by Panorama, the scheme apparently carried out an unannounced inspection at the farm and stated that the farm was accredited at the time of filming. However, after the episode was broadcasted to millions of concerned consumers, Red Tractor confirmed it had suspended the farm.
When asked about how meaningful Red Tractor standards are, James Griffiths, Director of Taynton Court Dairy Farm, described the accreditation scheme as: "background noise" and one whose standards set "a low bar."
Red Tractor was not the only body contacted by Panorama. Both The Food Standards Agency and The Animal and Plant Health Agency carried out unannounced inspections at the farm after being contacted and declared that 'no animal welfare concerns were identified'.
As Professor Andrew Knight put it, 'the industry will do whatever necessary to ensure people buy their products'. And this means using often tactical marketing strategies, relying on accreditation schemes, while exploiting these animals who pay the ultimate price.
This is the fourth investigation inside the dairy industry that Animal Equality has conducted over the past six years, and each and every time our cameras recorded acts of prolonged animal suffering, abuse and neglect, or illegality.
Awards, accreditation, accolades and hiked up prices will not spare animals from suffering. On all farms cows will be separated from their young, forcibly impregnated, and slaughtered at a young age. However, the industry itself is not nearly transparent enough about these practices, leaving little room for consumers to make informed decisions.
Ultimately, the best way to help cows and their babies is to ditch dairy and all animal products. But we also must remember those trapped in the current system, who are being failed and forgotten.
The Government must do better. It can and it should.
What Do People Say?
If the ball has been passed to consumers, how did they react after BBC's documentary 'A Cow's Life: The True Cost of Milk'?
The programme led to a social media storm, with the hashtags #Panorama, #ACowsLife and #GoVegan all trending on Twitter in the 12 hours after the broadcast.
Several MPs and an army of celebrities, including Peter Egan, Diane Morgan, Megan McCubbin and more, also shared our investigation findings with their followers.
And that's not all! Since the footage was aired, both Red Tractor and Freshways have suspended the farm, with Freshways confirming that: "The farmer involved has been suspended for all collections until such time as a re-audit and full investigation has been carried out." However, this is a short-term solution. We've found animals suffering on every Red Tractor-assured farm we've ever investigated to date. The Government must do more to ensure animals are better protected.
Lack Of Enforcement: Our Demand
What our cameras filmed inside Madox Farm is just one example of a system where animals are seen as objects and constantly exploited for profit.
Despite the presence of some laws to protect farmed animals trapped in this system, it appears that these laws are regularly flouted. Over the past six years, Animal Equality has investigated four UK dairy farms and have found that these laws are systemically broken. Despite this abundance of evidence, little is being done about it.
Every year, fewer than 1% of farms are inspected by the Animal Plant and Health Agency (APHA), meaning that if every farm was to be inspected it would take 200 years. And the reality is that some farms may never be inspected.
In addition to that, in the event of violations, adequate enforcement is seriously lacking.
This means that these innocent animals are at the mercy of governments, accreditation schemes and local authorities who far too often fail to use their powers to ensure true justice for them.
Over the past 11 years, Animal Equality UK has investigated 43 farms and slaughterhouses, finding prolonged animal suffering, deliberate abuse or neglect, or illegality taking place every single time.
Our investigators have looked into facilities accredited by Red Tractor, Quality Meat Scotland, Best Aquaculture Practices, The Soil Association and more, documenting breaches of accreditation standards themselves and of the law in general.
As a result of Animal Equality's investigations in the UK, six farm workers have now been convicted of cruelty to animals and one farm was shut down entirely. Nevertheless, farms and slaughterhouses continue to operate, causing unimaginable suffering to millions of animals every year with very few inspections taking place to ensure that the existing animal welfare laws are properly enforced. And with over 165,000 farms and 240 slaughterhouses in the UK, Animal Equality cannot investigate every single facility.
For this reason, we call on the Government to implement critical changes to the existing legal framework and to implement a licensing system for farms. In this way, farms will only be allowed to operate following successful inspections every one to three years. Should the inspections reveal violations of the law, the farm would lose its licence and be subject to a criminal investigation.
Will you join us in this pioneering and groundbreaking demand that will radically change the reality of factory farming?
---
Most Popular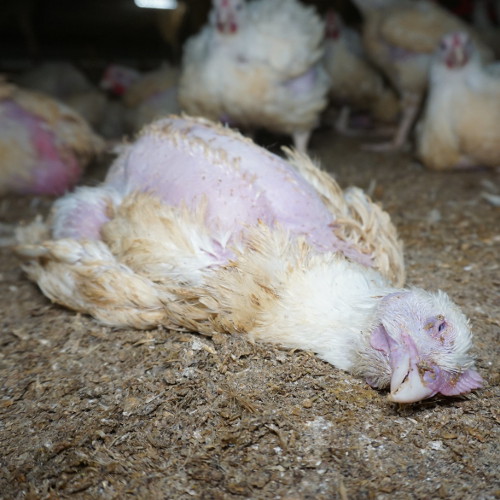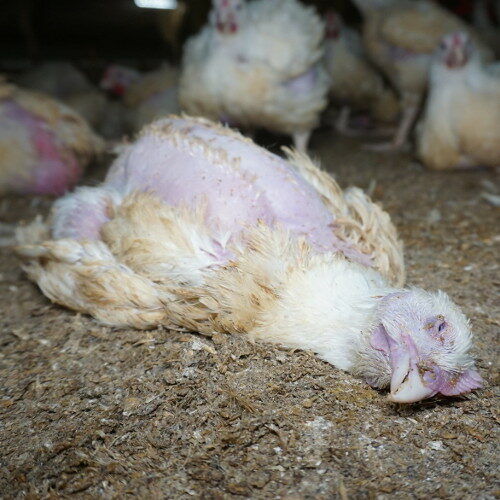 08/07/2023
---
Most people will never see inside a farm or slaughterhouse, so when they have concerns about how animals are treated in order to produce the products they buy, they put their trust in others to tell them what is happening on those farms. For most consumers, this means putting trust…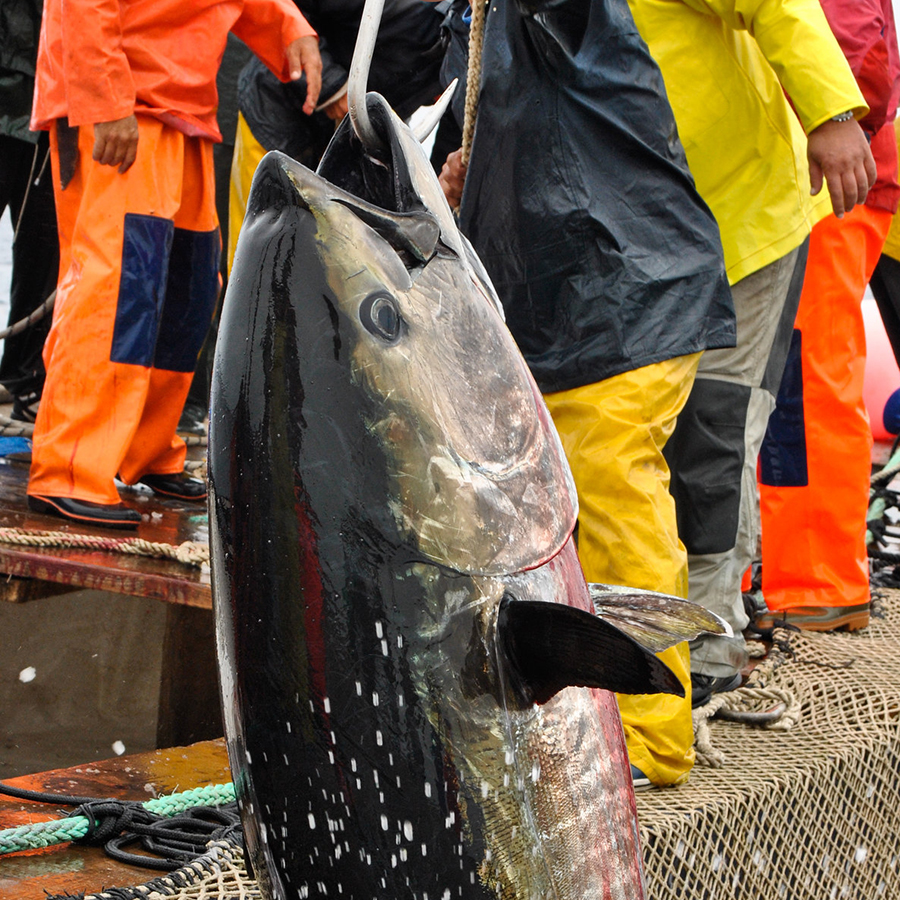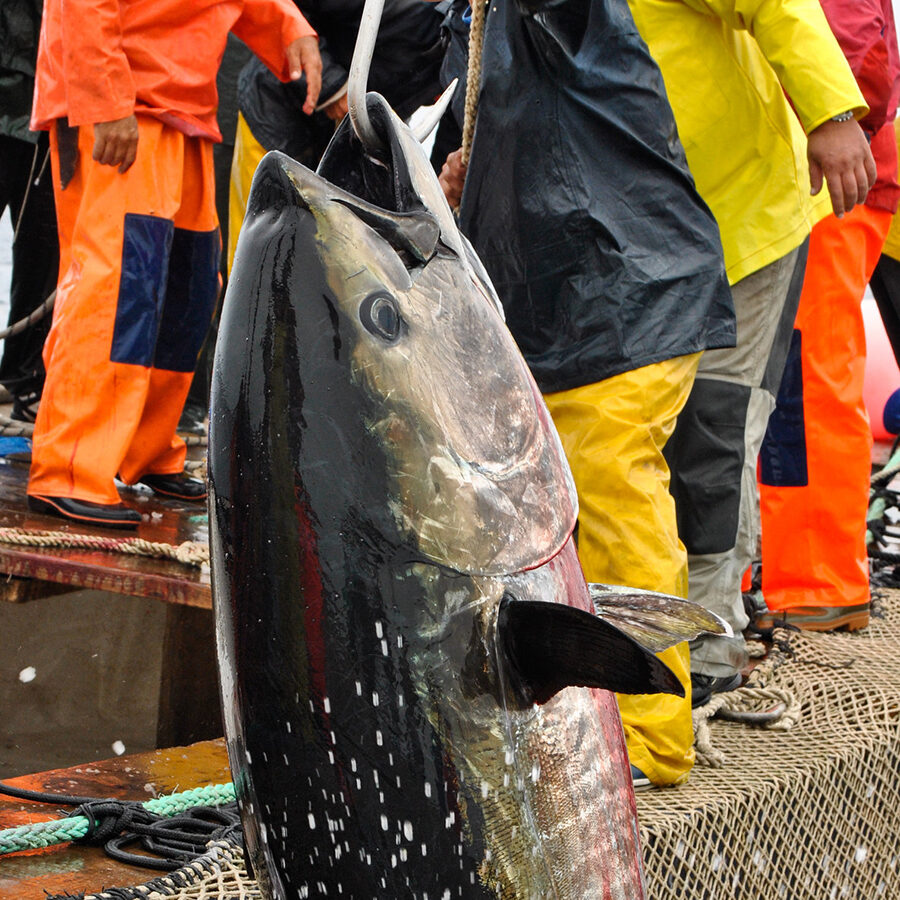 08/07/2023
---
Did you know that dolphins also die as a consequence of killing tuna, among other and marine animals?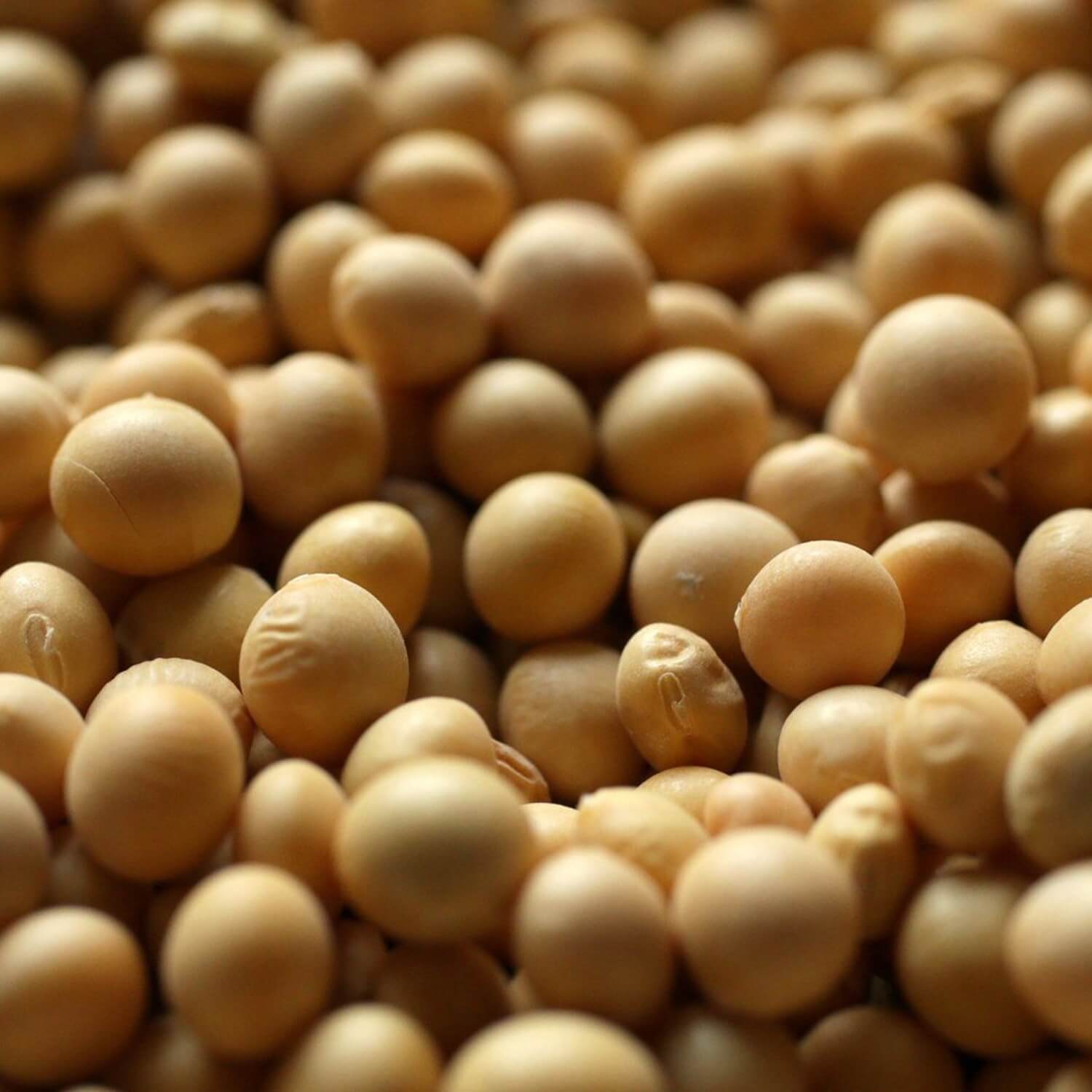 08/07/2023
---
In recent years much of the conversation around soy has been heavily focused on deforestation and climate change. And because soy is often a key ingredient in plant-based meals, it is a common misconception that foods promoted as meat and dairy substitutes – such as tofu and soy milk –…