HOW WE HELPED TO CONVINCE THE
UK'S LARGEST EGG PRODUCER TO GO CAGE-FREE.
THE NOBLE FOODS STORY.
Did you know that around 40% of hens used for eggs in the UK are confined in cages?
Although that number is still far too high, it used to be a lot higher. Over the last few years, animal protection organisations have been campaigning to convince companies in the UK to make cage-free commitments. A cage-free commitment is when a company agrees to stop producing and purchasing eggs that come from hens kept in cages.
Although cage-free does not mean cruelty-free, ending the use of cages eliminates one of the worst forms of cruelty for hens and is an important step towards even stronger reforms in the future.
In 2018, fellow animal protection organisation,The Humane League, had been speaking to Noble Foods' executives and urging them to go completely cage-free. Noble Foods is one of the UK's largest egg producers and as well as producing free-range eggs under one of its brand names 'The Happy Egg Co', it also sold eggs from cages under brand names like 'Big and Fresh'.
If some of their products were cage-free, why weren't all of them? The Humane League had been speaking to them for many months, but Noble Foods wouldn't budge.
So Animal Equality sent some investigators to a Noble Foods egg farm in Dorset and just weeks later, on the 19th of March 2018, what they found was shown on the BBC News.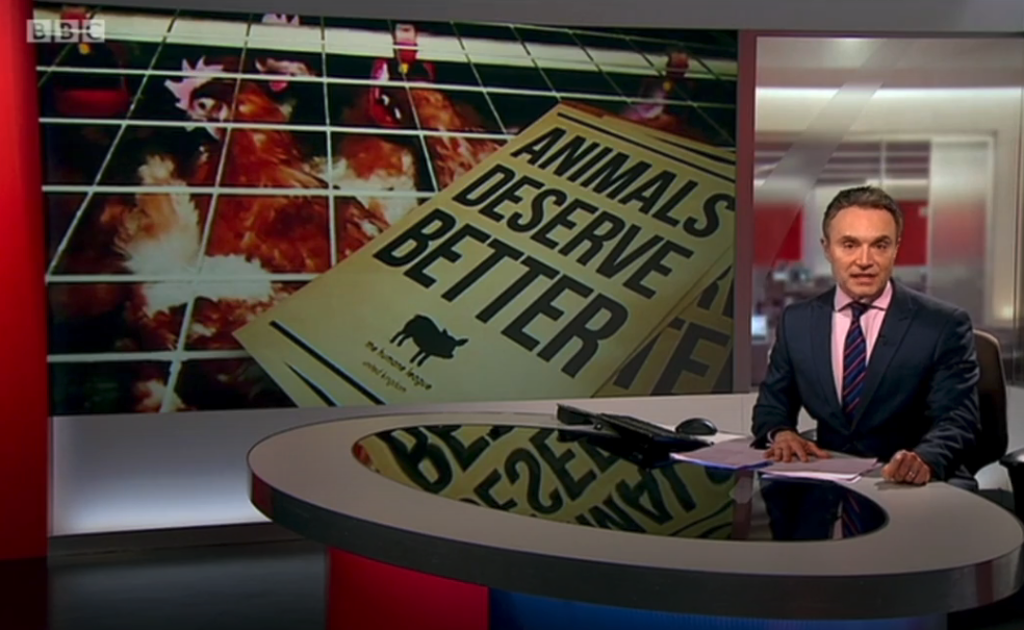 In the news segment, the correspondent held up two cartons of eggs. In one hand he held a carton from 'The Happy Egg Co' and in the other he held a carton from 'Big and Fresh'.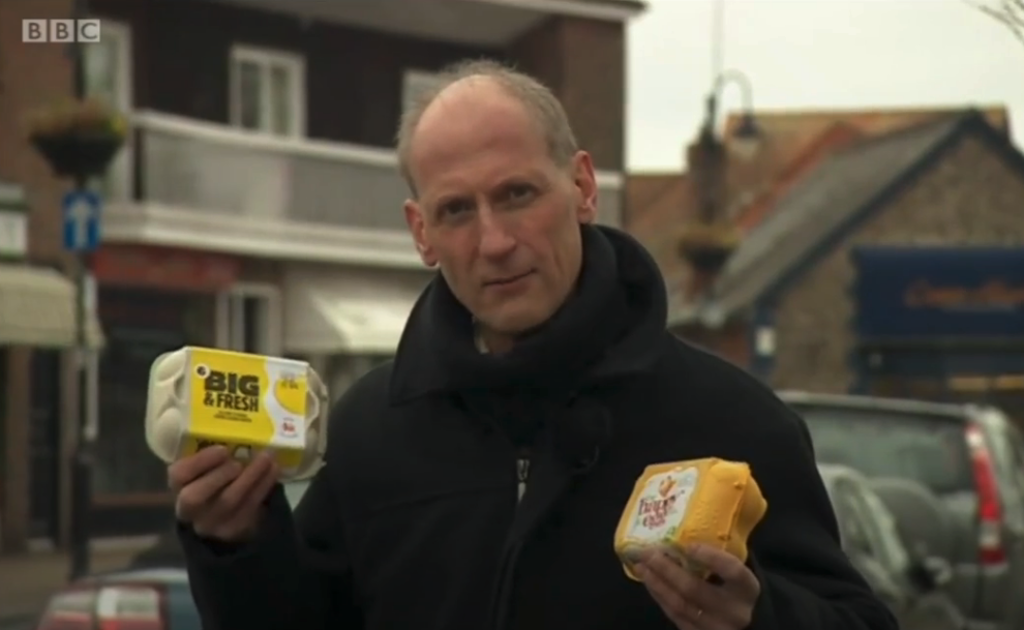 He went on to explain that both the free-range eggs and caged eggs came from the same company: Noble Foods.
It was a powerful image. Suddenly, the attention of people all over the country was on Noble Foods. Did their customers know that when they bought free-range eggs, their money was going to a company that kept millions of hens in cages?
Noble Foods had resisted making the cage-free commitment for months, but it wouldn't last much longer. On the 20th of March 2018, just days after the BBC's news story, Noble Foods made the commitment to go cage-free.
Thanks to our investigators, our supporters and our Animal Equality team, we had investigated a Noble Foods farm and that investigation footage had become a national news story which led Noble Foods to make the commitment in just a matter of days. That policy will impact millions of hens.
Almost three years on, it's inspiring to think back to the story of Noble Foods. It's a story that shows the power we hold.
Right now we are working on something even bigger – to convince supermarkets like Tesco, Sainsbury's and Morrisons to sign a new commitment called the Better Chicken Commitment that would eliminate some of the worst forms of cruelty that chickens raised for meat are forced to endure.
If we convince Tesco to make the commitment, that alone would impact tens of millions of chickens. It would be historic!
It's a big challenge – even bigger than the Noble Foods challenge we faced in 2018 – but that story reminds me that we have the power to make it happen.