Rachel Riley and Susie Dent Support a #FoieGrasFreeGB
03/07/2019
Rachel Riley and Susie Dent, stars of Countdown and the 8 Out of 10 Cats adaptation, have joined Animal Equality's call for a #FoieGrasFreeGB. The caring TV celebrities made impassioned speeches urging their fans to sign Animal Equality's petition demanding the Government enacts an import ban on foie gras – a 'delicacy' that causes such severe animal suffering it is illegal to produce here.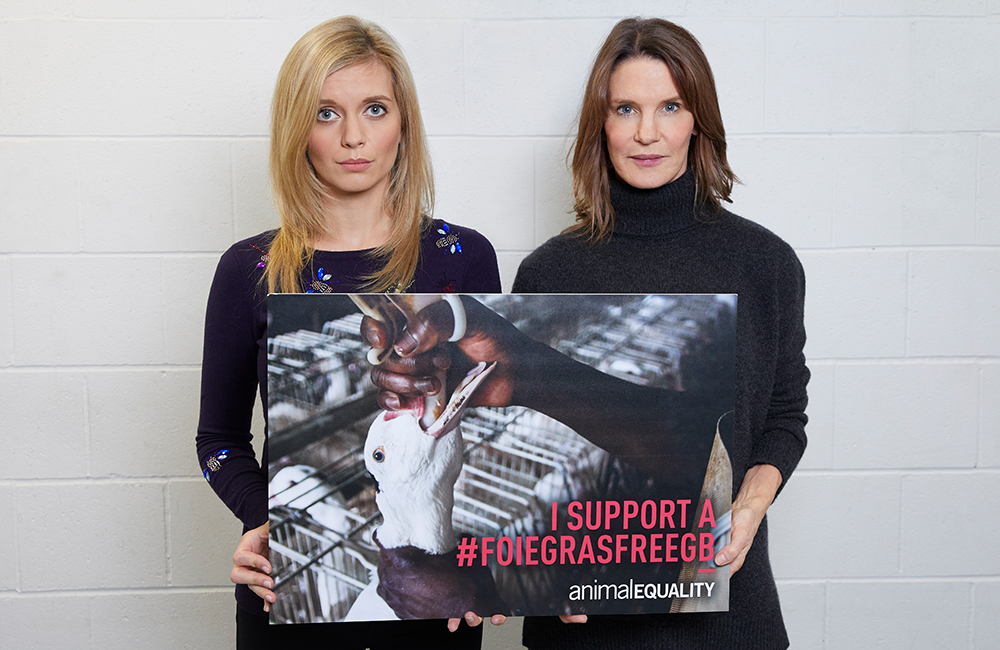 Strictly Come Dancing star Rachel spoke about the hypocrisy of foie gras imports being legal while its production is banned in the UK under animal welfare laws, saying: "I'm a massive animal lover, so I think it's brilliant that it's illegal to produce foie gras in the UK. I think it's not so brilliant that you can still import it – so I support Animal Equality's petition to have a foie gras-free GB."
Susie alerted those who still eat foie gras to the gruesome force-feeding process that causes the livers of ducks and geese to swell to 10 times the normal size in just a few weeks. She said: "If you eat foie gras, I would really urge you to look at the practice that goes in to producing it. It is totally barbaric and involves force-feeding on the most horrific scale imaginable."
An overwhelming majority of Brits support a foie gras import ban too – 79% of those who expressed an opinion – according to a YouGov poll conducted this month. This support spans the political spectrum, with 84% of those identifying as left-wing in favour of an import ban, 78% of those identifying as centre in favour, and 70% of those identifying as right-wing in favour of an import ban. The poll also showed that the vast majority of people in the UK do not eat foie gras, with only 10% having eaten it in the past 12 months.
Join Rachel and Susie by adding your name to the petition: animalequality.org.uk/foie-gras
Other blog posts